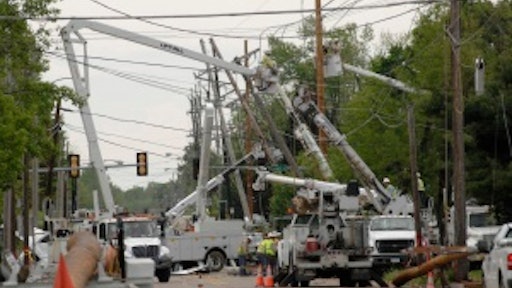 Although not officially defined as such in meteorological jargon, the storm that battered several communities located along the Route 13 Corridor in Jackson County, IL on May 8, 2008, was most often described as an "inland hurricane." Packing sustained winds of over 100 mph for more than 20 minutes, the storm battered the towns of Murphysboro, Carbondale and Marion, IL, and left in its wake a path of destruction not unlike a war zone.
The storm was the final climax to what had been an unseasonably wet spring. Soil previously saturated by the continuous onslaught of heavy rains from weeks prior had weakened its stronghold grip around the root systems of the massive trees that lined the streets of Carbondale for nearly a century. Sporting trunks exceeding six feet in diameter, trees reaching heights approaching 100 feet toppled like a once-neatly aligned row of dominoes after the flick of an index finger. Massive branches snapped power lines as they crashed to the street, resulting in a tangled conglomeration of debris leaving the town immobile and without power.
George Sheffer and his staff at Murdale Just Ask True Value Rental knew they were in for a long few days. Fortunately, for the residents of Carbondale, Sheffer was prepared for such an event.
"The storm left the town virtually paralyzed," said Sheffer. "Most of the roadways were blocked and there was virtually no power anywhere within the area. We had a backup system in place that was set up to handle power outages for shorter periods of time. But I had a generator on standby and we ran that generator to power our computers and registers after the backup system time expired. With most of the other stores in town closed because of the power outage, we knew that people would rely on us. Fortunately we able to remain open."
Shortly after the storm had passed, as expected, Sheffer's store was overrun with townsfolk anxious to get the cleanup process underway. "Each of our team members was armed with a flashlight and took care of each customer, one on one. We are also a dealer for chainsaws so you can imagine that we had a run on those. We were able to reach our True Value warehouse and they responded with deliveries every day to fulfill our needs as far as emergency equipment. Most of the merchandise that arrived on the trucks was gone before I could even get it in the store."
Sheffer also turned to his Vermeer dealer for help. With his inventory of Vermeer tree care equipment - wood chippers and stump cutters - quickly snapped up, Sheffer reached out to his Vermeer sales rep, Scott Broz. Within hours, the additional equipment he requested was delivered and cleanup was in full swing.
"The immediate priority was clearing the streets so people could get around," Sheffer says. "We were able to supply our residents with the equipment they needed. It made all of us here at the store happy being able to provide the help they needed to get through this."
Since so many of the downed limbs and branches were large in size and diameter, Sheffer consulted with Broz about purchasing a chipper model that could handle disposing of debris of this size. Broz recommended the Vermeer BC1000XL.
"Although this machine has more capacity than I would normally stock based on my customer needs and demand, I knew the town needed it. It was an investment for the community, not necessarily for my business. I may not be able to rent this machine on a regular basis after the storm cleanup subsides, but that's not the point. The point is that our residents needed it at the time, and I felt an obligation to serve the needs of the community as much as I do my business."
Sheffer also purchased an additional SC352 stump cutter, expanding his inventory of Vermeer equipment that prior to the storm included a BC600XL brush chipper, a SC252 and SC352 stump cutter, as well as the S600TX mini skid steer and RT200 walk-behind trencher.
While Sheffer admits that the larger BC1000XL chipper model would not be a piece of equipment he would normally stock, he is comfortable with the investment. While his standard approach to stocking rental equipment is based on demand; keeping equipment consistently rented, Sheffer feels there are certain events and occurrences when a local, community-supported business has an obligation to provide a service for their sake.
"We know our customer base very well and stock equipment that meets their needs," Sheffer says. "Doing so just makes good business sense. Keeping equipment rented on a consistent basis is why we continue to exist. But we are also here to serve our community. Even after the storm cleanup subsides, I know that I have a piece of equipment that other rental stores can't offer so the investment will pay off regardless of how often it is rented. What's more important to me is that we were able to provide a service to our residents when they really needed it."
Know thy customer
Sheffer feels the key to managing a successful rental business is to really understand customers' needs and fulfill them. He is adamant about monitoring rental trends and the changing expectations of his customer base and responds by stocking equipment that meets demand. And when it comes to choosing suppliers, Sheffer relies on companies whose equipment is durable, well built and easy to operate. Reliable service is also a must.
"Being in the rental business, you have several different people operating the same piece of equipment," Sheffer says. "I don't mean to insinuate that they intentionally abuse it. But with so many different people renting equipment they aren't normally used to operating, it can take it's toll. The equipment you stock should be made of good quality and easy to operate. And when service issues are necessary, above what my staff can't perform, it's important to team with suppliers who are responsive and knowledgeable."
Fostering 'true and valued' relationships
Sheffer considers the relationship he has with his Vermeer dealer an important part of his success. Understanding his customers and responding to his needs, along with a shared appreciation for community service and similar business protocol, are major factors Sheffer considers when choosing suppliers.
"The thing I like about my relationship with Vermeer is the same thing that I try to create with my customers," Sheffer says. "I'm not looking to buy the cheapest piece of equipment, I'm trying to buy what I consider the best and that's going to last the longest. I'm also looking for someone who is going to service the equipment and take care of me. And Vermeer has done a very nice job of doing that. As a result, I have a lot of their equipment in my store."
Cleanup ongoing
More than three months since the "inland hurricane" inflicted its wrath on the landlocked Midwest community of Carbondale, IL, the cleanup continues. But the residents here are slowly getting things restored to normal. Sheffer is happy that his store and the services he offers have played a key role in the cleanup.
"I take pride in the staff that I surround myself with," Sheffer says. "They make me look better because of the great service that they provide. Never once did any of them complain about the long hours in the aftermath of the storm and all of them just hung in there under adverse conditions. Our customers not only noticed, but also expressed their appreciation. I would hope that we built up some loyalty through this whole ordeal. That makes a big statement to what this store represents to the town. I want to deliver on that."
Companies in this article