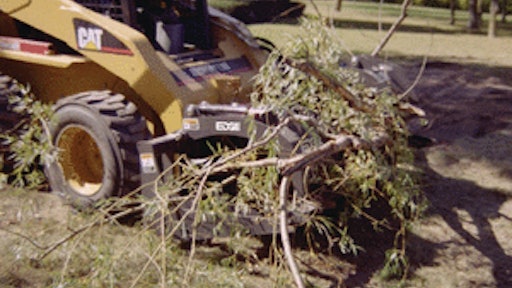 Edge Heavy-Duty Brush Root Grapples
The Edge Heavy-Duty Brush Root Grapple attachment for skid-steer loaders is designed for handling awkward debris such as brush, tree stumps, logs, loose hay or straw, and more. The full-featured units have up to 50% greater clamping force over previous models. The Brush Root Grapple includes dual, independent grapples to handle uneven loads; cushioned and sleeved heavy-duty cylinders and cylinder/hose guards to protect all cylinder components; and 1 1/4-in. by 24-in. grapple pins to reduce torsional force. Hardened 1 1/4-in. cylinder pivot pins increase durability. The tines are 1/2 in. thick and made of 100K psi yield strength material and spaced 6 in. apart. The brush grapple has a throat opening of 40 in. with the grapple open, an overall depth of 39 in., and comes in widths of 72, 78, 84 and 90 in.
CEAttachments Inc.
FCS10 Rip-R-Stripper
The FCS10 Rip-R-Stripper provides a compact, lightweight alternative to larger walk-behind units. It features an operational weight of only 40 lbs. The smaller size provides maneuverability in confined areas. Built with a 2,300-watt electric motor, the unit operates form a standard 15-ampere circuit. It has a unitized, welded steel-plate frame and is ideal for applications include removing carpet, VCT, linoleum and mastics.
General Equipment
Freeze Sentry
Rain for Rent's new Freeze Sentry water pump heater thaws ice and protects volutes from harsh winter freezing to avoid costly damage and downtime. The Freeze Sentry is available in various sizes to securely cover and heat pump volutes, priming systems, and inlet/outlet areas while at the same time maintaining open-access to critical valves. The water pump heater, with its portable design, easy setup/take down, and 12V or 120V plugs makes for a trouble-free, dependable, and cost-saving way to control equipment temperatures with fast, consistent heat. Rain for Rent's Freeze Sentry water pump heaters are available from 4" up to 24" configurations; custom sizes available upon request.
Rain For Rent
Heavy-Duty Indirect-Fired Heaters
Heatstar by Enerco is broadening its presence in the rental and construction markets with the launch of a new upgraded line of HD (Heavy-Duty) indirect-fired heaters. The new Heatstar line includes four oil-fired models ranging from 110,000 BTU/HR up to 400,000 BTU/HR of heating power. Also added to the line is a new dual-fuel 380,000 BTU/HR model that operates on either propane (LP) or natural gas. Designed for heating enclosed building construction sites, warehouses, event tents, and other large temporary indoor spaces, Heatstar's HD indirect-fired units each feature a powerful high-static pressure fan that can direct clean heated air through up to 100 feet of connectible ducts; stainless-steel combustion chamber to keep heated air and exhaust air separate; heavy-duty lift handles and 10" pneumatic tires for on-site mobility; large-capacity oil fuel tanks for a full work day operating time and more.
Heatstar by Enerco
LightSource Light Tower
The LightSource light tower, with a standard 6-kW generator, operates four 1,000-watt, metal-halide floodlights for up to 52 hours of continuous operation.
NEMA 6 x 7 beam spread for better light distribution and area coverage
Side-mounted/horizontally positioned bulbs provide broader light distribution of 460-ft. candles
Control panel includes individual lamp switches, GFI-protected 120-volt/15-amp duplex, standard 240-volt/20-amp
twist-lock receptacle(s), key-switch ignition and an hour meter
Three-section, galvanized steel tower extends from 12 to 30 ft.
Tower can be rotated 360 degrees and locked into position
Kubota D1105-E3BG 1,800-rpm water-cooled Tier 4 engine
Doosan Infracore Portable Power
MK-SDG Single Disc Grinders
Three single disc grinder models: SDG-13, Honda Propane; SDG-11, Honda Gas; and SDG-3, Baldor Electric
10- or 20 segment 10-in. diameter diamond grinding
Two-position wheel carriage
Front taper for enhanced visibility
Removable nose weight
Dust shroud to contain grinding debris
For use on concrete slabs, terrazzo, ceramic tile floors, brick and stone
MK Diamond Products, Inc.
Outback 185 Welder
The Outback 185 engine-driven welder provides a smooth DC welding output of up to 185 amps for welding steel, stainless steel or cast iron, as well as hardfacing projects using up to 5/32-in. stick electrode. Its single, full-range and calibrated welding output dial makes it easy to set the current to the task. The AC generator provides 5,700 watts of peak power and 5,200 watts of continuous power. Features include a 1 1/4-in.-diameter protective tube frame, Low-Lift grab bars for easy jobsite handling and mobility and an optional undercarriage for easy transport.
Lincoln Electric Co
Portable Space Heaters
Mi-T-M Corp. announces the introduction of a new line of portable space heaters. This new line compliments the company's industrial product line offering of pressure washers, air compressors, generators, wet/dry vacuums, jobsite boxes and water treatment systems. The Mi-T-M portable space heaters are designed to save energy and offer the perfect heating solution for a multitude of applications, such as workshops, garages, construction sites and farm buildings. And, to meet the demand for clean, quiet and instant heat in an outdoor social setting, Mi-T-M is introducing an Outdoor Patio heater that is perfect for patios and restaurants. The full line of Mi-T-M portable space heaters will include: Kerosene Forced Air Heaters in 70,000 to 400,000 BTUs; Propane Force Air Heaters in 50,000 to 375,000 BTUs; Propane Convection Heaters in 50,000 to 200,000 BTUs; Kerosene Radiant Heater 125,000 BTU; Radiant Propane Tank Top Heaters 9,000 BTU to 30,000 BTU; Propane Patio Heaters 40,000 BTU.
Mi-T-M Corporation
Power Side Discharge Bucket
The power side discharge bucket is designed for skid steers and compact track loaders. The bucket collects and discharges sawdust, sand and silage. It will also spread a variety of materials including stone, mulch and aggregate. The bucket can be operated with either the left or right discharge position and is available in 60- and 72-in. sizes for sand applications and 72- and 84-in. sizes for sawdust.
CASE CONSTRUCTION EQUIPMENT
S.H.M. Model WC 5500
Swampy Hollow is pleased to introduce its S.H.M. Model WC 5500. This premium chipper features as standard equipment the convenience of a hydraulically-operated feed system which can be run by tractor hydraulics or by an available, optional, self-contained hydraulic system. The S.H.M. Model WC5500 is designed to be operated by tractors of 35 horsepower or higher, and can be ordered to fit both Category I and Category II 3-point hitches. Hydraulic requirement for the hydraulic feed is only 6 GPM. To insure smooth, easy feeding, the hopper opening measures 28 inches square and the chip opening measures 5-1/2 inches by 8 inches. The chip chute can be rotated 360 degrees for accurate placement of chipped material. S.H.M premium chippers are ideal solutions to problems encountered by home owners, farmers and property maintenance personnel. They are compact units, yet they are packed with commercial grade components such as double-sided knives, standard chip anvil, top discharge chip chute and a durable, industrial powder-coat finish.
Swampy Hollow Manufacturing
SRV 660
The SRV 660 vibratory tamper, available in a four-stroke gasoline or diesel model, are built tough for daily use. A three-stage air filtration system, consisting of a cyclone precleaner, main filter and the air filter of the engine manufacturer, is designed to extend the service life of the engine, even in extremely dusty conditions. The guide cylinders are protected by a wear-resistant, ceramic-like "HARD-COAT" coating, while the active oil lubrication ensures that all components in the crankcase are reliably oiled. Other features include low hand/arm vibrations, block impact protection and carrying handles and rollers for an easy transport.
Weber Machine (U.S.A.) Inc.