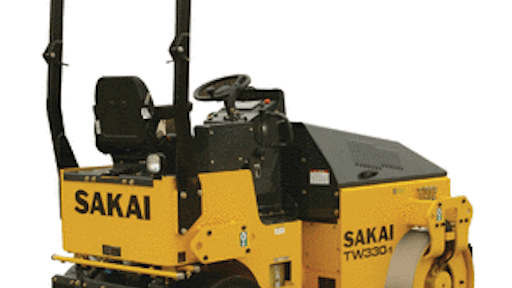 300 Series Rollers
The 300 Series includes the double-drum SW300-1, SW320-1 and SW330-1 with 39-, 47- and 51-in. drum widths, and the TW320-1 and TW330-1 with a 47- and 51-in. vibratory drum on the front and pneumatic tires on the rear.
High frequency of 4,000 vpm
Hydrostatic drive on both ends of the machine
Fuel-efficient 35-hp Kubota D1703-M-ET01 water-cooled diesel engine
Feature custom-designed shock isolators, a vibrator bearing with oil bath lubrication system and standard seatbelts and foldable ROPS
Sakai America, Inc.
AB Angle Broom
The AB angle broom features hydraulic angle adjustment that allows "on the go" angle changes for efficient cleaning and windrowing of material.
Float action allows for smoother operation and a decrease in broom wear over uneven surfaces
Tube-style brush delivers quick and simple brush replacement and longer service life
Tilt function allows +/- 4° of tilt to better follow the ground surface
Coneqtec / Universal
Beever M6R
The revamped 6-in.-capacity Beever M6R is now equipped with a 12-in.-diameter, two-knife machined rotor with removable drum shaft and 1/2-in.-thick dual-edged knives that allows full knife coverage with even knife wear.
Features 180° silo swivel discharge, direct drive with belt power transfer, ergonomic infeed design standards, a 12% larger infeed perimeter opening, hydraulic drum braking system and larger tires
Kohler 27-HP gasoline engine with belt power transfer
Reduced space between the rotor and feed wheel minimizes the potential for material to lodge or turn sideways
Morbark, Inc.
CF 3 Plate Compactor
The newly designed CF 3 (working width: 20 inches) single-direction vibratory plate compactor is ideally suited for repair tasks and small compaction work in the landscaping sector. In addition, the patented guide bar considerably reduces the hand/arm vibrations and thus enables comfortable work for many hours per day. The machine delivers an amazing centrifugal force of 5,000 lbs and is available with a water tank with a capacity of over 4 gallons for asphalt compaction. This machine replaces the prior models CF 3 and CF 4.
Weber Machine (U.S.A.) Inc.
CH&E Diaphragm Pumps
CH&E Diaphragm Pumps, A division of Magnum Products, include the 5437WT 2-in. and 5537WT, 3-in. diaphragm pumps for seepage dewatering, high suction lift, cleaning septic tanks, pumping industrial waste and marine tanks, small wellpoint systems, and dewatering in sandy, muddy waters. They feature limitless dry run without damage, low maintenance, self cleaning water flow and enclosed gears in oil bath.
Magnum Products LLC
CP 0022 Sinker Drill
The CP 0022 sinker drill provides drilling capability for holes up to 1 ¾-inches diameter and 8 feet deep. In the 30-pound class, its streamlined design features smooth contours, a side exhaust and a "flat back" that makes it easy to handle. A main valve and cylinder-porting concept helps maintain constant drilling speed. Standard and silenced versions are available to fit any requirement.
Chicago Pneumatic Tool Co.
DisposaCones
Highly visible, compact, temporary traffic barricade system, reflective or non reflective
Available in 17- and 14-in. tall sizes and adhere to any clean, dry, hard surface; wet metal; glass; and painted surfaces
Will hold up to wind and heavy rain up to 4 days
Made from renewable resources and environmentally friendly
Allow contractors to ask the client to dispose of the cones rather than spend time to come back to the site and pick them up themselves
Vanguard ADA Systems
FCS10 Rip-R-Stripper
The FCS10 Rip-R-Stripper provides a compact, lightweight alternative to larger walk-behind units. It features an operational weight of only 40 lbs. The smaller size provides maneuverability in confined areas. Built with a 2,300-watt electric motor, the unit operates form a standard 15-ampere circuit. It has a unitized, welded steel-plate frame and is ideal for applications include removing carpet, VCT, linoleum and mastics.
General Equipment
Genie QuickStock QS Lift
The Genie® QuickStock™ (QS) lift was designed to make inventory picking faster, easier and safer than rolling stairs or manually propelled lifts. An expansion of the versatile and popular Genie® Runabout product line, the QuickStock™ lift is both compact and easy to maneuver. It is available in all three Runabout model heights (12 ft, 15 ft, and 20 ft), and comes in two different versions: Retail (R) or Warehouse (W).
Terex Aerial Work Platforms
Hammer Model 1350T
This pneumatic-tired, mobile hydraulic hammer breaks, cuts and scores concrete, rock and asphalt into sizes suitable for excavation, recovery or cracking and seating.
Operates on and off paved surfaces
Hydraulically controlled creeper gear provides working speeds up to 63 fpm
Adjustable impact up to 13,000 ft.-lbs.
80-hp John Deere Tier III turbocharged diesel engine
Standard synchromesh transmission allows for travel speeds up to 20 mph
Arrow-Master Inc.
HYD-3D
The new HYD-3D from first-time exhibitor TrunkPump® provides the same low-maintenance, one-person operation convenience as other TrunkPumps®, but is powered by skid steer remote hydraulics. Generates and captures lost revenue through improved productivity. Pumps over 300gpm, handles chemicals, weighs just 75 lbs and takes the work out of pumping. Get your pump on! On your skid steer, on the job.
TruckPump
Icon-O-Lite Aluminum Trench Box System
The Icon-O-Lite aluminum trench box system offers a lightweight and compact alternative to heavy steel trench boxes.
Versatile, durable, modular design
Easily transported in the back of a pickup
Assembled and disassembled with two laborers
Panels available in 3- to 12-ft. lengths
Wall thickness of 2.5 in.
Icon Equipment Distributors
Indy Cab
Indy Cab is a new style of cab that features front A-posts made of rigid sheet metal components and an upper curved section to accept curved, tip-out windshields. The sides, roof and rear cab sections are all bolted together. The hard sides have sliding windows. The cab can be configured with a choice of standard steel roof or extended steel roof for use on backhoe equipped models.
The Indy Cab features front A-posts made of rigid sheet metal components and an upper curved section to accept curved, tip-out windshields.
Sides, roof and rear cab sections are all bolted together
Hard sides have sliding windows
Cab can be configured with astandard steel roof or extended steel roof for use on backhoe equipped models
Sims Cab Depot
LightSource Light Tower
The LightSource light tower, with a standard 6-kW generator, operates four 1,000-watt, metal-halide floodlights for up to 52 hours of continuous operation.
NEMA 6 x 7 beam spread for better light distribution and area coverage
Side-mounted/horizontally positioned bulbs provide broader light distribution of 460-ft. candles
Control panel includes individual lamp switches, GFI-protected 120-volt/15-amp duplex, standard 240-volt/20-amp
twist-lock receptacle(s), key-switch ignition and an hour meter
Three-section, galvanized steel tower extends from 12 to 30 ft.
Tower can be rotated 360 degrees and locked into position
Kubota D1105-E3BG 1,800-rpm water-cooled Tier 4 engine
Doosan Infracore Portable Power
Log Splitter
Works in horizontal or vertical positions
7-degree back cut on cutting wedge keeps log in place on beam
5.5-hp Briggs Intek I/C or 5.5-hp Honda engines
V models feature rigid axle; VS models come with fenders, taillights and independent suspension
PowerTek Inc.
M Series
The versatile M Series 6,000, 8,000, and 10,000 lb. capacities rough-terrain masted forklifts have begun tier III production. Users still have the option of two- or four-wheel drive; torque convertor or hydrostatic transmission; open, semi or fully enclosed cabs; and many Manitou manufactured mast height choices. Perkins or Caterpillar 94 hp turbocharged engines now provide the motive power. In addition, the M Series provides the user the exclusive frame leveling option on a masted truck allowing the operator to level out his truck and load before placing the load onto the landing area. Another popular feature that was retained from the previous series is a cab that tilts forward to provide excellent access for servicing and daily maintenance checks.
Manitou North America Inc.
M-Series Excavators
The E32 conventional tailswing and E35 zero tailswing compact excavators fit in the 3- to 4-ton weight class.
10-ft. 2-in. dig depth and 11-ft. 3-in. dump height
Load-sensing piston pump and closed center-valve system deliver optimal metering for smooth control of machine functions
Advanced hydraulic system increases arm breakout force by 10% over previous models
X-frame undercarriages provides increased ground clearance and better shedding of debris
Auto-Shift travel automatically shifts to high-range for easier transport and turning
Optional angle blade with bolt-on replaceable cutting edge
Overall sound levels reduced by more than 50%
33.3-hp engines with Auto-Idle feature
Bobcat Co. - Doosan Infracore
Model CT
Counter-top drain cleaning machine
Variable speed motor control from 75 to 350 rpm with constant torque
Cleans 3/4- to 2 1/2-in.-diameter drain lines up to 50 ft
1/5-hp 90-volt DC motor
Two-way auto cable feed
Built-in GFCI on 20-ft. line cord protects operator from electrical shock
Air-operated foot switch and cord assembly for ease of operation
Runs 1/4", 5/16", and 3/8" cable.
Electric Eel
OTS Pumps
OTS (Off the Shelf) is a program operated by The Gorman-Rupp Company that offers a complete line of small pumps, including self-priming, straight centrifugal, diaphragm, submersible, mag drive, peristaltic, bellows, gear and piston models. Over 600 models are available in 2 weeks or less and 200 models are available Off the Shelf.
Gorman-Rupp Co., The
Point-of-Rental Systems
Point-of-Rental Systems' rental management software for Windows® boasts thousands of features including real time wireless alerts via SMS text or e-mail; Quotes, Reservations, Contracts, Work Orders, Preventative Maintenance, Purchase Orders, Integrated Credit Card Processing; Mass fax and e-mailing of statements and closed contracts; overbooking notifications, re-rentals, delivery routing, and over 400 built in Crystal Reports. It has been installed in nearly 1200 stores in North America.
Point of Rental Systems
QAS 45
The new QAS 45 generator features a Kubota engine with Stamford BCI series alternator. The unit delivers 45 kVA and 38 kW of prime power. Standard features include a high capacity fuel tank, rugged Zincor steel enclosure, large doors and service plates, 500 hour service interval and a 110% containment area for fluid spills. A comprehensive instrument panel enables all key operating functions to be supervised without opening the canopy. Options for the QAS 45 include a battery charge and battery switch, coolant heater, and wireless remote start.
Atlas Copco Construction Equipment LLC
QH5 Blade
The QH5 is a general purpose diamond blade for cutting of cured concrete and brick. It can be used on all high-speed, walk behind and masonry saws with wet and dry applications. The blade has a higher segment height and a higher diamond concentration than some blades in its range making it last at least twice as long as a regular segmented blade in its range.
Husqvarna Construction Products
RTX100 Trencher
Interchangeable tracks and tires for the landscape, utility and rental markets
VZ Steer system allows the operator to simply move the handlebars in the direction the operator wants to move, and the machine responds
13-hp Honda GX390 or 15-hp Kohler CH15 gas engine
Trenches up to 36 inches in depth and 4 to 6 inches in width
Vermeer Corporation
SaaS Version of Enfinity Rental System
Solutions by Computer Introduces SaaS Version of Enfinity® Rental System
Solutions by Computer introduces Enfinity SaaS, the ³Software as a Service² offering of its Enfinity rental system on Windows®. SaaS deployment gives customers access to Enfinity's rental applications and integrations delivered over the Internet. Enfinity SaaS can dramatically reduce a rental company's upfront costs and eliminate the need for a system manager in larger operations. Maintenance tasks such as data archiving are handled automatically. 800-950-2221. www.solutionsbycomputer.com.
Solutions By Computer
SC45 Concrete Buggy
At 29" wide, Canycom's new SC45 Concrete Buggy with rubber tracks can carry concrete where no concrete buggy has gone before-in the most confined spaces, on the roughest terrain. The rubber track undercarriage allows the buggy to maneuver over rough, muddy, and steep work sites eliminating the labor and time needed to lay plywood on the travel path.
Canycom Sales North America
SK200 Auger Drive
The SK200 auger drive is equipped with premium hydraulic motors and an oversized, heavy-duty gearbox.
For skid-steer loaders, excavators, cranes and other hydraulic machinery
Optimal hose routing
Lowe Manufacturing Incorporated
Spreader Attachments
Spreads seed, fertilizer and ice melt
Attaches to riding mowers, utility tractors, ATVs, etc.
Available as electric or PTO driven
Capacities of 3, 7 or 12 cu. yds. of material
Constructed of lightweight, corrosion-resistant polethylene
TrynEx International
Steam Jenny Direct-Drive Cold Pressure Washers
Four new models
Powered by 9- or 13-hp Honda GX Series engines
Triplex ceramic plunger pump
Pressure ratings between 3,000 and 4,000 psi
Flow rates between 3 and 4 gpm
Thermal pump protection, unloader valve and high pressure relief valve
Jenny Products
T5C
The T5C is fabricated from the ground up to be sturdy and productive.
8-ft. 4-in. digging depth
Loader rated to lift 1,700 lbs.
Easy to operate and maintain
Terramite / TerraQuip Construction Products, Inc.
TRX-26
Toro is extending its line of dedicated walk-behind trenchers with the introduction of the Toro® TRX-26. Boasting a 26-hp Kawasaki engine, the TRX-26 is ideal for utility workers, irrigation contractors and plumbers looking for the power of a ride-on trencher, with the maneuverability and control of a walk-behind. The patented Toro Dingo® TX-style control system on the TRX-26 makes it easy to control and eliminates the "jerk" steering required with handlebar control steering, allowing for smoother, more precise trenching. The TRX-26 can be outfitted with Toro's 2-, 3- or 4-foot boom attachments, allowing it to trench up to 8-in wide and up to 48-in deep.
The Toro Company
UniLift Trailer-Mounted Boom Lifts
UniLift trailer-mounted boom lifts feature working heights up to 38', battery power, 360-degree effective coverage, and quick conversion for use as a universal crane. The new power jack setup option allows for quick and easy outrigger setup. With unit weights less than 3000 lbs, UniLifts tow comfortably behind a pick-up truck, and can be easily maneuvered in and out of tight work spaces - even on turf. Features built-in charger with automatic shut-off. Easily converted to a boom crane.
LDC Industries, Inc.
V270 Vertical Lift Skid Loader
The V270 skid loaders features an 84-hp Yanmar turbo-diesel engine and a rated operating capacity of 2,700 lbs.
Lift arm design provides extended reach and lift height of over 130 in.
Equipped with an electronic engine control and a foot throttle
Options include a pressurized sealed cab with fully adjustable controls, air-ride seat and side-folding restraint bar
Standard infinitely adjustable proportional auxiliary hydraulic control and Hydraglide Ride Control System
Gehl Company
VX Compact Excavators
IHI recently introduced the VX zero tailswing mini-excavator line. With weights ranging from 2,060 to 18,100 lbs., the VX excavators feature 9'9" to 23'4" of reach, digging depths of 5'2' to 15'1", and bucket breakout force of 2,360 to over 14,730 lbs.
IHI/Compact Excavator Sales
YUCHAI Excavators
Concrete Contractor Text:
Full line from 1.5 - 23 Ton excavators
Brand name engines and components
Standard A/C on enclosed cab
Zero Tail Swing models available
YC Machinery & Equipment Inc. offers a complete line of excavators spanning the 1.5- to 22.5-ton weight classes.
3,804-lb. YC15 offers a 5-ft. 11-in. maximum digging depth, 2,361-lb. maximum digging force and 19.71-hp Perkins or Kubota diesel engine
47,407.5-lb. YC225 supplies a 21-ft. 10-in. digging depth, 32,600-lb. digging force and 155.6-hp Cummins QSB6.7 engine
Most models include a "Servo Hydraulic Pilot device" and 360° platform rotation
YC Machinery & Equipment Inc. / YUCHAI