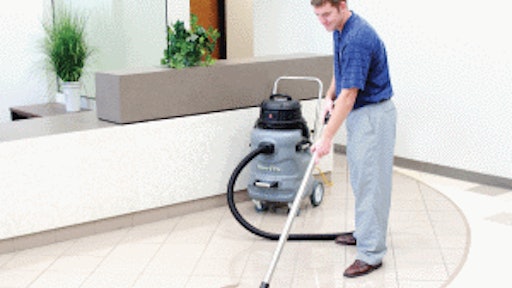 Although no set schedule has ever been formally established, it is well acknowledged that the hallway carpets at 720 W Gordon Terrace, a 23-story condominium in Chicago, are cleaned twice per year. The 45-year-old building has always used professional carpet cleaning extractors, but the current machine, which has certainly served them well, is now 15 years old, approaching the end of its lifespan.
Ongoing repair costs have forced the managers and the condo association to consider if it is worth keeping (and repairing) the machine or purchasing a new one. But, a new extractor can cost several thousand dollars. And after taking bids, they found that hiring a professional cleaning service to clean the hallway carpets would cost about $100 per floor-at twice per year, that approaches $5,000 annually.
The managers discovered another option: renting the equipment on an as-needed basis. Renting a professional carpet extractor costs only a fraction of purchasing a new one, proving to be a significant cost savings. Additionally, there are no repair bills.
Cost Cutting by Renting
Although this is just one example of why managers, building operators and contract cleaners decide to rent, instead of purchase, professional cleaning equipment, there are scores more. In fact, due to the recent recession, which negatively impacted the professional cleaning industry and caused budget cuts in virtually every industry, many building managers and cleaning contractors are viewing renting cleaning equipment, especially on an occasional or "special project" basis, as a wise, viable, and cost effective option.
"Housekeeping budgets have been curtailed," says Norman Schmidt, president of Hopkins Sales Co. Inc. in Easton, MD. "And what's the easiest thing to trim? The part nobody thinks about - [cleaning] the floors, ceilings, and walls. People let these areas go."
Schmidt and other janitorial distributors report that the sales of carpet extractors, floor machines, and other cleaning tools are still down. "When a housekeeping manager must justify every expense to a board or building owner or manager, pricey equipment is a tough sell," he says.
However, as one door closes, it appears another has opened. Dan Ott, co-owner of Facility Supply Systems Inc. in Chicago, agrees with Schmidt that sales of some cleaning equipment are down, or at least not at pre-recession levels. But, Ott adds, his company has benefited from a significantly "increased demand for rental [cleaning] equipment" from a variety of industry sectors, including cleaning contractors, that was less prominent before the economy's downturn.
A Bit about the Cleaning Industry
As mentioned, when times get tough and budgets are cut, one of the easiest things to trim is the cleaning budget. The reason given for this is because it's often the part of a business operation that "nobody knows about."
Many rental companies may be unaware, but others have taken advantage of the opportunities this huge industry offers. "In the professional cleaning industry, cleaning is typically performed at night or on weekends, when few building occupants are around," says Gary Pelphrey, general manager for Powr-Flite Direct, a leading manufacturer of professional cleaning equipment. "It's kind of easy not to know about this industry, or the people that perform cleaning tasks, if nobody [ever] sees them."
But, according to Pelphrey, the professional cleaning industry is a $50-billion to possibly $100-billion industry, depending on how its annual sales are calculated. "Although there are now several major companies and corporations in the professional cleaning industry in the United States, from its earliest days until today, the bulk of the industry has been made up of smaller-sized firms that make cleaning products, distribute them, or use them to perform cleaning tasks," adds Pelphrey.
Along with industry knowledge, Pelphrey believes the rental market should know how the last recession impacted the industry. Traditionally, the industry was considered recession resistant and only minimally impacted during tough economic times. However, the last recession was "a game changer," says Pelphrey. "Large and small companies experienced tough times and delayed the purchase of [larger] cleaning equipment as long as possible. This is when many firms found renting [cleaning] equipment as needed to be a practical, cost saving option."
What Cleaning Professionals Look for in Cleaning Equipment
Although most cleaning workers are paid an hourly wage, the actual charges for cleaning services are rarely based on how long it takes to clean. In most all cases, the "bid" charge is based on the number of square feet to be serviced or, if cleaning carpets, the square feet of the carpet.
"This is important because the more the equipment used [for cleaning] can improve worker productivity while still meeting or exceeding customer expectations, the more money the cleaning contractor can make," says Pelphrey. "Without question, time is money in the cleaning industry."
However, improving productivity is not the only factor cleaning professionals consider when choosing to purchase or rent equipment. Ergonomically designed equipment - machines that are easy to use and operate - and those that incorporate more advanced technologies are in greater demand, says Pelphrey. "The machine must work with the worker, helping them perform his or her cleaning duties with as little [physical] stress as possible. This is found on newer and more advanced cleaning tools and equipment."
When to Expect Cleaning Professionals to Rent Equipment
Traditionally, most contractors and other cleaning professionals would either purchase cleaning equipment or, in the case of very large machines such as truckmount carpet extractors, lease them. However, as referenced earlier, the big "game changer" has been the recent recession. Many cleaning contractors, some of whom had never even thought about renting equipment, now see it as a cost-effective way to meet their business needs.
Besides cost cutting, there are other reasons to rent cleaning equipment, including:
Construction cleanup: Typically, once a new building has been built or an existing one is remodeled, a contract cleaning service is called to remove the construction debris and make the area "tenant ready." Often, this involves wet/dry vacuum cleaners, floor machines, if new floors must be cleaned and sealed, and other tools.
Emergency cleanup: This type of cleaning typically involves cleaning up after floods and fires. Along with wet/dry vacuum cleaners, cleaning professionals can rent carpet extractors to clean and remove moisture and odors from carpets and upholstery. The property's insurance company will typically decide whether cleaning furnishings or replacing them after an emergency are the best option; however, they often lean toward cleaning if at all possible because it is less costly.
Purchase decisions: When it comes to cleaning equipment like floor machines and carpet extractors, cleaning professionals have a variety of machines to select from. "Many decide to rent equipment first, try it awhile and see if works for them," says Pelphrey. "This can save a lot of money in the long run."
The Bottom-Line
For rental companies looking for new market sectors to court, a wise choice could be the professional cleaning industry. It is a strong, growing industry and larger than most people realize. But, of special interest to the rental industry is the fact that in recent years and for various reasons cleaning professionals have discovered renting and view it as a convenient and cost saving option. All reasons to give this industry a look or a second look as a way to butter up the bottom-line.