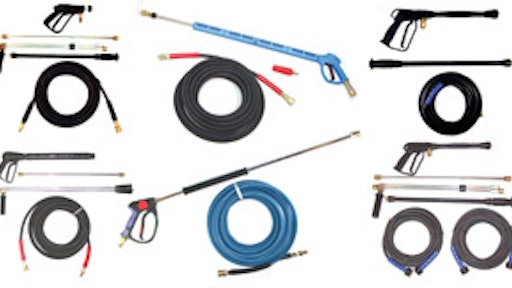 Water Cannon Expanded Attachment Line
Water Cannon announces an expansion of its attachment line for pressure washers. The attachment kit program has newly expanded products including its series of multiple wands that change to fit different applications. For about the same price as a basic hose trigger wand, Water Cannon offers extra wands in their packages for added versatility. The Triple Wand kit provides lots of flexibility for jobs with quick-connect nozzles and a wand that allows you to adjust your stream from zero to full spray. The Dual Wand nozzle has a side handle that allows you to apply chemicals in a controlled and measured fashion. Water Cannon can create any attachment kit needed with hose length up to 200 ft., customized trigger guns, wands and nozzle kits to accomplish almost every task.
Daniel Exca-Beak
The Exca-Beak from Daniel Mfg. allows the full operating range of your bucket. Available in all popular quick-tatch styles and can be supplied in pin-on configuration. For hardscaping, demolition, feeding chippers or tub grinders, concrete tear out and more.
Loegering F-Series Track
Loegering's F-Series tracks feature a smooth-running, double-pivot design for easy maneuvering. Hammer-forged steel pads ensure a wear-resistant pad bottom and are equipped with threaded Dura Pins for longer life and easier replacement. Each component is individually hardened for longevity and dependability.
Dri-Eaz Jet CXV TurboDryer
The aerodynamic Jet CXV offers the highest velocity airflow with minimal amp draw (at 1.5-, 2.0- and 3-amp speeds). Its built-in angles direct 3,200 cfm to maximize laminar airflow for the fastest wall and floor drying. Easily daisy chain up to 8 units on low speed using convenient onboard outlets. The convertible hinged design offers one-step access to all components for cleaning. Quick stackability and Unimover handtruck make the transport of multiple Jets simple.
Kaeser M270
Kaeser announces the M270 portable compressor. Powered by a heavy-duty Mercedes-Benz engine, this rugged unit produces 950 cfm at 100 psig and offers optional pressures to 200 psig. The M270 includes standard features such as a Sigma Profile airend and an instrument and lighting package. The fully galvanized steel enclosures protect internal components and reduce noise levels. Large fold-out doors offer easy access to all service points. Fuel tank capacities provide full-load operation for 14 uninterrupted hours. Optional aftercooler/filter packages increase compressed air quality and add flexibility for specialized applications.
Millermatic 140 MIG Welder
The 115V all-in-one Millermatic 140 MIG welder from Miller Electric utilizes Auto-Set technology to automatically set wire feed speed and voltage to achieve optimal welding results. Just set the wire diameter and material thickness. Auto-Set works with C25 gas and either .024 or .030 solid wire. Smooth-Start technology provides smooth, spatter-free starts. Manual mode feature allows users to manually set wire feed speed and voltage for broader applications. Unit can weld up to 3/16 in. in a single pass.
Ingersoll Rand PAC Series
Ingersoll Rand introduces the PAC Series of plate compactor attachments for carriers from 3,000 to 60,000 lbs. Intended for work in foundations, seawalls, slopes, trenches and other confined spaces, these attachments can compact soil and also drive sheet pile into the ground or pound signposts into granular soils. Seven models are available in the series, including side- and top-mount models. All models have an operating pressure of 2,300 lbs. per sq. in. and a maximum back pressure of 100 lbs. per sq. in.
Bobcat T320 Compact Track Loader
The Bobcat T320 is a vertical lift path loader powered by a 92-hp diesel engine. With a 3,200-lb. rated operating capacity and 10-ft. 9-in. lift height, the T320 features 18-in. wide rubber tracks to produce low ground disturbance, reduce ground pressure and provide extra traction. Unit is equipped with hydraulic system that produces 21.2 gpm and comes with permanently lubricated idlers and rollers. Features include a fully adjustable suspension seat and state-of-the-art instrument panels.
MEC 91 Series Scissor Lifts
The 91 Series rough-terrain scissor lifts from MEC include the 2591RT, 3391RT and 4191RT. With working heights of 31 to 47 ft., features include an oscillating rear axle that has 12 in. of ground clearance, 45-percent gradeability and 76-in. inside turning radius. When the 48-in. roll-out deck is fully extended, the platform measures 180 by 91 in. Platform capacities range from 1,000 to 2,000 lbs. with rating capacities for four people plus work tools and materials. Rough-terrain ability is boosted by the Quad-Trax four-wheel-drive power. Stabilizers are a one-touch, automatic self-leveling option.
Wyco Hydraulic Paving Vibrator
The hydraulic gear motor of the hydraulic paving vibrator from Wyco maintains reliable operating speeds throughout the unit's life. The lightweight, compact, single-isolator bracket features Wyco's easy-to-mount claw clamp, and the single-isolator design eliminates concrete build-up. The high-impact rotor offers high forces and delivers an effective operating range for paving mix designs. The Square Head provides faster compaction to improve paver speed.
Riveer Typhoon Portable Wash Station
The new Typhoon portable wash station is completely self-contained system that quickly installs in the area of one parking space. It performs well on uneven ground because its grated sump pulls water from both ends at once. It needs no special plumbing, no special permits and the completely enclosed mechanism is head to the wash water won't freeze, even in winter temperatures. Everything is automatic; pull the trigger and wash. The pressure washer gun gives 360-degree washing access from outside the wash rack. The built-in access ramp closes automatically, easily becoming a fourth wall to keep overspray on the rack and off your shop floor. Maintenance is minimal since there's no filter to change. Collected debris cycles into a disposal barrel; water replenishment can be handled with a hose; automatic alert signals if water level gets too low.