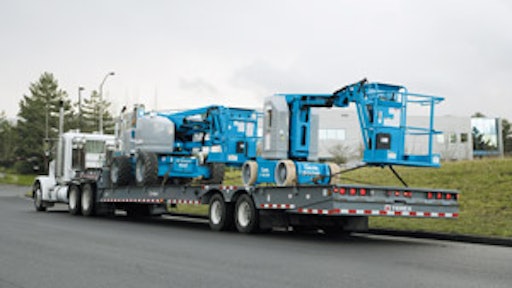 Genie HFT 70RS Rental Equipment Trailer
Specifically designed to meet the transportation demands of the rental industry, the new Terex HFT 70RS rental equipment trailer is ideal for transferring equipment to and from customer jobsites, and it's ideal for large operations with substantial fleet transportation needs. The main deck on the HFT 70RS is 29 ft. 5 in. long and 102 in. wide along with additional length on the 9-ft. gooseneck deck and the 10-ft. extended hydraulic ramp. The tail section provides ample ramp length for an easy loading slope with a total length of 14 ft. 6 in. The tail section can lift and carry up to 30,000 lbs. of equipment, and the trailer has an overall net capacity to carry up to 70,000 lbs.
Fecon RF-1000 Soil Hog
The RF-1000 Soil Hog is suited for site prep, road construction, landfill construction, stump grinding and other applications. Unit works above ground and deep below ground in difficult soils to mix additives for ground stabilization and planar grinds. Can grind stumps up to nearly 16 in. in diameter with fixed carbide tools that can easily be changed individually to chronical bits for various working conditions. Features include a removable tool holder and optional roller and trap doors.
Komatsu WB142-5 and WB146-5
MMD Equipment expands its small rental house sales arrangement with Komatsu by announcing the availability of two Komatsu backhoe-loader models, the WB142-5 and WB146-5. Powered by Komatsu engines, these models feature four-wheel drive, dual-swing cylinders that provide high swing torque and are mounted high to reduce debris and damage. A cast-iron front end provides protection for the machine and also acts as an integral counterweight. Reversible stabilizer pads allow work on dirt or pavement.
Bobcat Silt Fence Installer
The new silt fence installer from Bobcat Co. is designed for the construction, landscaping and rental markets. The EPA mandates that contractors control storm water runoff and discharge of pollutants if one acre or more of land is disturbed. The Bobcat silt fence installer attachment provides a faster and more secure method of installing silt fence that the old methods of trenching or digging by hand. The attached is approved for use on Bobcat skid steers (models S220 through S300), compact track loaders (models T180 through T300), the A300 all-wheel steer loader, as well as compact tractors with up to 100 hp and a Class I or Class II three-point hitch.
CS Unitec 1.5-HP Pneumatic Hacksaw
CS Unitec's 1.5-hp pneumatic hacksaw has a stroke of 2-3/8" and up to 350 strokes per minute. It will cut 4- to 30-in. diameter pipe in one pass. It will make 90-degree cuts when its attached to CS Unitec's pipe clamp system. This saw is particularly suited to many demanding offshore oil and gas, refinery, chemical plant, pipeline, utility and construction applications. It operates at 90 psi and requires 57 cu. ft. per minute of air volume. The complete system, hacksaw and clamp, weighs only 43 lbs. High-speed saw blades are available up to 37 in. long.
Equipment Resources Mini-Might Patrol
The Mini-Might Patrol will turn a skid steer into a full-blown grader.With the ability to attach and detach in less than five minutes following carrier modifications, there are no extra motors or pumps required. The operator sits outside of the skid steer for greater visibility. Unit is equipped with certified ROPS and safety shutdown system, weighs roughly 4,000 lbs. and features a standard 8-ft. moldboard with 10-ft. option.Laser and stringline system capable.
CGW EZ-Strip Wheels
CGW-Camel Grinding Wheels has introduced a new line of non-woven abrasive wheels for aggressive cleaning applications called EZ Strip. The new EZ Strip Wheels are engineered for quick cleaning of welds and removal of abrasive clogging materials, such as paints, sealants and scaling. The EZ Strip line includes rigid red wheels for faster finishing on angled and irregular surfaces and black wheels for fast cleaning and satin finishes. Both wheels are available in 4 1/2- and 7-in. diameters with 7/8- or 5/8-11 arbor holes. All EZ Strip wheels can be used on stainless-steel, aluminum, steel, non-ferrous materials, fiber glass and stone.
Hitachi 14.4V Cordless Power Tools
Hitachi Power Tools launches its new line of 14.4-volt cordless products including a driver drill, hammer drill, impact driver and impact wrench. Powered by HXP batteries from Hitachi, the new lithium ion technology generates three times the life of standard batteries. They are significantly lighter to reduce the overall weight of the tools they power. And Hitachi's HXP lithium ion batteries are uniquely backwards compatible, meaning they will also work in 14.4V DMR and DVF3 cordless tools.
Aichi Boom Lifts
Aichi track-mounted boom lifts are offered in a range from 40- to 70-ft. platform heights. These units are self-propelled on a heavy-duty track/crawler frame. Powered by Isuzu liquid-cooled diesel engines, these units have over 55-percent gradeability and are available with rubber track pads to allow use on any type of surface.
Pramac P6000 Generator
The new P6000 diesel generator from Pramac Industries is designed for professional and industrial use for a lifetime of supplying power to demanding applications. The P6000 has all the features associated with Pramac generators such as low noise, extended running time, super silenced enclosure, easy access for maintenance and more. Powered by a Yanmar L100 engine, the P6000 offers 5.87-kW maximum power, 4.81-kW continuous power, 15-runtime and 65-dBA sound level.
Morbark Clipper 6
Morbark introduces the Clipper 6, a 6-in. capacity drum-style unit designed for the rental market, landscape companies, nurseries and homeowners. This compact machine, complete with a 2-in. ball towing hitch and a tubular steel frame, makes transporting a breeze. Offered standard with an auto-feed system, a 30- by 20-in. infeed chute and 10 1/2" x 7" throat opening, the Clipper 6 provides exceptional chipping abilities for a machine of this size. A hydraulic drum brake, which brings the drum from full RPMs to a complete stop in eight seconds, allows the Clipper 6 to provide maximum production while saving wear and tear on the machine.
Mid Atlantic PBV-50
The PBV-50 is suited for skid steer models from 3.5 to 7.0 metric ton class. Rated at 490-950 BPM, the PBV-50 is ideal for demolition of concrete and rock. Adjustable blow speed and oil pressure and gas charged makes this a powerful hammer. Unit is capable of underwater use with auxiliary compressor. Unit includes mounting plate and all accessories.