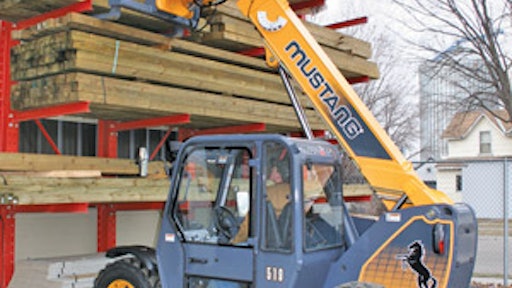 Mustang 519 Telehandler
The Mustang 519 compact telehandler offers 19 ft. of lift height and a 5,500-lb. maximum lift capacity. With a roomy cab for optimum visibility, the 519 features an 11-ft. turning radius and a frame measuring 148 in. long, 71 in. wide and 76 in. high. Powered by a 64-hp Deutz diesel engine, the unit can be transported on a trailer behind a 1-ton truck. The 519 features a two-speed hydraulic transmission with a transport speed up to 15 mph. Two-wheel, four-wheel and crab steering modes are available.
Bandit 007XP Series
Bandit unveils its new line, the 007XP Series, a collection of disc and drum chippers. All Bandit drum-style chippers have increased in-feed capacities and enlarged chipper openings, allowing them to more effectively dispose of larger and limbier material. The drums in Bandit drum-style chippers are 37 in. in diameter and are of baffled construction for durability. No structural changes were made to Bandit's disc-style chippers, but a new 15-in. capacity disc-style model, the 255, was introduced, featuring an enlarged chipper opening and in-feed hopper.
Maxus EX8015
Maxus is rolling out the EX8015 twinstack air compressor that's easy to move from place to place, thanks to two pneumatic tires and a retractable handle. The 5-gal. EX8015 features a 1.3 running HP electric motor that delivers 3.7 SCFM at 90 PSI and an oil-lubricated pump for long-lasting performance. An integrated control panel includes easy-to-read gauges and two quick connect couplers, and protects critical working components from jobsite damage. The unit also includes lifting handle for loading and unloading.
Turfco Direct LS-22 Overseeder
The new Turfco Direct LS-22 overseeder features an updated control layout that puts the most often-used controls - the positive open/close seed flow control, lift bail and blade clutch - on the handle, within easy reach of the operator. In addition, an overall lower spring tension in the blade clutch bail reduces the hand pressure required for operation. The effect of these changes has virtually eliminated the need for bending over while operating the LS-22. Optimized 1-in. blade spacing and micro-screw depth adjustment provides quick, accurate blade adjustments for optimal seed-to-soil contact in any conditions. A new seed window allows the user to quickly reference seed levels, and large pneumatic tires easily roll over uneven terrain, enhancing the LS-22's all-conditions performance.
Kaeser 8 KVA Genset Option
Kaeser announces the new 8 KVA generator option for its Mobilair compressor line. This option is now available on both the M70 and M100 portable units. At 8 KVA, Kaeser's genset option offers the highest available electrical power output in its class. With its command mode switch, voltage and frequency fluctuations are minimal, protecting the connected equipment from excessive wear and burnout. There are two 115-volt and two 230-volt, single-phase, fused outlets for maximum flexibility. Plus, an automatic V-belt tensioning device ensures proper power transmission and low maintenance.
Ez Spot Ur Rotating Attachments
Having the very specialized attachment for all kinds of different jobs using the same equipment is now possible. Ez Spot Ur has designed over 13 different interchangeable tool heads to fit on one unique rotating base. Tool heads include: rock and tree handler, pole setter, pot handler and barrel handle. The rotating base rotates 127 degrees. Ez Spot Ur attachments are designed with the universal skid steer quick'tach.
Loegering QTS-Quad Track System
The QTS-Quad track system is a set of four rubber-track undercarriages that quickly bolt directly to the standard hubs of most telescopic boom lifts. Constructed out of high-grade steel, the track system features fully sealed, greaseless bearings for minimal maintenance and an easy grease tensioning system for fast, reliable track adjustment. Provides 3,236 sq. in. of track on the ground.
Blastrac BMG-2500MKII Grinder
The new Blastrac BMG-2500MKII plug-style diamond grinder now offers an improved dust control system and a new line of beveled segment diamond plugs that reduce vibration when grinding, while also reducing scratch marks from concrete when polishing. The dual-head concrete grinding and polishing machine cleans, planes, removes coatings and polishes. Machine features include an extendable flip-out handle for increased control, a floating-bubble level, Morflex coupler for even and controlled grinding on rough surfaces, a removable 10-gal. water tank, four 50-lb. removable weights and high-velocity dust/debris recovery ports on the front and rear of the grinding head.
Subaru Diesel Generators
Subaru introduces a new line of diesel generators, powered by Hatz four-cycle, single-cylinder diesel engines. The RGD3300H and RGD5000H join Subaru's extensive existing lines of gasoline-powered generators while providing more convenient yet durable operation for diesel-ready jobsites, such as in the oil, mining and marine industries. The RGD3300H uses a 6.8-hp Hatz 1B30 engine with a rated output of 3,000 watts, while the larger RGD5000H uses a 9.9-hp Hatz 1B40 for a rated output of 5,000 watts. Both models in the diesel line have electric starters with recoil backup, while GFCI receptacles and fuseless circuit breakers protect the current level.
The Rake from Daniel Mfg.
The Rake is a simple, rugged tool that makes quick work of site prep tasks like leveling, grading and seed bed prep. It also works great for clearing debris like tall weeds, trash, larger rocks, etc. without piling up a lot of dirt. Optional dozer extension enables you to move more loose material out front for faster leveling. Optional ripper shanks can be lowered to loosen undisturbed soil or deep compaction from heavy equipment. Available in 6- and 7-ft. width options and a 40-in. for walk-behinds.
Pipe Pick from The Caldwell Group
The patented new concrete Pipe Pick is a faster, safer and cleaner way of handling pre-cast concrete pipe. Operator simply inserts the Pipe Pick into the lifting hole in the pipe, tilts to engage the beveled edge and lifts up. The pipe can now be lifted and set. Once it is set, removal is even easier. The Pipe Pick keeps workers out of the mud, out of the pipe and safer on the jobsite. Different models are available in capacities from 1 1/2 to 5 tons. Conforms to ASME standards.
Cummins QuickCheck 5100
Cummins introduces the next generation of QuickCheck engine information tools, the QuickCheck 5100, bringing together the power of a portable computer and proprietary engine-monitoring software. The QuickCheck 5100 is a self-contained device that makes capturing and reading engine data easier and faster. Unit connects to any electronic diesel engine, using standard J1587 and J1939 data links with supplied 6- or 9-pin cables. A supplied USB cable allows users to link their QuickCheck 5100 to a desktop PC. The 5100 runs on the Windows CE operating system and is preloaded with QuickCheck CE and PowerSpec CE applications, so it's ready to use right out of the box.
In the Spotlight
Barreto introduces steerable walk-behind trencher
To meet customer demand for a walk-behind, steerable trencher, Barreto has developed the new 1324 ST, with zero turning radius.
One of the first customers to receive the 1324 ST was Lowell Thomason, owner of Rent-E-Quip, with three locations in Virginia. "We already own three Barreto tillers and we were so impressed with the new steerable unit we bought two," said Thomason. "The units have been out a total of twelve times in less than 30 days, and that's been 30 days of terrible weather. We're getting lots of compliments from customers."
Precise wheel control helps eliminate drifting, making the ST perfect for trenching uneven terrain or hillsides. Long, arching curves are now possible, with virtually no extra effort on the part of the operator. With zero turning radius, trenching corners is a breeze.
The Barreto 1324 ST is powered by a 13-hp Honda engine, while the 1624 ST runs on a 16-hp Briggs & Stratton, Vanguard V-twin engine. The 900-lb. units trench to 24-, 30- and 36-in. depths with a width of 4 to 6 in. Ground speed is 220 fpm forward. Individual wheel controls offer superb maneuverability with easy-to-understand control panels.
"Customers were asking for a pedestrian trencher that was steerable to make it easier for them to drive to their jobsites," said Tim Phelps, product manager for Barreto. "With the steerable unit, you don't have to lock and unlock controls. The new 1324 ST also makes it easier to keep your trenching lines straight."