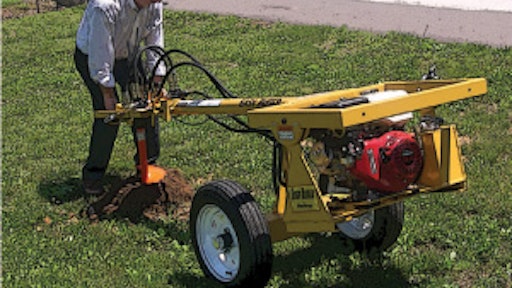 MacKissic Easy Auger II
The new Easy Auger II with "Maximum Drive" by MacKissic features a patent-pending drive system that delivers more torque to penetrate rocks and soil. Unit is available in push and self-propelled modes.
LDC UniLift Models 538 and 542KB
LDC Industries now offers an easy setup option for the UniLift Model 538 and 542KB trailer-mounted personnel lifts. This new feature offers a power jack option used in conjunction with the jack outriggers. These battery-powered lifts offer working heights up to 42 ft.
Sinclair Turbo II
With a new look, the Turbo II floor stripper removes most floor coverings, including commercial carpet, vinyl, VCT, rubber, sport surfaces, ceramic tile and glue-down hardwood. Features include hand-operated clutch, transport wheels and removable handle and weight systems. Specialty blades include self-dicing and a tile blade to protect the stripper blade jaw.
New Holland L175 Skid Steer
The new L175 skid-steer loader features a 2,000-lb. SAE-rated operating capacity, a bucket breakout force of 4,300 lbs. and an operating weight of 6,230 lbs. Unit is powered by a 60-hp turbocharged engine. Other features include Super Boom vertical lift linkage, a long wheelbase, fast ground speeds, a 20-ft. lift height and 29 in. of forward reach. Unit will be available with optional two-speed configuration and deluxe cab with air conditioning.
CTI MP60 Forks
Construction Technology Inc. (CTI) offers its new MP60 Forks, which are designed to be used with 4-in-1 or multipurpose buckets. The forks feature solid-steel construction, 48-in. tines and a 6,000-lb. lift capacity specifically for backhoe-loaders in the 1.3-yard range.
Max USA PowerLite Pinner System
The Max USA PowerLite pneumatic pinners are designed for metal and concrete applications, primarily shooting drywall tack. Unit weighs 4.4 lbs. and holds 100 pins in a plastic coil; it can shoot pins from 3/4 to 1 in. in length. Features include a sequential fire trigger, dial adjustable depth control and tangle-free swivel fitting. Unit also features a slim nose to get into tight locations and a hardened plastic carrying case.
Earth & Turf Linear Aerator
Earth & Turf's Linear Aerator's one-pass design assures maximum modification of turf by cutting grooves 3 in. deep, 1/2 in. wide and 3.5 in. apart. Reverse-spiral-mounted teeth bring soil and topdressing material up over the rotor. Unit is designed to fit Category I three-point hitches of tractors with 35- to 45-PTO horsepower.
Shindaiwa kWiet 120kW Generator
The new 150 kVA kWiet generator is powered by a 190-hp Isuzu diesel engine that meets EPA Tier III emission standards. Unit features advanced sound-absorbing technology and produces only 60 dBA at full load at 23 feet. Providing single- and three-phase output, the single-phase 120-volt output is available in all voltage settings.
Bandit 2100 Stump Grinder
Recent improvements to the Bandit Model 2100 self-propelled stump grinder include a 35-hp Briggs & Stratton Vanguard engine and a choice of manual or radio remote controls. A two-speed hydraulic drive, along with a flow control, allows you to vary the speed of the machine. Unit features a 21-in.-diameter grinding wheel with 20 teeth.
Electric Eel Jetter Line
Electric Eel has added an all new line of portable high-pressure water jetters to its range of drain and sewer cleaning equipment. The expanded line offers eight models, including two electric units and six gas models with features including electric start engines, removable hose reels and gear-driven triplex pumps. Units are available in 1,000- to 4,000-psi up to 5 gpm and feature Honda and Briggs & Stratton Vanguard engines.