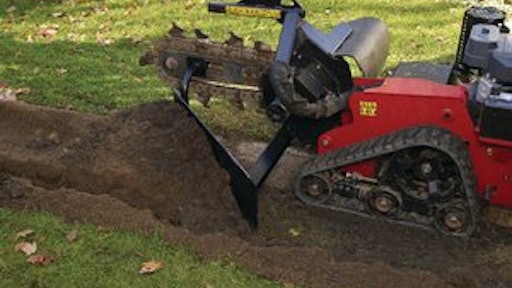 Backfill Blade for TRX Trenchers
For trenching and backfilling utility lines to water pipes, contractors and do-it-yourselfers can get their jobs done faster with the new backfill blade option for Toro TRX dedicated trenchers. Contractors using Toros TRX 15 and TRX 19 models can install the new backfill blade on these dedicated trenchers in less than one minute, giving users the ability to more efficiently backfill trenches on any jobsite. The Toro TRX backfill blade mounts directly to the trencher, locking into place with a simple pin mechanism. No special tools are required to mount the backfill blade, and it can be quickly be put on, or taken off, in less than one minute. Weighing 55 lbs (25 kg), the new backfill blade measures 40.5 inches (103 cm) wide, 45.6 inches (116 cm) long, and it stands 18.6 inches (47 cm) high. Toros TRX trenchers are designed with a low center of gravity and a large footprint for increased stability on side hills and smooth operation on uneven terrain. Plus, these machines feature a less-intimidating control system that follows the same design of Toros Dingo TX controls. All traction and trenching functions can be done with three levers, allowing contractors and homeowners to quickly learn and master this system.
The Toro Company
BPR100/80D Reversible Vibratory Plate
The largest of BOMAGs reversible plates, the BPR100/80D is a powerful compactor designed for large projects. It offers contractors and rental customers a faster working speed and greater compaction force, as well as advanced productivity and control features. Ideal for work on granular, cohesive and mixed soils, the BPR100/80D features a 14.75-horsepower Hatz air-cooled diesel engine. Its new vibratory exciter design provides a maximum working speed of 88.6 feet per minute, and a gradeability of 35 percent. Maximum vibration frequency is 3,360 vibrations per minute, and centrifugal force is 22,500 pounds. Both vibration frequency and centrifugal force are easily adjusted using the throttle control. Heavy-duty wear-resistant base plates feature reinforced edges and have a working width of 25 inches. It also comes standard with BOMAGs exclusive Economizer system. By detecting soil stiffness, the Economizer system provides an accurate overview of soil compaction status. It allows jobs to be completed more quickly, with up to 25 percent fewer passes, saving fuel costs and reducing machine wear. The Economizer system also helps the operator achieve optimum compaction by avoiding over-compaction and identifying and eliminating soft spots.
BOMAG Americas
Electronic Fuel Injection (EFI) Engines
In addition to its current line of engines, Subaru offers a new line of electronic fuel injection (EFI) engines, which are ideally suited for use with a variety of equipment, including welders, generators, pressure washers and lawnmowers. The line includes two models, the EH72 V-Twin and EH72 UTV, both of which are designed to reduce fuel consumption and emissions, while providing fast, easy starts in a wide range of ambient temperatures. The EFI engines run on an open-loop system, which utilizes an electronic control unit (ECU). Using several different sensors that are able to accurately detect manifold pressure, ambient temperature and throttle position, the ECU is constantly relaying information to the injector, which is then able to deliver the proper air-to-fuel ratio. The result of this continuous relay of information is an engine that is always running at an optimal level, resulting in better fuel economy and emissions control. Allowing for differences in operating speed, applications and fuel type, the estimated fuel economy improvements are 11 to 25 percent over that of a similar carbureted engine. Additionally, exhaust emissions are reduced by more than 20 percent. Both models are available in a 653 cc or 720 cc configuration, with power outputs ranging from 20- to 27-horsepower. The engines feature a two-barrel manifold with a fuel injector for each cylinder. This allows each cylinder to operate independently of the other, which aids in fuel optimization and also in improving the engines efficiency and performance.
Subaru Robin
Enfinity Release 2.0
Solutions by Computer introduces Enfinity Release 2.0, which contains a number of features designed to help tool, event and equipment rental operations maximize return on assets and serve the needs of its customers: New Internet customer portal -- offers end-renters online account management capabilities including the ability to create their own quotations and reservations in Enfinity, track equipment out on jobsites, view accounts receivable, and notify the rental business that equipment is ready for pickup; Intermediary special pricing -- In addition to handling special pricing at the customer level and the customer type level, Enfinity now allows multiple price adjustments to be applied to intermediary third parties in a transaction; "Watchdog" for Enfinity -- maintains a wait list of unfulfilled rental requests, monitors late returns to reduce overbookings, and automatically follows up on quotations and accounts receivable. Additional enhancements -- Enfinity Release 2.0 also includes an expanded rate display, sub-rent and transfer transactions, security levels by operational task, and customizable forms.
Solutions By Computer
NON-SPARKING TOOLS FOR Ex ZONES
CS Unitecs new Non-sparking Hand Tools are manufactured from Copper-Beryllium or special Aluminum-Bronze alloys that are certified for safe use in areas where hazardous, flammable or combustible vapors, liquids, dusts or residues may be present. This line of safety tools consists of hammers, flange wedges, striking wrenches, pipe wrenches, sockets, screwdrivers, shovels and other hand tools. They comply with the ATEX Directive stating that no tools which can cause sparks are permissible in Ex Zones 0, 1 and 2 (Gas, Mists or Vapors); Zones 20, 21 and 22 (Dusts) and M1 and M2 for mining. Each tool is laser engraved for the proper Ex Zone classifications indicating the zones for which it can be used. These Non-sparking Safety Tools from CS Unitec are specifically designed to eliminate the risk of sparks at sites where explosive atmospheres may be present. Appropriate applications include oil drilling platforms, petrochemical plants, oil refineries, natural gas installations, ammunition plants, mining and other industries where non-sparking safety tools are required. The non-magnetic feature of these alloys also make them ideal for working on special machinery with powerful magnets such as MRI machines. CS Unitecs safety tools are forged for the highest quality in hand tools. They are corrosion resistant.
CS Unitec, Inc.
RS10 Telescopic Handler
The new RS10 telescopic handler from Gehl has a rated lift capacity of 10,000 lbs. and a maximum lift height of 44 ft. The unit features a welded box-section boom design, a rear axle stabilizer system and pilot-assisted controls. The RS10 has a four-speed power-shift transmission, three steering modes and a quick-attach work tool-mounting system.
The RS10 telescopic handler features a welded box-section boom design that enables a rated lift capacity of 10,000 lbs. and a maximum lift height of 44 ft.
Rear axle stabilizer system locks the rear axle in position when the boom is raised more than 60°, the parking brake is applied or the optional Personnel Work Platform (PWP) Safety System is activated
115-hp turbocharged diesel engine and four-speed powershift transmission
Three steering modes
Quick-attach work tool mounting system
Gehl Company
SB 302
The 670-lb. SB302 mid-range hydraulic breaker delivers a maximum impact rate of 1,380 bpm, a 48% increase over its predecessor.
Suitable for 4.5 to 9 metric ton carriers
Requires 13.2 to 21.9 gpm oil flow at 1,450 to 2,175 psi
One-piece design
Slimline design
Hammer mechanism with recoil dampening reduces vibrations up to 53% compared to previous SB models
Noise levels lowered by 5 dB(A)
Limited number of moving parts

Atlas Copcos SB 302 mid-range addition to its line of SB hydraulic breaker attachments delivers a maximum impact rate of 1,380 bpm. The 670-lb. breaker has a solid body concept with a slimline design for better operator visibility and easy positioning. Noise levels have been lowered by 5 dB(A) and a new hammer mechanism with recoil dampening reduces vibrations by up to 53% compared with previous SB models. The SB 302 also features a built-in pressure relief valve to protect from exceeding recommended operating pressure.
Atlas Copco Construction Equipment LLC
SJ 46AJ Articulating Boom Lift
The 46-ft. SJ 46AJ engine-powered articulating boom lift will be available in two configurations featuring a jib (46AJ) or no jib (46A).
Standard 360° continuous turret rotation
Zero tailswing
Axle-based 4WD system
Optimal positive traction and terrainability
Direction-sensing drive and steer controls
Skyjack
SV-Series Scissor Lifts
Additions to the SV-Series scissor lifts include 15- and 19-ft.-high models with 30-in. platform widths and 26- and 32-ft.-high models with 46-in. platform widths.
AC motor drive system with brushless technology
Optional proportional steering system features steering wheel control and return to center functions
90° steering angle
Fold-down hand rails
3-ft. 3-in. platform extensions
Aichi - Toyota Material Handling, U.S.A. Inc.
T110 Compact Track Loader
Bobcats T110 compact track loader, with a width of 47 in., is the smallest loader in Bobcats line. The T110 can support 26 Bobcat attachments with its Bob-Tach mounting system. The T110s cab offers many of the same comfort features as larger Bobcat loaders including a suspension seat, superior visibility and an easy-to-read instrumentation panel.
Bobcat Co. - Doosan Infracore
T30 Super Quiet Generator
Genie announces the additionof the T30 to its generator line. The T30 comes standard with 110 percent spill containment, simple user-friendly controls and a fuel tank sized for 24 hours of continuous operation. Powered by a dependable Tier 4 compliant 37.7 horsepower Kubota diesel engine, the T30 is designed to deliver consistent power for common uses, like construction jobsites, to unique applications, like cellular phone tower support. The T30 provides 29 kilovolt amps (23 kilowatts) of prime three-phase power. Operators have the flexibility to use three-phase power, single-phase power or both simultaneously as the situation demands. Three-phase voltages include 208 / 220 / 240 / 440 / 480 while single-phase voltages are 120 / 240. The distribution panel aboard the T30 includes an intuitive wiring instruction label, 5-lug distribution board and optional cam lock-style connectors. The T30 provides 29 kilovolt amps (23 kilowatts) of prime three-phase power. Operators have the flexibility to use three-phase power, single-phase power or both simultaneously as the situation demands. Three-phase voltages include 208 / 220 / 240 / 440 / 480 while single-phase voltages are 120 / 240. The distribution panel aboard the T30 includes an intuitive wiring instruction label, 5-lug distribution board and optional cam lock-style connectors.
Genie Industries
TE 60 Combihammer
Hiltis TE 60 Combihammer is designed for heavy-duty drilling, chiseling and demolition in concrete, stone and masonry. Powered by a 1,200-watt motor, the TE 60 features an optimized mechanical clutch for maximum torque. The TE 60 ATC-AVR model is also available and features Active Torque Control and Active Vibration Reduction.
Hilti Inc.
Telescopic Big Boom HB86TJ+
75-ft. 6-in. outreach
Simultaneous movements
8-ft. platform
Capacity to rapidly lift heavy loads up to 772 lbs.
19-ft. 8-in. telescopic jib with proportional controls allows reach to the most inaccessible worksites
Narrow fixed-width grame, oscillating axle and differential wheel lock allows for operation in wide range of areas
Haulotte US Inc.
V-Twin Engines
The GX630, GX660, GX690, GXV630, GXV660 and GXV690 V-Twin general-purpose engines come in horizontal and vertical shaft configurations.
Deliver 20.3 to 22.3 net hp and 35.2- to 35.6 lbs.-ft. net torque
36-blade low noise resin cooling fan improves cooling efficiencies
Advanced combustion chamber design and Digital Capacitive Discharge Ignition with variable ignition timing and twin-barrel inner-vent carburetion increase fuel efficiency
Will meet the 2011 EPA exhaust emission regulations without the use of a catalyst
American Honda Motor Co.