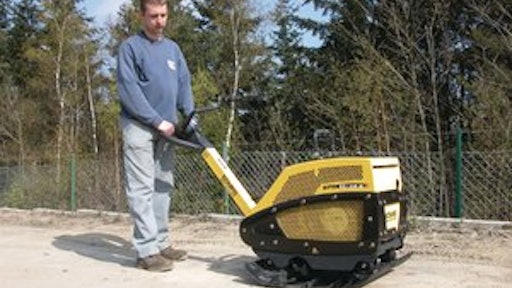 BPR35/60 Series
Bomag introduces two compact-size reversible plate compactors that offer faster working speeds and greater compaction forces as well as fully enclosed engine protection hoods. The series includes two models: the BPR35/60 features a 5.4-hp Honda air-cooled gasoline engine, while the BPR35/60D offers a 4.16-hp Hatz air-cooled diesel engine. Both models feature a new vibratory exciter design that gives them a 23-percent faster working speed. Both offer a 13-percent increase in centrifugal force. Maximum vibration frequency is now 4,800 vpm, a 6-percent increase over previous models. Heavy-duty wear-resistant base plates feature reinforced edges and have a working width of 23.6 in. Like all Bomag reversible plates, the BPR35/60 series features a high-strength, grain-refined steel hood.
BOMAG Americas
BS-2i Rammer
The BS-2i two-cycle rammer series features a new look that includes a change from the familiar green bellows and silencer cover to gray bellows and a yellow silencer cover.
Advanced injection system
Updated engine cylinder lowers total emissions by 38% and reduces fuel consumption by 15%
Low-profile, integrated muffler enables compaction closer to structures, while protecting against damage
Three models weighing from 131 to 164 lbs. and featuring reduced hand-arm vibration, integrated fuel valve and throttle lever and optimized weight balance
Wacker Neuson Corporation
CR 6, CR 7 and CR 8 with COMPATROL-MSM
The CR 6, CR 7 and CR 8 are available with COMPATROL - MSM, a machine and service management system for soil compactors rated above 11,000 lbs. of centrifugal force.
Monitors battery voltage, engine oil pressure, temperature and speed, air filter restriction, vibrator frequency, hours of use and operating hours until next inspection
Machine operating weights from 917 to 1,240 lbs.
Centrifugal force from 11,240 to 16,250 lbs. with frequencies from 3,750 to 4,350 rpm
10- or 11-hp Lombardini (CR 6 and CR 7) and 15-hp Hatz (CR 8) diesel engines
Weber Machine (U.S.A.) Inc.
FPC Series Forward Plates
Folding handle for easy storage and transport
Reduced vibration for operator comfort and safety
Lightweight for easy loading
Five models with 12.5- to 20-in. widths, weighing 115 to 173 lbs.
Compaction force ranges from 3,450 to 3,859 lbs.
Powered by Honda four-stroke engine (3 to 5.5 hp)
Tiger Equipment LLC
P-Series Vibratory Plate Compactors
The P-Series vibratory plate compactors feature a reversible guide handle and double-formed leading edge for improved climbing.
Vibration system includes a full-width weight shaft and heavy-duty tapered roller bearings in the base
Travel rates up to 135 fpm
2,500 to 5,300 lbs. of centrifugal force
Available with Honda, Briggs, Robin, Kohler or Kawasaki engines
Protective roll bar with a centralized balanced lift point
Arrow-Master Inc.
R440HC
The 142-lb. R440HC rammer is powered by a 3-hp Honda four-cycle engine with diaphragm carburetion.
11" x 13" shoe
Delivers up to 700 bpm at 3,800 lbs. per blow
Features include a low center of gravity, noise-attenuating 4.6-qt. fuel tank, four-ply steel- and fiber-reinforced bellows and a cool-running delivery system
Optional digital tachometer
M-B-W, Inc.
Rammax ACE Trench Roller
Equipped with Compaction Expert technology that allows operators to have complete control right at their fingertips
Built-in sensors monitor soil density while an LED light display visible from all angles informs operators when optimal results are attained
Produces 18,500 pounds of impact force and 1,800 vibrations per minute
18 .5-hp Hatz 2G40 diesel engine on the trench roller delivers 2,600 rpm
With vibration, unit can operate on slopes with a 45 percent grade and without vibration at a 55 percent
Maximum operating weight is 3,263 pounds
Available in either 24- or 33-inch drum configurations
Comes standard with infrared remote control and joystick operation
Multiquip Inc.
SFA3500 Silver Fox forward plate
Stone SFA3500 Silver Fox Plate
The SFA3500 Silver Fox forward plate is designed for asphalt applications such as patching and finishing.
Directs 3,500 lbs. of eccentric force to the asphalt
Incorporates a unique base plate geometry, more centrally-located eccentrics and larger effective contact surface
Features a synchronized drive system, 13-qt. removable water tank, custom sprinkler system and carbon-steel one-piece base plate
Powered by a Honda, Briggs or Robin engine
Stone Construction Equipment
Stone Construction Equip. Inc.
XH670D and XH730D Stompers
The XH670D and XH730D diaphragm carburetor, four-cycle rammers have a Right Built design, resulting in a well-balanced, smooth running, dependable machine.
134-lb. XH670D provides a 2,650-lb. impact force, while the 144-lb. XH730D delivers 3,100 lbs. of force
3-hp Honda EPA-approved, four-cycle engine
Features include a contoured, sound-absorbing, snap-on cover, modular design, extra-thick, cushioned hand grips, rubber shock mounts and heavy-duty, ergonomic throttle
Stone Construction Equip. Inc.