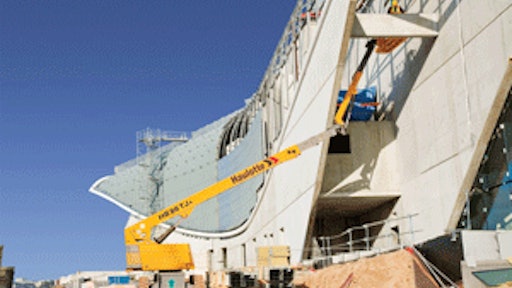 The specific characteristics of your customer's jobsite have a significant effect on the type of boom lift they should rent from you. Asking your customers a few thoughtful questions can go a long way toward ensuring a positive rental experience for all parties.
"Choosing the best boom lift for an application begins with determining what needs the customer has for height and outreach, as well as how much weight will be on the platform," explains Phil Harvey, product manager, Genie Booms. "You should also consider whether the worksite is indoors or outdoors; the ground conditions to be negotiated; access through doorways and around tight corners; the type of congestion on the site; height of any obstacles above which access is required; lighting conditions in the work area and any limitations on things like noise or exhaust conditions. A thorough assessment of the site to make certain a boom can be safely and efficiently operated is crucial."
Bob Yoder, AWP national sales manager for BilJax, agrees, adding, "The weight of the machine is also important. Different ground surfaces determine not only how heavy a machine can be, but also the ideal tire type on self-propelled models. One should also consider range of motion required for a particular job. For example, articulating models are ideally suited for reaching up and over, or under, obstructions, while telescoping 'stick' models provide greater outreach at lower heights. Obviously, the required working height should be a user's first consideration."
Aerial work platforms are available in a variety of styles and sizes to fit almost any overhead access need. Leading manufacturers offer dozens of different models including telescoping and articulating boom lifts featuring platform heights up to 150 feet.
With such a wide variety of machines available, there's a model that will match your customer's needs whether they're using it indoors or outdoors, on a solid concrete surface or driving through mud. Following are some things to consider when selecting a machine:
Platform height and horizontal reach. According to Howard Kaplan, JLG's vice president - product parent for aerial work platforms, the first step is to determine where you can position the machine. Then you can determine what machine will give you the combination of height and horizontal outreach you need to access the work area.
"Engine-powered telescoping booms are the ideal choice for construction applications where maximum height and outreach are required," says Harvey. "Features like articulating axles, traction control, deep-lugged tires or tracks, two-speed wheel motors and powerful engines provide the necessary characteristics to negotiate rough terrain."
He continues, "Typically equipped with 6- or 8-ft. wide platforms, these booms have more room for two operators, tools and equipment. Proportionally operated or variable-speed boom controls provide the operator outstanding responsiveness when operating near sensitive surfaces like glass or piping. These booms may also have multi-mode four-wheel steering to allow for easier repositioning of the base even while the boom is elevated."
Indoor or outdoor work area. Various power sources are available including gas, diesel or dual fuel engines, and AC or DC power to meet these different applications, according to Kaplan at JLG. Where noise is a concern in outdoor areas, electric-powered boom lifts with up to 60-foot heights are available.
"Battery-operated articulating booms are usually the best choice for industrial applications like indoor plant maintenance and factory refits," says Harvey at Genie. "They are quiet, have no exhaust and have articulating boom assemblies that allow access up and over obstacles like storage racks or machine tools. Battery-operated booms will most likely have relatively narrow rotating platforms attached to the boom with an articulating and rotating jib to provide several options for positioning the operator in congested overhead spaces. Their narrow width, tight steering, zero tailswing features are ideal for the narrow aisles and congested factory floor applications and provide easy access through doorways into gymnasiums."
Operating surface. Will your customer be working on a concrete slab or on soft earth? Is it level or sloped and is it firm enough to support the machine weight? Boom lifts with additional outreach might be required.
Operating location. Is it a congested area that requires a tight turning radius or where less tail swing is important? Are there any floor load requirements where a lighter machine might be necessary? Are there any overhead obstructions that must be maneuvered around to reach the work area? If so, you might have to use an articulated boom lift or a boom lift with an articulated jib to reach up and over obstacles, according to Kaplan.
Work requirement. How many people are required for the application and how much material is needed? This will dictate the platform size and capacity required.
Kaplan advises that you check the platform capacity of the machine to determine how many people and tools or supplies it will hold. You'll also want to look at the platform size to make sure it will provide your customer with adequate working area and that it will accommodate his or her largest load.
Once you have decided on what type and size of machine best meets your customer's needs, ask them what type of work they will be performing from the elevated platform and what tools they will be using to do the work. Along with electrical outlets and air lines on the platform, today's leading manufacturers offer a variety of optional features that will increase operator productivity even more when they reach the overhead area.
According to Kaplan at JLG, built-in generators in the base, with power cable and air/water lines running through the boom to the platform, are available to power everything from welders and plasma cutters to saws, pressure washing systems, and lighting packages. Using these integrated tool systems in the platform increases productivity, eliminates the need for costly ancillary equipment and provides a much safer working environment since there are no wires or hoses running over the side of the platform to the ground.
After you have reviewed your customer's job requirements, there are still other things to consider before deciding on which aerial work platform is best for the application. No matter what machine you select, you have to be able to move it from its point of delivery on the job and around the jobsite to the actual work area. Here too, there are many things to consider.
Ask about the terrain around the jobsite. Is it flat or sloped? If it's sloped, your customer might need a machine with more gradeability. And if there's a lot of debris scattered around, he or she might need a machine with higher ground clearance. Ask about the surface your customer will be traveling over. If it's soft or muddy, you might need four-wheel drive or a machine with a crawler undercarriage. You can also choose from a variety of tire options including foam filled, pneumatic, high-floatation "turf tires", or solid non-marking tires for use on wood flooring or tile and marble surfaces.
Finally, determine if there are any weight restrictions in places where your customer will be using the machine. Many areas like parking structures, bridges and sidewalks have load limits, advises Kaplan at JLG. Also, instruct customers to look overhead to see if there are any low clearance areas where the stowed height of the machine might be critical, and see if there are any "tight" areas they need to pass through where a narrow overall machine width or tighter turning radius might be required.
Ensuring the right selection
So how can you ensure customers get the right boom for their job? The first step is making sure your staff is properly trained.
"Ensuring all rental yard staff receive extensive product training on their boom fleet is key to ensuring the right fit for a customer's jobsite need," says Harvey at Genie. "On-site visits can be very helpful in recommending the best model and suggesting what types of optional equipment could increase the operator's productivity. Options like on-board welders and compressed air lines, platform-mounted lights or attachments to handle panels or pipes could make the difference between a happy and unhappy renter."
Harvey notes that Genie offers "Introduction to AWP Products" training at its Redmond, WA manufacturing facility and in the field for rental yard personnel so that rental companies can confidently ask the right questions and make the best equipment recommendations.
"We recommend rental businesses stock tools such as a laser range finder to help a renter accurately answer height and outreach questions," says Harvey. "Ensuring that rental staff stay informed of manufacturing updates via the manufacturer's website and other literature will help to provide for a well-informed customer interaction."
With the wide variety of products on the market today, there's a machine for almost any application. So take the time to review all of your customer's needs and jobsite parameters before selecting a machine for them. It benefits you and your customer to do so.
Special features get it done
There are many features available on today's boom lifts which make them ideally suited to unique working conditions. For example, the BilJax/Haulotte Group Summit Series trailer-mounted boom lifts and X-Boom self-propelled boom lifts feature self-leveling capabilities, allowing operators to set up and begin using the machines in about 30 seconds, says Bob Yoder, AWP national sales manager.
"Additionally, the outriggers on BilJax X-Booms have replaced the counterweights typically found on self-propelled machines, making X-Booms lighter, and therefore cheaper, easier to transport and operable on a wider range of terrain than competitors' models," Yoder says. "The HB86TJ+ telescopic boom lift with telescopic jib from Haulotte Group allows for maneuverability of the trickiest situations with the extra movement offered not only from the jib but the extra extension abilities of the jib. All Haulotte boom lifts for rough terrain have positive-lock four-wheel drive, which allows for better maneuverability and handling in rough-terrain applications."
For its part, JLG Industries introduced its Workstation in the Sky concept several years ago, creating a group of powered accessories to help workers be more productive. JLG developed an integrated system that featured a self-contained generator mounted in the boom base with a power cable and additional air and water lines routed inside the boom from the base to outlets on the platform. This eliminated the dangerous cables hanging down from the platform and allowed the platform operator to power and operate a wide variety of optional accessories through simple connections on the platform.
The basic building block for powered Workstation in the Sky accessories used in boom lifts is the SkyPower generator. A standard feature on JLG boom lifts with platform heights ranging from 60 to 135 feet and optional on all other combustion-powered JLG boom lifts, the self-contained generator provides 7,500 watts of power to separate 110V and 220V receptacles mounted in the platform.
Workstation in the Sky accessories include the SkyWelder, SkyCutterplasma cutter package SkyAir and more.
Phil Harvey, product manager, Genie Booms, adds that many booms, like the Genie S-80, have attachments available for handling long or tubular goods like pipes, conduit and ductwork, or for handling sheet goods like window or building panels. In addition, on-board generators are available should an end-user need full-time AC power for hand tools or welders. "Adding platform-mounted lights can also improve an operator's productivity in low lit work areas." says Harvey. "Only use attachments that have been approved by the manufacturer."