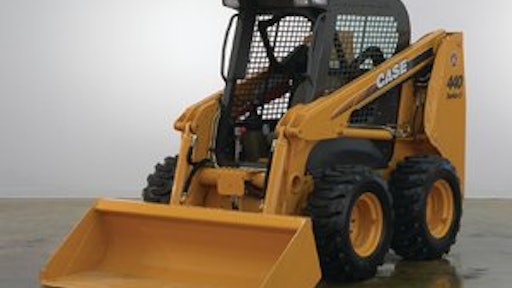 400 Series 3 Skid Steer Loaders
The Case 410, 420, 430, 435, 440, 445, 450 and 465 skids steers feature clean-burning, Tier III-certified engines from 57 to 83 net hp.
Cabs feature a 7% increase in headroom and 6% increase in lap-bar width, along with improved forward, side, rear and overhead visibility
Standard suspension seat, cushioned lap bar with arm rest, ergonomically designed control handles and foot throttle
Service features include improved oil and fuel filter access, wide-fin side-by-side radiator and oil cooler and improved cold starting
Options include a deluxe instrument panel with keyless start, road lights with turn signals and a radio with MP3 player
CASE CONSTRUCTION EQUIPMENT
4GC Concrete Grinder
36-in. working width with 4 square feet of surface contact area
For production grinding, cleaning, leveling or smoothing of large surface areas
Available with electric, gasoline and/or propane power options
Standard with a 3-in. vacuum port for dry grinding and a garden hose hook-up for wet grinding
EDCO Equipment Development Co.
BASIC Model 700 Pneumatic roller
The 1 1/2- to 3-ton BASIC Model 700 pneumatic roller features a seven-wheel design with wheels that oscillate independently.
Hydrostatic drive and power steering
Kubota water-cooled diesel engine
ISO-certified ROPS system
Includes a pressurized water system and backup alarm
Shannon Chastain Enterprises
BB302 and BB705 Bark Blowers
Trailer-mounted bark blowers
33.5- or 71-hp Kubota diesel engines
1.5- to 4.5-cu.-yd. hopper capacities
Exclusive roatary airlock and blower system
Material can be applied up to 200 ft. away from unit
Applies mulch, soil, compost, light aggregate and playground chips
Booth #3467
Finn Corporation
Beever M12D
12-in. chipping capacity
2-in-thick disc with full length, bolt-on fan paddles
18-in.-diameter single top feed roller
TorqMax feed wheel compression system
Booth #6146
Morbark, Inc.
Brush Shredder
Available with 60, 170 or 275 hp
Rotating drum and stationary teeth for clearing heavy brush and trees
Attaches to the Sneller Multi-Task carrier or your existing excavator
Self powered -- not hydraulic
Sneller Machine
BS-2i Rammer
The BS-2i two-cycle rammer series features a new look that includes a change from the familiar green bellows and silencer cover to gray bellows and a yellow silencer cover.
Advanced injection system
Updated engine cylinder lowers total emissions by 38% and reduces fuel consumption by 15%
Low-profile, integrated muffler enables compaction closer to structures, while protecting against damage
Three models weighing from 131 to 164 lbs. and featuring reduced hand-arm vibration, integrated fuel valve and throttle lever and optimized weight balance
Wacker Neuson Corporation
Dingo TX 427
27-hp Kohler engine
Narrow-track model has 535-lb. rated operating capacity, 92-in. length, 33.7-in. width and 5.1 psi of ground pressure
Wide-track model features a 535-lb. rated operating capacity, 92-in. length, 41-in. width and 3.5-psi ground pressure
Models can pump 19-hp flow to attachments for increased productivity in ground-engaging applications
The TX 427 Dingo compact utility loaders feature a 535-lb. rated operating capacity (35% of tip capacity) and a 27-hp Kohler gasoline engine that delivers added torque for increased pulling and digging force. Weighing 2,006 lbs. with standard bucket, the narrow track version has a 92-in. length with bucket and a 33.7-in. width. The 5.9-in. (wide) tracks generate 5.1 psi of ground pressure. The wide track model weighs 2,186 lbs. with standard bucket, yet generates 3.5-psi ground pressure. It has an overall length of 92 in. and a 41-in. wide track setup. Both models have four independent hydraulic pumps that deliver 16.9 gpm to each track, 11.4 gpm to the auxiliary hydraulics and 6 gpm to the loader arm. Auxiliary hydraulics supply a 19-hp flow to the attachment.
The Toro Company
enfinity
Now with Flashboard for party and event rental companies: on-screen display show changes to process orders and existing pick tickets; indicates revisions to inventory items on reservations and deliveries scheduled for picking, with contract number, customer name, venue address, old quantity, new quantity and delivery date
Maximizes returns on inventory investment through rigorous inventory tracking and intuitive processing of rentals, sales, reservations and quotations, image capture, service scheduling and more
Also includes capabilities for purchase orders and parts
Windows-based Enfinity marries a post-relational database to Solutions powerful applications to offer exceptional scalability
Solutions By Computer
EU2000iA Companion Generator
One 30A receptacle and one 20A receptacle
Eco-Throttle system helps conserve fuel
2,000 watts of inverter 120-volt AC power
59 db at rated load and 53 db at one-quarter load
Weighs less than 46 lbs.
American Honda Motor Co.
EX40 Engine
Delivers maximum output of 14 hp
Meets both CARB and EPA Tier 3 Emission standards
Automatic decompression timing system reduces pulling force by 30- to 40-percent
Inclined cylinder, lighter-weight parts and improved rotation balance
Full 2 dbA quieter in exhaust tone
Allows for 360-degree airflow around valve stem areas
Patent-pending oil delivery system
Booth #3459
Subaru Robin
Flexeel DuraWhip
Polyurethane jackhammer whip hose
Vibration-resistant swivel fittings which prevent the hose from twisting
Steel spring bend restrictors which provide a 180-degree bend radius with no kinking
To be used between the jackhammer hose and the tool
Highly resistant to abrasion, oils and greases
Available in 6, 10 or 25 ft in Hi Viz Construxion Orange color.
Coilhouse Pneumatics
FS20 Flat Saw
Up to 8-in.-deep cuts
Upright handle attachment allows for wall corner cutting or wall or curb cutting at ground level
Cuts vertically, horizontally, under water and in confined spaces
Dual-function trigger for automatic wet cutting
Includes a heavy-duty guard for flush cutting and guard attachment for normal cutting
Reimann & Georger Corp.
G5-18A
The 10,800-lb. JLG G5-18A provides a maximum lifting capacity of 5,500 lbs., maximum lift height of 18 ft. 4 in. and maximum forward reach of 10 ft. 10 in.
Operator-selectable steering modes include four-wheel circle, four-wheel crab and two-wheel steering
126-in. turning radius and compact dimensions for maneuverability in confined or congested work areas
Switch in cab allows the operator to choose between Lift Mode (joystick L/R moves boom in/out) or Loader Mode (joystick L/R tilts attachment up/down.
84-hp Perkins engine
Available with several attachments and can be configured to accommodate skid-steer attachments
The 10,800-lb. JLG G5-18A provides a maximum lifting capacity of 5,500 lbs., maximum lift height of 18 ft. 4 in. and maximum forward reach of 10 ft. 10 in. Operator-selectable steering modes include four-wheel circle, four-wheel crab and two-wheel steering. A 126-in. turning radius and compact dimensions allow for maneuverability in confined or congested work areas. A switch in the cab allows the operator to choose between Lift or Loader Modes. The 84-hp unit is available with several attachments and can be configured to accommodate skid-steer attachments.
JLG Industries, Inc.
Groutzilla System
The PTO-driven Groutzilla placement system easily places grout and masonry mortar in blocks, walls, forms and foundations.
Handles 20 cu. ft. of material, including most slump
Replaceable steel hopper swivels on heavy-duty roller bearings
Self-wiping Talet auger system with reinforced, composite polymer flighting that prevents binding due to various aggregate sizes
Positive hydraulically controlled shutoff valve
Heavy-duty fork pockets
Booth #2535
Stone Construction Equip. Inc.
HB20 SideWinder
Unique pivot-action base, allowing the operator to keep the wheelbase stationary while using a smooth gliding motion back and forth to grind stumps
Enables unit to be positioned in close proximity to stump, release the pivot pin and simply swing the handlebars from side to side
20-hp Kohler gas engine
19-in. cutterhead with 24 teeth
Compact and highly maneuverable
Booth #2753
Bandit Industries, Inc.
K-Series Gas-powered Compressors
The K-Series gas-powered, wheeled compressors include four models delivering 8.9 cfm at 100 psi or 8.6 cfm at 125 psi.
5.5-hp Honda GX engines with recoil or electric start
Incorporate the "K" pump, a heavy-duty, single-stage, cast iron compressor pump
Four air tank configurations (8, 15, 17 and 30 gal.)
Belt driven with a large flywheel for easy startups and extra cooling
Lifting handles and pneumatic tires enhance portability
Booth #2627
Jenny Products
Lo Riser Inclining Platform Trailer
The Lo Riser inclining platform trailer has a 74" x 16 load carrying platform that can be hydraulically lowered to ground height with the flip of a switch.
Minimum 4° load angle when lowered
14,000-lb. maximum payload capacity
Built-in ramp for easy, drive-on loading and unloading
Options include on-board battery with charger and maintainer, spare tire and wheel with carrier, and cargo winch
Advance Metalworking Company
LP 13-20 DEL
The LP 13-20 DEL hydraulic power pack features a 10-hp Lombardini series 15LD air-cooled diesel engine with recoil and electric start.
5.3-gpm hydraulic oil flow at a maximum pressure of 2,175 psi
Oil capacity of 1.3 gal. to sufficiently fill the pack, hoses and an attached tool
Thermostatically-controlled air blast oil cooler
Tubular stainless steel frame mounted in rubber suspensions
Reinforced chassis integrated with the tank and fan housing
Measures 23.6 in. wide, 29.3 in. long and 27.8 in. tall and weighs 256 lbs.
Booth #2935
Atlas Copco Construction Tools LLC
M57 Utility Mount
The M57 Mobilair Utility Mount portable compressor delivers 210 cfm at 100 psig.
Four-cylinder diesel engine
Sigma Profile airend
Delivers 210 cfm at 100 psig
Easy to read curb-side instrument panel
28-gal. fuel tank
Includes forklift slots and a single-point lifting bail for easier cross mounting on service vehicles
Booth #7254
Kaeser Compressors, Inc.
MTT Power Trio
Combination generator, light tower and water trailer
MTT 20 single-phase generator (19kW prime)
MTT 25 single-phase (15kW prime)/3-phase (18kW prime) generator
31.5-hp Isuzu diesel engine
Four 1,000-watt metal halide light fixtures with 360-degree rotation
500-gal. capacity water tank
246-gal. fuel tank
Heavy-duty double-axle steel trailer
Booth #5807
Magnum Products Inc
Multiwash14
One machine for cleaning surfaces including tents and portable dance floors
With the switch of a button, users can clean hard floors and carpet
Self-cleaning cylindrical brushes saves on chemicals and water usage
Powr-Flite
Plugr Turf Aerators
Five sizes of walk-behind aerators
22- to 30-in. aeration widths
Tow Pro attachment with 45-in. aeration area
Reciprocating aerators with tines power driven deep into the ground by crankshaft and engine to create deeper, cleaner holes
Plugrs use no add-on weights
Lightweight, maneuverable and low maintenance
SourceOne
ProTrac Series Skid Steer Tracks
The PROTRAC Series self-cleaning skid-steer tracks are offered in three styles to handle virtually any job environment.
Manganese-enriched steel alloy construction
Use pins and links made of heat-treated forged chromium for greater wear resistance
Self-cleaning
Stabilizes skid steer bounce and eliminates tire slippage
McLaren Industries, Inc.
Rammax Viper Trench Roller
The Rammax Viper trench roller has a maintenance-free articulation design and unique oscillation joint feature that provides reliable stability on uneven surfaces.
Available in 24- or 33-in. widths
Provides 2,460 vpm and reaches centrifugal forces up to 15,543 lbs.
Z-frame design features overlapping drums to eliminate un-compacted areas
Straight Compaction Technology delivers equal amplitude to all four drums
Standard internal drum scrapers, automatic idle control, failure diagnostic system and heavy-duty maintenance-free latches
Multiquip Inc.
Red Hawk Breaker
The 50-lb. Red Hawk gas-powered breaker offers quiet operation and zero setup time for a wide range of applications.
Delivers an impact rate of 2,600 bpm
19 tools and accessories available for maximum versatility
Silencing muffler reduces operating noise level to 107 dB
Vibration-dampening handles limit vibration levels to 4.7 m/s2
Meets EPA1 emission regulations
Choke control and user-friendly instructions allow for better speed control and easier starting and operation
Booth #4209
Chicago Pneumatic Tool Co.
Rental Enterprise Management System
Version 11.0 with contract cloning, better division/item location tracking, easier kit processing, new version for AV and party rental companies, and ability to "auto-create" purchase orders for stock, non-stock, special orders and drop-ships
Designed to streamline operations
Flexible, easy to use
Full work order management for service of rental fleet and customers equipment
Thorough serialized tracking for complete sales and service history on equipment
Advanced features including vendor price disks for extensive parts management and integrated credit card processing
Universal Accounting Software
S-80 and S-85 Telescopic Booms
The redesigned S-80 and S-85 feature a virtual pivot boom design that keeps the weight of the boom over the chassis' center of gravity as it elevates.
Eliminates need for extra counterweight and reduces the overall weight for use in more sensitive terrains
Improved control system with boom angle sensors provides a comfortable feel with smooth action
Shotgun-style cylinder boom assembly replaced with a single cylinder and sequencing cable system
Active oscillating axle provides better traction in rough terrain
Fixed-width axle allows for an 8-ft. 2-in. total width
Genie Industries
Sirius Pro
New: Scenario Management Module, advanced scaffolding -specific billing features and updated Preventive Maintenance Module
Web Module allows customers to use their website to post pictures and extended descriptions of each item available for rent and receive requests for quotes and reservations from their rental customers
Windows-based rental management software enables users to control activities, clients and inventories in an effective manner
Integrates with accounting software packages such as QuickBooks
Booth #4059
Orion Software
SP8/G Series II
The SP8/G Series II surface planer is suitable for a range of applications, including milling misaligned sidewalks and joints, removing thermo and cold plastic markings and prepping floors for new coatings.
Can be equipped with various 5-hp industrial-quality gasoline engines
Heavy-duty unitized, welded steel plate frame
Maximum cutting depth of 5/8 in. with a cutting width of 8 in. and a 3 1/4-in. cutting proximity to a vertical wall
Screw-type, positive-locking depth selector
Includes a water-mist dust control fitting and 3-in. vacuum connection for further dust control
Booth #3735
General Equipment
Swirl-Off
Remove layers of paint, rust or build-up from concrete and steel surfaces
Can also be used to blend and feather areas, smooth concrete and remove graffiti
Mounts to drill, sander or grinder
Available in several sizes as well as shrouded for dust removal
Desmond-Stephan Mfg. Co.
T-12T Tilt-Bed Trailer
Low load angle
82-in. load width, 8 6" overall
Deck cushion cylinder
14- or 16-ft. deck
Torflex rubber-ride axle
Dual locking deck latch with handle
LED lights
Towmaster, Inc.
T70P Generator
60 kw of power
Electronically controlled Tier III engine
Standard 110-percent spill containment
Hinged rear palnel and large engine bay doors
Standard permanent magnet generator and idle run
Booth #6152
TEREX
UniLift Boom Lifts
The UniLift battery-powered, trailer-mounted boom lifts feature working heights up to 42 ft. with 360° effective coverage.
Telescopic and articulated models available
Enable quick conversion for use as a universal crane
Power jack setup option allows for quick, easy outrigger setup
Built-in charger with automatic shut-off
Unit weights less than 3,000 lbs. enable towing behind a pickup truck and easy maneuvering in and out of tight areas
LDC Industries, Inc.
V Series Vertical Light Tower
Allmand Bros. V Series vertical light tower configuration is an option for its Night-Lite PRO Series light towers.
Mast retracts and telescopes in and out of chassis
Compact design
Electric winch allows tower to be raised and lowered in 20 seconds
Integrated bunded tray and remote oil drain
Booth #655
Allmand Bros Inc.
X Air SC70 Portable Compressor
The 298-lb. X Air SC70 portable rotary screw compressor from CON X Equipment delivers 70 cfm at 100 psi and can operate up to a 90-lb.-class breaker.
Mounted on a sturdy frame with pneumatic tires for easy portability
18-hp Honda V-twin engine with automatic speed control and manual and electric start
Detachable 5.5-gal. fuel tank
Con X Equipment Canada