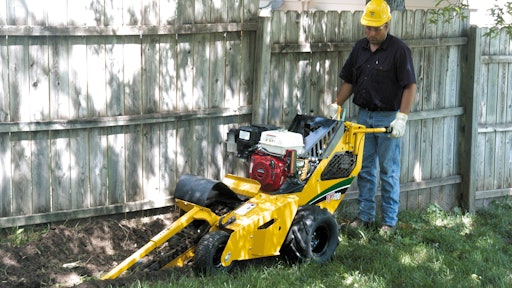 Walk-behind trenchers range from mini trenchers designed for applications such as installing irrigation lines and dog fencing, to larger models capable of digging 3 feet into the ground. A staple in many rental inventories, following are a selection of the smallest walk-behind models offered by today's leading manufacturers. 
Ensure Satisfaction With Mini Trencher Rentals
Barreto 712MT Micro Trencher
The 6-hp 712MT Micro Trencher from Barreto features a unique automatic wheel drive propulsion system. This trencher utilizes a load-sensing hydraulic valve to adjust the trenching wheel speed to the load on the digging chain. When the load on the digging chain increases, the sensing valve sends less oil to the wheel drive motor and the wheel speed automatically slows down. When the load on the digging chain decreases, the sensing valve sends more oil to the wheel drive motor and the wheel drive speed increases. This keeps a constant load on the engine, regardless of the depth of cut or soil conditions. With boom options of 12 or 18 inches, this trencher provides a solution for a variety of applications.
All-hydraulic wheel drive
All-hydraulic chain drive
Free-wheeling hubs
Wheel speed automatically adjusts to digging conditions when trenching
12- or 18-inch booms with adjustable digging depth
Ditch Witch RT12 Walk-Behind
Offering durability and performance on any project, the Ditch Witch RT12 walk-behind trencher is designed so  the chain, headshaft sprockets and digging teeth work together. The RT12 is also built with a heavy-duty frame and components, preparing it for the toughest conditions. 
11.7-horsepower engine delivers 420 feet per minute digging chain speed
Hydraulic, skid-steer style steering makes the RT12 walk-behind trencher more maneuverable and productive
Easy access to all service points for routine maintenance
Available with tires or heavy-duty tracks
Equipped with direct-driven hydraulic pumps, independent ground-drive hydrostats, and a hydraulic gear pump for auxiliary functions with no belt to maintain
E-Z Trench Groundsaws
E-Z Trench Groundsaw trenchers are built for durability and performance. The Groundsaw EZ9000 will trench 100 feet in approximately five minutes. The on-the-go depth adjustment enables the operator to dig a trench 2.5-inch wide from zero to 13 inches deep. The new EZ9100 features a centrifugal clutch drive that is bathed in oil, which provides protection against extreme conditions and abuse.  
Simple to use
Not Intimidating to novice users
Small enough to get through fenced/gated back yards
Compact; weighs 250 pounds
Digs 100 feet in 5 to 10 minutes, depending on soil conditions
Ground Hog T-4 Trencher
The Ground Hog T-4 is an extremely compact but heavy-duty piece of equipment that is designed to stand up to rental abuse. It's made in the USA and designed for irrigation, electrical, lighting and communications installation. The narrow, compact design makes the T-4 easy to transport and maneuver around the jobsite and is less damaging to existing landscaping than a larger trencher.
Fits through gates and doorways to trench close to walls and fences

Simple operator controls consist of only a throttle and a depth control lever

Does less damage to existing landscaping than larger machines

Uses heavy-duty carbide-tipped shark teeth to handle rocky soil with up to grapefruit-sized rocks

Optional carrier allows one person to secure and transport the machine on the back of a vehicle that is fitted with a standard 2-inch hitch receiver
Little Beaver Kwik-Trench Earth Saw
The Kwik-Trench is available in two models, the KT200B and KT2400B, and can trench up to 30 feet per minute. This compact unit can complete many projects from landscaping edging and root pruning to installations of plumbing and drainage lines, low-voltage wiring and sprinkler systems. It has a small footprint, with no turf damage and less backfill. The unit also is easy to use and requires minimal maintenance. 
Carbide-tipped teeth and a powerful drive system allow the Kwik-Trench to cut through tough surfaces such as compacted clay, road fill, asphalt and tree roots up to 10 inches thick
With its triple V-belt drive system, the Kwik-Trench achieves rotation speed up to 800 rpm
KT 200B is powered by a 5.5-horsepower Honda engine/KT2400B is powered by 8-horsepower Honda
Mounted on semi-pneumatic tires so it's safe to use on delicate lawns and turf
Slip clutch is built into the hub of the cutter wheel to protect the drivetrain from wear and damage
Toro TRX-16
The Toro TRX-16 walk-behind trencher delivers 10 gpm of hydraulic flow at 2,900 psi to the boom to help maximize digging efficiency. Its easy-to-use-control system uses three basic controls to operate all traction and trenching functions. The unit's low center of gravity design aids in performance on side hills and uneven terrain. It can be outfitted with a 24-, 36- or 48-inch boom.
Track design allows for zero-turn capability, increases stability, eliminates tire ruts and flats, and provides optimal operation in wet and soft terrain
Exclusive TRX Control System is easy-to-use and doesn't require jerk-style steering like handle bar trenchers. Three simple controls operate all traction and trenching functions; easy for beginners to learn quickly
Kawasaki twin-cylinder engine is reliable and easy to start. Large oil reservoir means a cooler engine, contributing to overall reliability. 
Heavy-duty remote air cleaner reduces engine wear.
Pivoting trencher head provides high ground clearance and reduces wear and tear
Turf Teq 1304H 
The self-propelled Turf Teq 1304H is walk-behind trencher that can trench to a 7-inch depth. Several blade options are offered, from ½ inch wide to 7 inches deep, 2-1/2 inches wide up to 7 inches deep and 5 inches wide by 5 inches deep. The unit features a 13-horsepower Honda engine and a hydrostatic forward/reverse transmission. 
Self-propelled walking forward design

Multiple trenching blades; landscape edging & brick mold blade

Quick-adjust depth wheel, zero to 7½-inch increments (no tools)

Hydrostatic transmission

Honda Engine
Featuring the exclusive Vermeer VZ steering system, the RTX100 trencher maneuvers easily on the jobsite for installation of irrigation lines, drainage tiles, cable and telephone lines. Its zero-turning radius will even counter-rotate from a stationary position. Choose between a 14-hp/110kW Kohler (electric start) or 13-hp/49.6kW Honda engine (electric or pull start). 
Maneuvers easily with the exclusive Vermeer VZ steering system that requires only light pressure to the handle bars
Zero-turning radius counter-rotates from a stationary position
Adaptable to the jobsite with interchangeable tires or tracks
Operator presence system disengages the trencher and ground drives if the operator leaves the controls
Trencher footprint measures 35 inches wide to fit into narrow spots