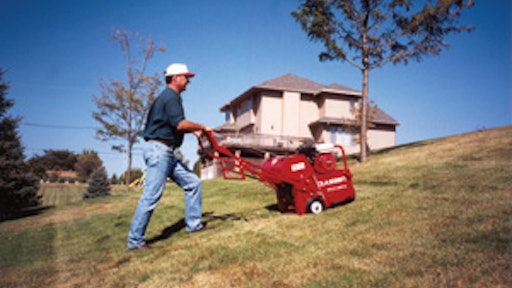 Check out these products which are new or significantly redesigned and being introduced to the rental industry for 2006.
Little Wonder Self-Propelled HPV
Little Wonder's self-propelled High Performance Vacuum (HPV) features a hydrostatic drive to power over any terrain. Unit is powered by a 6.5-hp Briggs Intek I/C engine, offers infinitely variable speed (forward, up to 4.8 mph), and features powered reverse and large-tread rear wheels for added traction.
Bandit Model 1990 Chipper
The Model 1990 hand-fed chipper effectively processes large-diameter, forked trees. Unit features a 26.5-in.-high by 24.5-in.-wide chipper opening. Standard unit features a powerful feed system and engine options up to 140 hp; heavy-duty version has engine options up to 250 hp and features a feed system similar to whole-tree chippers. Options include a hydraulic winch and 305 Cat rubber-track undercarriage.
Kenco OSB Lifter
Designed to lift and handle OSB wall panels with a 2,000-lb. capacity, Kenco's new OSB Lifter features automatic operation. Unit's design allows the pins to retract behind the outer plate to avoid damage to the wall surface. A sliding tube allows the lifter to be actuated and removed even if the legs are tight against an outer wall. The tube can be manually rotated 360 degrees.
CS Unitec EBS 125
CS Unitec's EBS 125 walk-behind 5-in. concrete grinder can remove epoxy, paint and other coatings. The 14-amp motor was designed with a vertical configuation to keep it away from the dust flow zone. Unit offers a walk-behind cart or can be used alone for hand-held applications.
Grassroots Wingfoot PowerHoe
The Wingfoot PowerHoe is designed for weeding gardens or flowerbeds. The diamond shape knives or "wings" can be reversed when one side wears down. Available as a complete unit or as an attachment, the Wingfoot PowerHoe features a 10-in. tilling width.
Allmand Indirect Oil-Fired Heaters
These three indirect oil-fired portable heaters from Allmand Bros. are designed to provide heated air that is free of moisture and contaminants. Units operate on only 120 volts and offer capacity ranges from 320,000 to 505,000 BTU. Industrial-grade power burner is powered by a 1/4-hp motor. Units deliver between 2,500 to 3,100 cfm and feature 200 to 220 degrees F discharge temperature at 50 degrees F ambient. The heaters can be used in areas with limited ventilation and in areas where pressurized fuel is prohibited.
Allied Hammerhead II
Allied's Hammerhead II concrete breaker fits in the 3,000 or 4,000 ft.-lbs. impact energy class. With 25 to 50 bpm, unit offers a 4-in. tool diameter and can be used on 5,000- to 8,000-lb. skid steers or 7,000- to 15,000-lb. mini-excavators.
Thompson Pump 88HST
The 88HST is Thompson Pump's first 8-in. high-head, high-flow, hydraulic submersible pump. Unit handles solids up to 3 in., has a maximum capacity of 3,300 gpm and pumps at heads up to 240 ft. Designed to run dry without damaging components, this model is constructed from heavy-duty cast iron and steel.
General 240 Hole Digger
General Equipment's 240 Hole Digger features four-stroke engine technology, which eliminates the need for premixed fuel and oil solutions. Designed for use in lawn and garden, homeowner and light construction digging, unit features a Magura twist grip throttle that controls engine speed and an exclusive operator handle design that minimizes fatigue.
Coneqtec/Universal DCS6000
The new Coneqtec/Universal DCS6000 trench compaction plate extends down to 36 in. below the surface. The dual counterweight design delivers 6,000 lbs. of true vertical compaction force. Available in 16-, 18- or 24-in. widths, unit attaches to most skid steers equipped with a quick attach.
Bobcat K-Series Loaders
The new generation of Bobcat loaders — the K-Series — includes skid-steer loaders (S130 through S300), compact track loaders (T140 through T300) and the A300 all-wheel steer loader. New to the K-Series is the SmartFAN cooling system, a hydraulically driven cooling fan that senses the ambient and machine temperatures and then self-regulates to rotate only as fast as it needs to. The new K-Force hydraulic system features a dedicated charge pump that provides an 8-percent increase in hydraulic breakout forces, hydraulic lift to full height and attachment torque.
JLG Compact Telehandlers
JLG's compact telehandler has a 23-ft. lifting height with a maximum capacity of 6,600 lbs. and a forward reach of 12.8 ft. Features include a cab with improved operator visibility, as well as 140-degree carriage rotation. Mechanical quick switch enables fast changes from forks to other attachments. Other features include a 100-hp Deutz diesel engine, four-wheel drive, 45-percent gradeability, compact dimensions and four-wheel steering. The slightly smaller model with similar design features a 5,700-lb. lifting capacity and 19-ft. maximum lifting height.
RedMax TR2300S String Trimmer
The new TR2300S string trimmer from RedMax is equipped with a 21.7cc two-cycle engine. Unit features the PT104 Plus 4-in. tap & go nylon head with a metal insert to extend the tap knob's life.
Stone Wolfpac 4100
The Wolfpac 4100 is a 40-in.-wide, double-drum drive, double-drum vibration asphalt roller suited for confined area asphalt compaction of base, binder and finish coats. Design allows vibration to be directed to the front drum, the rear drum or both drums. Electro-hydraulic circuit combined with a custom-designed manifold allows vibration to be activated where needed. Unit offers 4,000 lbs. of impact per drum and a 24.8-hp water-cooled Kubota diesel engine. Features include internal vibration, centerpoint articulation coupled with a short wheelbase and high curb and minimum wall clearance on both sides.
RGC Pro Platform Hoists
RGC's Pro platform hoists provide a 40-percent reduction in operator effort, uncomplicated adjustments and a cleaner appearance for 2006. Safety features still include a portable power drive that mounts without lifting and a single control lever that positions the operators away from the load. Unit features 200- and 400-lb. capacities.
Zanetis Skid Steer Cold Planers
The Zanetis cold planer line includes models with 16- and 18-in. cutting widths and 8-in. cutting depth capability. An optional lateral milling feature enables drum to be hydraulically rotated 90 degrees and laterally side shifted up to 46 in. for cutting corners, patches or utility cuts across roads without blocking traffic. Side cover is removable for cutting flush against walls or curbs. Other features include hydraulic tilt, depth and side shift control and a block and holder tooth system that gives tooth tip a 5-in. clearance.
Atlas Copco LWP 2 Submersible Pump
The 23-lb. LWP 2 from Atlas Copco can handle stones and debris up to 3/8 in. in diameter. Unit produces up to a 222-gpm discharge and has a lifting head of up to 82 ft. the LWP 2 is spark-proof and can run dry without damage. Standard 33-ft. discharge hose and snap-lock, quick-release couplings ease movement around the site. Various hydraulic power packs available. Optional flow divider and extension hoses allow the pump to be run off hydraulic-powered carriers.
Blastrac 1-9DEZ
The Blastrac 1-9DEZ is a highly portable, lightweight shot blasting system used to prepare concrete surfaces prior to the application of paint or coatings. Perfect for smaller jobs or tight areas, the 1-9DEZ runs on 120-volt power to strip, clean and profile in one step. With an 9-in. blast pattern and a manual travel speed, the 1-9DEZ can prepare up to 275 sq. ft. per hour. Common applications include residential garage floors, pool decks, decorative concrete applications, concrete preparation prior to installation of wood flooring, balconies, small industrial floor areas, tight areas around equipment and obstructions, test patches and more.
Goodway PJ-600 Pulse Jetter Drain Cleaner
The PJ-600 drain cleaner is a compact and rugged entry-level drain cleaner. Unit is designed for clearing blockages in pipes 1 1/4 to 2 in. in diameter. the PJ-600 uses a pulsating action to help it navigate around bends and blast through blockages. It comes equipped with three nozzles — one blind thrust, one penetrating and one cornering.
Champion C80 C/C86 C Motor Graders
Champion Motor Graders recently introduced its redesigned C80 C and C86 C motor graders with several new features, including a redesigned front axle that now provides 50 degrees of steering angle left and right and allows a 22-inch ground clearance. These units now have a 25-foot straight frame turning radius with a 19-foot radius when fully articulated. the new 21-inch-high moldboard prevents excessive spillover while the new blade arrangement and wider stance provide operators with increased featherability and stability.
Vermeer Rubber-Track Ride-on Trenchers
The RTX350, RTX450 and RTX650 feature a track undercarriage for lower ground pressure, increased traction in certain ground conditions and greater stability. Track mounting system allows tracks to be adjusted to the optimal position based on the application and attachment. Powered by 37- to 76-hp Cummins or Deutz engines and hydrostatic ground drives, units offer trenching depth ranges from 48 to 60 in. with widths from 5 to 16 in. as well as a 15- or 18-in. track width and 58- or 68-in. track base.
Dixon Black Bear ZTR Mower
The Dixon Black Bear ZTR Pro Series mower features a 34-in. cut width with a 44-in. cut width available. Powered by a 16-hp Kawasaki or 18-hp Kohler Command Pro, unit features Parker hydraulic pumps and wheel motors as well as durable all-steel hydraulic lines for greater fluid cooling. Oversized front and rear tires offer superb handling, a comfortable ride and lower soil compaction.
Briggs & Stratton Big Block Engines
Briggs & Stratton Commercial Power has added two vertical shaft Big Block engines to its lineup of horizontal shaft engines, the 895 and 993CC. Units feature an advanced debris management system that is incorporated into the engine's air-cooling system and allows the engine to run cooler and cleaner.
Fecon FGB72 Grapple Bucket
The FGB72 grapple bucket attachment for skid steers is designed for clearing debris, rock and trees. dual independent arms allow unit to grab awkwardshaped material. the rigid frame is designed for difficult applications. Weighing 815 lbs., unit offers a 37-in. opening, 32-in. depth and 72-in. length to make it suitable for scooping small material on hard surfaces.
Leading Edge Attachments Dignrip Bucket
The Dignrip excavator bucket functions similar to a trencher for severe rock and frost removal. ripper tooth tips positioned to combine the contact positions associated with the rolling movment of the bucket cylinder and the sweep action of a stick. Teeth are angled for maximum ripping. Constructed from AR400 steel, unit is available with Cat, Hensley or Esco brand teeth.
Hitachi H60MRV Hammer
Hitachi Power tools' new 20-lb. SDS Max demo hammer, the H60MRV, features patented idi technology to withstand the toughest conditions and extend the tool life. Unit can power through concrete and stone materials quickly and offers a 12.5-amp motor that delivers 19.2 ft.-lbs. of impact energy. Other features include constant speed control with a variable speed control dial allowing the user to set the impact rate according to the operation and material.
Multiquip DLW-300ES Welder /Generator
The new DLW-300ES welder/generator from Multiquip delivers smoother arc characteristics and more consistent quality welds. The DLW-300ES midsize 300-amp welder and 10,000 kilowatt generator offers a 100-percent duty cycle at 280 amps. Unit operates at idle up to 160 amps and uses only 0.39 gal. of fuel per hour at 120 amps and only 1.1 gph at full load. Other features on the 10,000-watt, diesel-powered welder/generator include a thermal overload light on the dashboard notifying the operator the unit has stopped welding when the windings overheat without shutting down the machine. Multiple electric AC outlets for operator convenience come standard as does a brushless alternator design to lower maintenance requirements and costs, a self-priming fuel system for instant restarts and a Kubota engine.
Terex HS90 and LP95 Power Trowels
Terex Light Construction introduces the Bartell HS90 overlapping, highspeed finishing trowel and the Bartell LP95 non-overlapping, lightweight panning trowel. Units feature 35-hp air-cooled Briggs & Stratton V-twin engines and a drivetrain that comes with continuously variable transmission primary reduction, stock "Powergrip" secondary reduction and heavy-duty worm gear final reduction. The HS90 has dual fiveblade trowels and offers a 240-rpm maximum operating speed; the LP95 has dual four-blade trowels and achieves speeds up to 180 rpm.
Hilti DD 130-BL Diamond Coring Ssystem
Hilti's DD130-BL diamond coring system can core holes up to 6 in. in masonry and reinforced concrete. The new BL chuck allows quick bit removal with no tools. Operators can easily change from hand-held to stand-mounted use with a simple, click-action attachment.
Caterpillar 302.5C Mini Excavator
Caterpillar's 302.5C mini hydraulic excavator features a 18.6-hp engine. Operating weight is 6,283 lbs. when equipped with a cab; 6,052 lbs. with a canopy. Bucket digging force is 5,620 lbs.; maximum horizontal reach is 15 ft. 9 in.; and maximum digging depth is 9 ft. 7 in. Unit offers pilot hydraulic implement controls.
Max Climber 7700 from Beta Max
The new Max Climber 7700 work platform can travel up to 400 ft. high at a speed of 35 fpm. Using a trianglular mast system, the unit offers increased load capacity and rugged aluminum deck sections. the 7700 is 90 ft. in length and 6.5 ft. wide.
Shindaiwa 446S
Shindaiwa's new 446S small pro saw features a 2.9-hp output and 44.6cc displacement. the 8.8-lb. unit offers one-piece ignition and choke-throttle interlock for fast starting, Walbro bootmounted carbretor, winter and summer settings on the carburetor air box to eliminate icing, anti-vibration system and a wide-mouth gas cap. the 446S can mount saw bars from 14 to 18 in. in length.
Gehl E-Series Skid Steers
The six E-Series skid steers from Gehl Co. range from the compact Model 3640E with a 1,175-lb. rated operating load to the 6640e with 2,900-lb. load rating. They provide the precision and maneuverability associated with compact loaders, along with high horsepower, superior hydraulic power and increased load capacities. Roomy operator compartments, low operator sound levels and optional deluxe suspensions add to operator comfort, while ROPS cabs with Level II FOPS enhance operator safety. An All-tach universal-type quick-attach system is standard on all models, with an optional Power-A-Tach system.
Woodsman Wood Chippers
Woodsman Inc. manufactures a full line of hydraulic drum-style wood chippers ranging from the 12-in. up to the 20-in. class. The 20Xtreme Woodsman offers up to 325 hp with an optional loader or conveyor.
Genie GS-68 RT Drive System
Genie Industries introduces its innovative traction control drive system for its GS-68 RT series of rough-terrain scissor lifts. the new system allows each wheel to work independent of the others, transferring maximum power to the ground even when one or more wheels lose contact. The traction control drive system features exceptional gradability, giving operators access to sites with 35- to 40-percent slope ratings. All new GS-68 rough-terrain scissor lifts are manufactured with the drive system and available in gas and diesel models.
Companies in this article