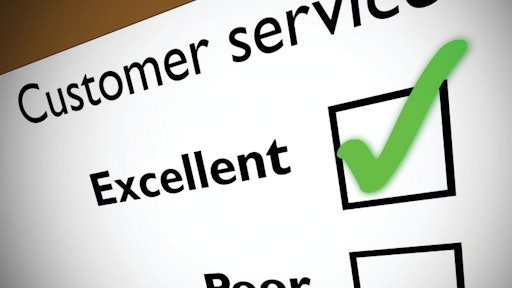 I hope business is booming for you. I am hearing that lots of rental companies are running short of equipment and the phone is ringing a lot more than it used to. All of this is excellent news.
With this increase in business and the consolidation in the equipment rental business, more new customers are calling you. This is a great opportunity. How will you take advantage of it?
What we have found is that many rental employees save their best service for their existing customers. This makes sense – you are more familiar and comfortable with your current customer. You already have a relationship.
However, does it make business sense? If a customer calls or comes in that you don't know, you need to make that customer feel welcome. You need to prove to them, in a short amount of time, they will make the right choice by using your company.
First Impression. We all know the value of a first impression. As the saying goes, you only have 'one chance to make a first impression'. That first impression can be delivered in many different ways. You need to consider your:
Personal Appearance – You should be neat and professional. If you have a company uniform, make certain it is clean and presentable.
Store Appearance – A new customer will take it all in. They will observe if you store is neat and clean, the condition of your parking lot and other physical attributes. You may be used to how things look, but that new customer has a fresh set of eyes.
Smile – A nice smile goes a long way to make someone feel welcome. It is even said that your smile is your calling card!
Promptness – How quickly you answer the phone (within three rings) or greet a customer entering your location (within five seconds) can make an immediate impression.
Your greeting is also part of your first impression. Your phone greeting needs to be quick and professional. We look for an introduction, company name, your name, and an offer to assist. An example would be "Thank you for calling Signature, this is Barry, how may I help you?" Use an upbeat tone that is welcoming.
You don't have to overwhelm them, just welcome them. A pleasant and sincere greeting can make all of the difference.
Your in-person greeting is also key – something simple that includes your name and an offer to assist "Welcome to Signature, my name is Barry, how may I help you?"
Your first impression will get the transaction off to a great start.
Qualify the Customer. For that new customer qualifying the caller will be very important. You need to ask the right business questions that will help you best assess their needs.
From a personal standpoint, you need to get their name, company name and phone number. You can't build a relationship if you don't know their name. The more you know about someone, the easier it will be to service their needs. A new customer will appreciate you taking the time to gather this information.
You also want to learn more about how they will be using the equipment, such as the location and application. This key information will help you suggest additional items that will make their job more successful.
Your thorough and professional ability to gather information will indicate your willingness to help and be the right partner for their equipment needs.
Value. For new customers who don't know much about your company, you will need to share with them why your company is the right choice. Based on their needs, describe two to four benefits that will help you stand apart from your competition. In a very short amount of time (in seconds) you will be able to paint a colorful picture of what your company can do for them.
Customers want to be assured they made the right choice and your value statements or benefits will help them feel good about doing business with you. Help them make their decision on something other than price. If the price is the only thing they know about your company, you may not get the rental.
Training. It may seem obvious, but your team needs to be trained on how to do these skills and close new business. At Signature Worldwide, we conduct over 15,000 mystery phone shops a month in which we pose as a new customer. You would be amazed at the difference a trained and prepared representative can have on closing new and existing business. Your reps need to be more than order-takers.
These customer service and sales skills don't happen by accident. They need to be trained, practiced, and measured. Those answering the phone and greeting customers can have a significant impact on closing new business.
Building your business through new customers is critical to growing your business. You need to build a strategy for attracting and closing new business. The time is ripe! With the economy improving, the market growing and industries consolidating, get ready to close more business.
Barry Himmel is Senior Vice President for Signature Worldwide, the leading provider of training solutions for a wide range of service-based industries. He can be reached at 614.766.5101 or barryhimmel@signatureworldwide.com. For more information on Signature Worldwide, visit www.signatureworldwide.com or connect with us on Facebook or Twitter.