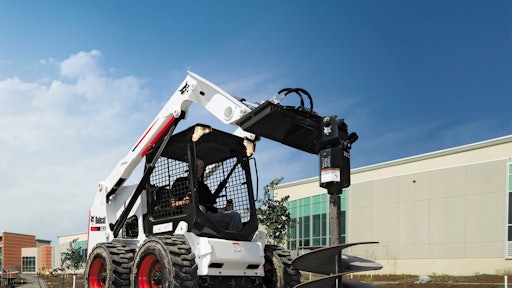 Today's skid steers come in a variety of sizes and with seemingly endless options to meet the needs of every customer. Whatever the application is, you can find a skid steer model to fit the bill. In addition to offering performance and comfort features designed to make operators more productive, manufacturers are also more focused than ever on making sure your skid steers are simple and easy to service, so you can get maximum uptime for optimum ROI. Following is an update of what leading manufacturers have to offer in their skid steer lines.
Bobcat M-Series: Harder to break, easier to fix

With the M-Series skid-steer loader engineering, Bobcat incorporated several design changes to protect a rental store's machine investment.
"We simplified the hydraulics from the ground-up, and removed 20 to 30 percent of the hoses out of the engine area, making it cleaner and easier to service," says Greg Rostberg, marketing manager. "The hydraulic hoses now run along the inside of the loader arms to prevent them from being snagged."
In addition, quick couplers are protected with a bar, and are more solidly mounted to a plate on the loader arms while the rear bumper was re-engineered to protect the tailgate. Meanwhile, recessed lighting prevents the tail lights from being broken.
Rostberg notes that many features were designed to make service and maintenance simple. For example, coolers were separated to help clean the radiator, while hydrostatic oil and a larger gauge make it easier to read fluid levels. Also, greasing points are easier to see, ensuring that that the renter or the rental house grease the machine more often, cutting down on major repairs.
The machine is also easier to tie down for transport compared with previous models, Rostberg says.
FAST FACTS:
Automatic shutdown feature that monitors engine and hydraulic functions is standard on all models.
Loaders with Selectable Joystick Controls (SJC) feature joysticks mounted
to the seat
Durable, patented liftarm design with a choice of vertical or radial lift path
LiuGong: Compact and midsize models to fit every application

LiuGong's 385A midsize production class skid steer is an all-round multipurpose machine for construction site work and powering numerous skid steer attachments, while the 365A compact skid steer is a versatile loader and tool carrier suitable for landscaping work and industrial lift and place applications.
LiuGong's 82.6-hp 385A skid steer is the largest in LiuGong's loader lineup. A turbo-charged Tier 4 interim Yanmar engine powers the 385A skid steer, making it well-suited for transporting heavy materials, relocating soil and demolition work. LiuGong's 365A compact loader features a reliable 67.3-hp water-cooled four-stroke Yanmar engine. Both the 385A and 365A skid steers have industry-proven hydrostatic transmissions and offer travel speeds of up to 7.6 mph for quick jobsite mobility.
LiuGong's 365A and 385A skid steers have maximum dump heights ranging from 7 ft. 4 in. up to 8 ft., featuring a radial lift path designed for dropping material into truck beds or over retaining walls. The standard level-lift function on both loaders provides stability to the 385A and 365A while transporting palettes of supplies or loose materials. The 385A has a rated load of 2,300 lbs. and static tipping weight of 4,600 lbs., while the 365A has a rated load of 1,750 lbs. and static tipping weight of 3,500 lbs. Breakout forces of up to 5,900 lbs. allow the loaders to easily dig into mounds of heavy material. LiuGong says the 365A's cycle time is a short 8.7 seconds.
Both LiuGong skid steer models offer 3,000 psi of hydraulic pressure to power a variety of attachments and an auxiliary high-flow valve is available for work tools that require additional power with switchable flows from 21 to 31 GPM.
FAST FACTS:
3,000 psi of hydraulic pressure powers a variety of attachments; auxiliary high-flow valve is available
Work functions controlled with the standard dual-mechanical operating lever with the familiar H-pattern
Operator station includes a ROPS/FOPS deluxe enclosed cab with climate-controlled air-conditioning, AM/FM radios, front window safety interlock, backup alarms and rotating beacons
Terex: Designed for productivity and low cost of ownership
"Terex offers a full line of skid-steer loaders to match the needs of our customers, four vertical lift units and four radius lift units, ranging from 1,500 to 3,000 lbs. of rated operating capacity and 50 to 83 hp," says Jamie Wright, Terex product manager. "Our wide offering gives customers the loader they need to get any job done."
Wright notes that Terex skid-steer loaders are designed for maximum productivity. With 10 in. of ground clearance for pushing through rugged underfoot conditions, coupled with high tractive effort to push harder, Terex models are built for tough conditions. In addition, Terex uses a joystick control for smooth and easy operation, as well as a low tower design for more visibility to further enhance productivity for the operator.
To make the rental owner's life easier, Terex skid steers have all daily service checks on one side of the machine, plus a tilt-up ROPS for easy access. Plus, mechanically faced axle seals provide long life and maximum durability for the axles bearing.
To make optimum use of job tools, a hydraulic quick attach system is optional.
"Customers asked us to make the cab environment more comfortable and intuitive for the operator," Wright notes. "Specific features included fingertip controls to operate the unit and attachments, pressurized cabs and roominess for the operator." 
He adds, "Improving visibility is always at the top of the list when speaking with customers, as well, which greatly influenced the low tower design on the Terex units."
FAST FACTS
Optional two-speed transmission propels loaders up to 12 mph
25-gal fuel tanks in medium-frame loaders/30-gal fuel tanks in large-frame models
Standard hydraulic joystick controls on all models
John Deere: D-Series meets the need for speed
Today's operators need faster travel speed across jobsites, so John Deere is introducing a two-speed option to its mid-frame 318D and 320D skid-steer loader models. The new option increases ground speed by as much as 62 percent on both manual and E/H controls machines, from 6.8 mph to 11 mph.
"Faster travel means more productivity," says Gregg Zupancic, product marketing manager, skid steers and compact track loaders for John Deere Construction & Forestry. "With more speed, customers will see faster cycle times working with trucks on the jobsite or carrying landscaping material. They'll also spend less time traveling between jobs and find it easier to roll snow off the blade while plowing."
Shift on-the-go capability allows operators to kick into higher travel speeds with a simple flip of a toggle switch on the left-hand joystick. Electronically controlled shifting allows for seamless transition during upshifts and downshifts. "Smooth shifting helps eliminate bucket spillage, and ensures that more loads are spread or dumped when and where you want them," Zupancic said.
The 318D and 320D are part of Deere's customer-inspired D-Series skid steer line, featuring 24-percent larger cabs and six more inches of headroom than their predecessors. They are also quieter because of a hydraulic fan drive and engine auto-idle, and positively pressurized for better air temperature control. A larger door opening makes them easier to get in and out of.
FAST FACTS:
Two-speed option increases ground speeds 62%, from 6.8 mph to 11 mph
24% larger cabs with six inches more headroom than previous models
Shift on-the-go capability with a flip of a toggle switch on the left-hand joystick
Mustang: Introducing the 3300V
Mustang introduces the all-new model 3300V skid-steer loader. "This machine was designed to achieve high lifting height with an excellent rated operating capacity," says Kelly Moore, product manager for Mustang skid-steer loaders. "The new 3300V will excel in productivity, making it one of the most valuable machines on your jobsite."
The new loader is powered by a Yanmar Tier III 84-hp, 215-ft.lb. turbocharged diesel engine that provides extra power to handle the toughest jobs with ease, Moore says. The 3300V ofers a rated operating capacity of 3,300 lbs.
The vertical-lift boom offers customers enhanced stability and more than 131 inches of lift height for easy truck loading and material handling, while providing considerable forward reach at trailer loading and dumping heights. The extra-long wheelbase and new chassis design enhance stability and provide superior weight distribution.
Moore says the 3300V is designed for durability. Thick steel plating and heavy-duty pins and bushings make this loader stronger than any other machine in its class.
Operators will appreciate the state-of-the-art cab designed with ergonomics and superior comfort in mind.
For ease of use, the 3300V comes standard with a joystick pilot control system in either hands only or hand/foot pattern. A high-flow auxiliary hydraulics option is available for applications that demand maximum performance, while electronic engine control and foot throttle allow operation at partial throttle, reducing sound levels and fuel consumption.
FAST FACTS
Powered by Yanmar Tier III 84-hp, 215-ft.lb. turbocharged diesel engine
Comes standard with a joystick pilot control system in either hands only or hand/foot pattern
Vertical-lift boom for enhanced stability and more than 131 in. of lift height
Gehl: Updated models offer more power in same tight package
Gehl announces its 4640E and 5240E Power2 skid loaders. These updated models are equipped with a new 68-hp Yanmar Interim Tier-IV diesel engine that produces up to 180 ft.lbs. of torque.
The 4640E and 5240E Power2 skid loaders pack all this power into the same compact package measuring only 59.7 in. with the optional offset tire package. Despite its narrow width, the 5240E Power2 skid loader can lift 2,050 lbs. over 121 in. when equipped with 12.00 tires and optional counterweight.
FAST FACTS:
Powered by 68-hp Yanmar Interim Tier-IV diesel engine
Measure 59.7 inches with optional offset tire package
Lift 2,050 lbs. over 121 in. when equipped with 12.00 tires and optional counterweight
Case: Alpha Series built for performance and comfort 
The nine-model Alpha Series skid steer line from Case Construction Equipment sets new standards in horsepower, breakout force and operator comfort features, including the industry's widest cabs. The line includes two models with operating capacities below 1,600 lbs., a size limit that targets the rental market. The Case SR130 and SR150, both radial lift models, have rated operating capacities of 1,300 and 1,500 lbs., respectively. The SR130 is rated at 43 hp, and the SR150 is rated at 49 hp.
The Alpha Series includes six radial-lift skid steers, the SR130, SR150, SR175, SR200, SR220 and SR250 – engineered for digging, prying and pushing – and three vertical-lift models (SV185, SV250 and SV300) designed for lift-and-carry applications.
Case offers a full range of hydraulic-powered attachments. And thanks to high-flow and enhanced high-flow hydraulic system options, rental dealers can offer a wide variety of Case attachments designed for the toughest applications.
"Standard flow is adequate for basic cylinder-operated attachments such as grapples, 4-in-1 buckets and powered attachments like sweepers, brooms, rotary rakes and basic snow blowers," said Perry Girard, marketing manager, parts & service, Case Construction Equipment. "Attachments such as asphalt cold planers, chippers, mulchers, stump grinders and rock saws need the extra power that our high-flow and enhanced high-flow systems provide."
FAST FACTS:
Six radial-lift and three vertical-lift models
Two models with operating capacities below 1,600 lbs. target the rental market
High-flow and enhanced high-flow hydraulic system options
Volvo: Single-arm design enhances performance and safety
The Volvo C-Series line, including wheeled and tracked models, provides new application versatility. Featuring a unique single-loader arm design, Volvo skid-steer loaders deliver the superior loading performance and durability found in a traditional skid steer design, along with the improved visibility, safety and enhanced cab access of a side-entry machine.
According to Jon Comrie, competency manager for utility products with Volvo Construction Equipment, a single-arm skid steer or compact track loader delivers the loading performance and durability of the traditional design, while improving operator safety, visibility and serviceability. Side-entry/exit of the cab — even with the loader arm lifted — eliminates the need for the operator to climb over a muddy or slippery bucket or attachment, he notes, and once in the cab, there's also no need to make an uncomfortable 180-degree turn in order to sit down.
Visibility is improved around the entire machine, especially to the rear because there's no torque tube across the rear towers. All service and maintenance points on single-arm loaders are easy and safe to access through a forward-tilting cab and large rear compartment service door.
Comrie says single-arm Volvo skid steers are available with radial and vertical lift options. In either case, the single-arm loader design delivers strength and high-quality performance with a wide range of attachments such as buckets, pallet forks, dozer blades, rakes and more — providing more opportunity for year-round operation.
FAST FACTS:
Single loader tower arm design makes cab access easier and safer
Entire cab can be tilted forward by the removal of just two bolts located inside the cab
Choice of Tier 3 engines 
JCB: New small-platform machines fill market niche
JCB is building upon the success of its New Generation skid steer and compact track loader line with the addition of eight new small-platform machines. These smaller skid models are more maneuverable in tight, confined areas and are easily transported from jobsite to jobsite. They don't sacrifice power, safety, comfort or productivity, however. According to John Patterson, JCB North America's CEO and JCB Group deputy chairman, the small platform machines are designed to meet the needs of a growing market.
The 135, 155 and 150T machines feature radial lift, which offers improved digging geometry for heavy loading applications. Because they contain fewer pins and bushings, radial-lift machines perform well in high-cycle applications such as waste, recycling and demolition. The 175, 190, 205, 190T and 205T models offer vertical lift, which provides maximum reach at full height - an important consideration when loading dump trucks, lifting pallets or using an auger attachment.
JCB's small-platform machines provide optimum serviceability. Innovative, high-tech electro hydraulic servo controls minimize the potential for leaks while improving both service access and machine controllability. A large-opening rear door with a tilting cooling pack provides the best total access for daily service and routine maintenance. A tilting cab offers unrestricted access to the machine's inner workings when more detailed maintenance is required. 
As with all JCB machines, the new small-platform New Generation loaders offer safety, comfort, serviceability, productivity and total overall value. With JCB's famous Powerboom design, these machines feature a unique side-entry door that allows operators to enter and exit the machines without crawling over any attachments. This design also increases the operator's visibility to 270 degrees.
JCB offers 31 families of attachments that can handle virtually any application, greatly enhancing the productivity and money-making potential of its skid steers and compact track loaders. The eight new small platform models are also available with an optional hydraulic quick-hitch that enables operators to change out attachments in the field 33-percent faster.
By combining productivity and fuel-efficiency with a lower cost of ownership and safer operation, JCB's small platform New Generation skid steers and compact track loaders offer industry-leading value in a wide variety of applications, from construction and landscaping to agriculture and beyond. "By adapting the design of our Loadall telescopic handlers and applying it to skid steer loaders, we continue to manufacture a much safer machine that doesn't sacrifice performance or versatility," says John Patterson, JCB North America's CEO and JCB Group deputy chairman. "Our small platform skid steers and compact track loaders are simply another example of how JCB's innovative spirit continues to help owners and operators meet today's challenges head-on.
FAST FACTS:
Powerboom design increases visibility to 270 degrees
Optional hydraulic quick-hitch for fast change out of attachments
31 families of attachments to handle any application