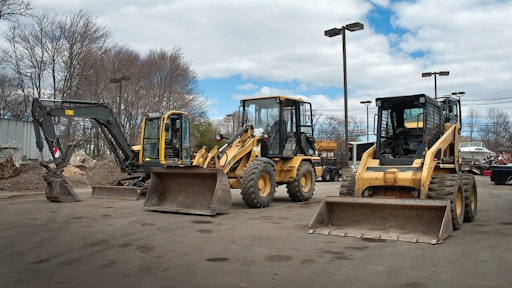 According to the National Insurance Crime Bureau (NICB), between $300 million to $1 billion a year is lost nationwide due to the theft of construction equipment and tools. 
The 2011 Annual LoJack Construction Equipment Theft Study reported LoJack-equipped construction assets worth approximately $8.8 million were recovered in 2011. A total of 40 people were arrested by the police as a result of recoveries involving these assets. Since entering the construction market in 2000, the LoJack System has helped law enforcement recover LoJack-equipped stolen construction assets worth more than $130.5 million and bust nearly 80 chop shops and theft rings.
The list of most-stolen equipment has a very similar profile to last year's report and reflects an uptick in construction jobs, as these types of equipment are most often found on jobsites. The types of equipment most frequently stolen are (in order): 
2011 Ranking vs. 2010 Ranking
Light Utility/Work Trucks and Trailers (36%) (ranked #1 in 2010)
Backhoe Loaders/Skip Loaders/Wheel Loaders/Track Loaders (26%) (ranked #3 in 2010)
Skid Steers (14%) (ranked #2 in 2010)
Generators/Air Compressors/Welders (11%) (ranked #4 in 2010)
Others (ranked #5 in 2010)
The top four equipment types represented 87 percent of all construction equipment recoveries documented by LoJack in 2011. Fifty-eight percent of the equipment stolen and recovered was five years old or less and 75 percent was recovered in 24 hours or less after being reported to the police. Seven percent of the equipment was recovered in less than one hour.  
States with the Highest Theft Rates
Based on LoJack's recovery data, the list below reflects the states with the highest occurrence of equipment theft. These states either have many active construction projects and/or an international border or access to major shipping ports, making them primary theft areas.
2011 Ranking vs. 2010 Ranking
California (ranked #1 in 2010)
Texas (ranked #2 in 2010)
Florida (ranked #3 in 2010)
Georgia (ranked #5 in 2010)
Arizona (ranked #4 in 2010)
New York (ranked #6 in 2010)
North Carolina (ranked #9 in 2010)
New Jersey (ranked #8 in 2010)
Maryland and Washington (Maryland ranked #7 in 2010); (Washington N/A in 2010)
Nevada (N/A in 2010)
About the Study
The 2011 LoJack Construction Equipment Theft Report is based on state theft statistics and equipment recoveries documented by LoJack in 21 states from January to December 2011.