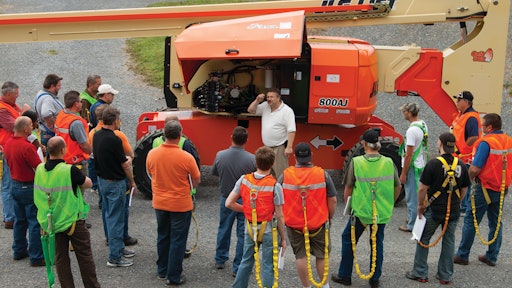 Any discussion of construction zone safety practices should emphasize the importance of operator training. Training requirements for operators of aerial work platforms are outlined by the Occupational Safety and Health Administration (OSHA), the American National Standards Institute (ANSI) and/or the equipment manufacturer. 
Operators of aerial work platforms must do several things before operating the equipment, beginning with reading and understanding the operator and safety manual. Based on the content of this manual, these operators must establish a daily routine to follow to help ensure the work platform is safe to operate.
Training and proficiency
Operators of aerial work platforms must also complete training and demonstrate proficient operation of the equipment under the supervision of an experienced and qualified person. Among other things, this training must cover:
Use and limitations of controls in the platform and on the ground, emergency controls and safety systems;
Control labels, instructions and warnings on the machine;
Employer rules and government regulations;
Use of approved fall protection device, if required;
Enough knowledge of the mechanical operation of the machine to recognize a malfunction or potential malfunction;
The safest means to operate the machine where overhead obstructions, other moving equipment, and obstacles, depressions, holes or drop-offs exist;
Means to avoid the hazards of unprotected electrical conductors; and
Specific job requirements or machine application.
In addition, aerial work platform operators must be provided with personal protective equipment, appropriate for the equipment, the environment and OSHA regulations. This equipment might include boots, hard hats, safety glasses, gloves and personal fall protection.
Inspection and maintenance
Inspection and maintenance of aerial work platforms goes hand-in-hand with operator training for proper and safe machine use. Although the aerial work platform owner is required to conduct annual inspections and routine maintenance, the operator plays a critical role in machine maintenance by conducting a pre-start inspection.
Safety guidelines also call for jobsite inspection, assessment and compliance with the employer, and local and governmental regulations as they pertain to operation of the aerial work platform.
A number of resources are available to help aerial work platform operators understand safe equipment operation, including the ANSI Manual of Responsibilities for aerial work platforms and OSHA regulations. In addition, the National Institute for Occupational Safety and Health (NIOSH) Construction Program addresses a variety of work-related health and safety topics. In conjunction with the equipment manufacturer, these resources help establish safe work practices and increase awareness of jobsite safety in today's construction zone.