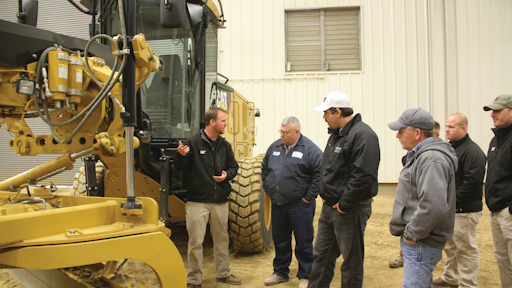 Most business owners know the importance of training their operators; an inexperienced, untrained employee is like a time bomb waiting to explode. That being said, the use of outdated training practices could negatively influence the efficiency of a jobsite. Proper training positively affects jobsite productivity, significantly improves machine output and is the most cost effective way to get full value from your fleet.
Operator training products and services can elevate your operators to higher levels of proficiency. These higher levels can be reached by:
Applying the equipment correctly to the work for which it was designed
Operating the equipment as close to its designed capacity as possible
Not breaking the safety rules
Caterpillar training products are designed to address these three issues through classroom and in-the-iron sessions on safe machine operation. Level I and Level 2 courses are available depending on the operator's degree of experience. 
The Level I Training course covers safety, walk-around inspections, operator's compartment, start up/shut down procedures and basic operating procedures based on industry requirements and basic earthmoving fundamentals so an individual can develop skills to operate equipment safely and proficiently.
The Level 2 Professional Operator Training Course is designed for experienced operators with three or more years of experience for the refinement and enhancement of experienced operator skills. It also includes instruction on safety, walk-around inspections, operator's compartment, start up/shut down procedures and operating procedures based on industry requirements.
These training courses offer much more than the customary orientation training offered at the time of machine delivery. This program uses proprietary materials developed by ETS and is delivered by a global network of certified instructors from Caterpillar and many dealers.
There are also several alternative means of training other than in-person instruction, such as:
eLearning CDs
Simulators
Software tools available: Vims, VimsPC, TPMS, RAC, Cycle Timer, Performance Handbook, MineEIA and FPC, the use of Fleet Production and Cost (a modeling software program). FPC models fleet performance data based on a variety of loader/hauler fleets working in varying hauling conditions and allows the user to choose matching conditions or a mix of potential environments and easily calculate long-term productivity, cost, and time required for each fleet to do the job.
Business owners also need to be aware of training obstacles such as old habits that operators are reluctant to change, production requirements on site and company supervision. Caterpillar's Supervisor Application Training Course was designed to combat these obstacles by providing consistent training to operation and maintenance supervisors, planners, operator trainers and engineers at their specific site. Upon completion of this course, participants will be able to:
Analyze production needs by conducting basic fleet production studies
Identify opportunities for improvement
Evaluate cost per ton associated with potential solutions
Analyze GET wear patterns associated with operating techniques
Overall, training affects jobsite productivity and efficiency in various ways and is very beneficial when put to skillful and safe use.