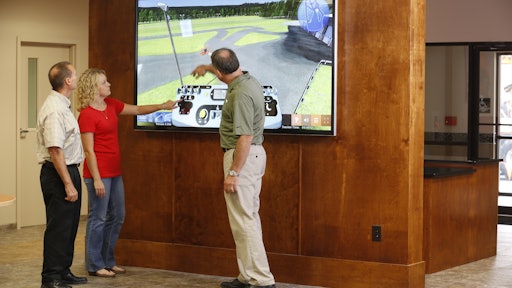 The impact of construction-related accidents can be devastating, extending well beyond the individuals directly involved to include families, friends, loved ones, co-workers and companies. That is why safety needs to be the number one priority when working at height - more important than jobsite efficiency, productivity, and profitability.
The construction industry and original equipment manufacturers (OEMs) have incorporated technology in equipment and machines to improve safety and reduce accidents. Among lift and access equipment, safety-related improvements have included pothole protection systems, analog envelope control, automatic outrigger leveling for scissors, fall arrest, and enhanced protection against involuntary operation. Technology like this definitely contributes to a safer workplace. But, machines equipped with the latest technologies are not a substitute for training programs, which go a long way toward ensuring safe operation.
Operator and service technician training equally important
Companies that take safety seriously recognize the importance of training two groups of individuals - those who operate machines and the technicians who service them - and are careful to offer only those programs that meet industry standards. The American National Standards Institute (ANSI) writes the standards for aerial work platform (AWP) training programs. Those standards are enforced by the Occupational Safety and Health Administration (OSHA). OSHA also writes and enforces telehandler training standards.
Operator training programs should cover safety awareness, as well as inspections, instructions for walk-around and function checks, an explanation of machine systems, and control and application tips. Programs designed for service technicians should include instruction in electrical and hydraulic print reading, power distribution, mechanical components, troubleshooting, calibration procedures, and the tools required to service a machine - things like pressure gauges, hand-held mobile devices, wireless devices, and digital volt meters.
Training no longer limited to classroom format
The formats for training programs vary, beginning with traditional classroom instruction that features qualified instructors teaching how to operate and service equipment and opportunities for hands-on training. At some training facilities, students have the opportunity to operate equipment on an outside grounds course that recreates a working construction site. Operators can take what they learn in the classroom and apply it in a setting that duplicates many of the scenarios they are likely to encounter on the job, as they practice maneuvering equipment under and around obstacles and up and down slopes and grades.
Online training is also becoming more popular with OEMs. Distance learning courses use instructors to facilitate classes electronically over the Internet, while self-paced e-learning delivers instruction electronically without an instructor. Both allow operators and technicians to receive training when and where they want it, learning at their own pace. And the use of mobile devices enables them to take their training on the road, even accessing PDFs and videos on the jobsite.
More sophisticated OEM training programs are incorporating equipment simulators, virtual learning tools designed to familiarize operators with the controls and operation of equipment. These tools also enable off-site training at the convenience of the student, without concern for weather conditions, and often decrease the learning curve when operators climb into machines for the first time.
Although these innovative technologies can certainly enhance a training program, they are never intended to be substitutes for hands-on training. Courses that combine online training with face-to-face classroom instruction and the opportunity to work on and operate equipment offer the best scenario for learning. But whatever form training takes - classroom, online, simulator, etc. - a quality program that trains and measures proficiency will encourage safe-working practices among workers and contribute to a safer workplace.