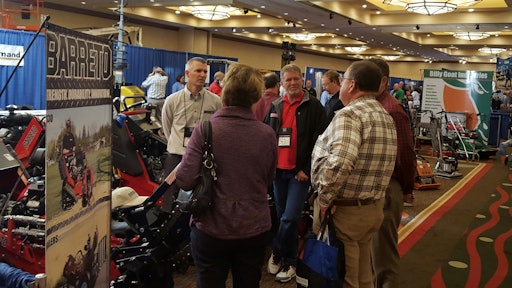 Learning opportunities and networking were among the top priorities for the approximately 150 rental business professionals who attended the 2015 Northwest Rental Conference in Seattle, Nov. 2-4.
Attendees took advantage of seminars with topics ranging from compaction principles and tent ballasting to safety meeting planning and floor sanding practices. According to Brett Richter, owner of Double R Rental & Sales in Langley, WA, these learning opportunities are what have drawn he and his wife to the conference since the organization was founded some 15 years ago. Both the Richters said they get a lot of valuable insight and ideas from the discussion portion of the seminars, where rental professionals trade ideas. 
The NWRC is unique among industry events. Independently operated by a volunteer board of directors made up of ARA Region 8 members, the show has the blessing of the American Rental Association, but is not officially affiliated with the organization. The NWRC was formed by a group of business people looking to rekindle the camaraderie and networking once enjoyed at the ARA's Western regional shows, which were discontinued around 2000. 
In addition to the seminars, NWRC attendeees appreciate the 80-some equipment exhibits showcasing everything from light earthmoving equipment to aerial lifts and general light equipment and tools. Most exhibitors send local dealer representatives. All social events on the agenda include exhibitors, which attendees and and exhibitors appreciate because it allows a unique opportunity to spend ample time forming and solidifying relationships between customers and vendors. 
The NWRC enjoyed its highest attendance ever this year, due in part to its location in Seattle along the Interstate 5 corridor, where a large majority of Region 8 members are located close by. Next year's NWRC will be held in Missoula, MT in October.