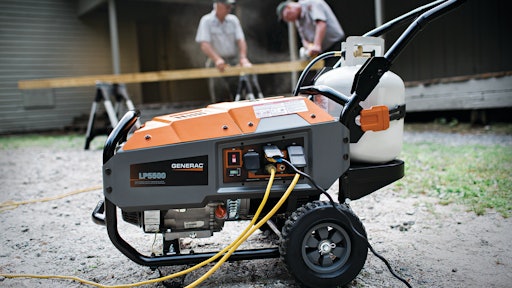 Rental managers are likely familiar with propane as part of daily operations. Companies that carry consumer products as an additional source of income may rent propane-powered outdoor space heaters for events and may even offer propane refilling services on site for small consumer tanks, such as those used for grills or camping.
But the fuel can also be used in a wide variety of applications for one of the largest rental equipment markets: construction. Propane is often used to fuel construction mainstays like jobsite heaters, mobile light towers, and portable generators of all sizes that keep projects moving year-round. It can also offer contractors another option for fueling scissor lifts and boom lifts, and can also be used to power dust control and mitigation units in spaces without electric utilities. In fact, a recent trend we've seen is brands moving away from corded equipment. For example, brands that once offered electric-only equipment are now offering engine-driven solutions, mostly powered by propane, though some are considering batteries and even hybrid options. As more and more manufacturers see the advantages of propane, too, the list of light construction equipment that can be powered by the fuel continues to grow.
Here are three types of light construction equipment that rental managers may not realize can be powered by propane. 
Power buggies
Power buggies are used to move materials in and out of sites, from wet cement to debris. This makes propane's low emissions profile a major advantage on jobsites that include work indoors or in semi-enclosed spaces where emissions from gasoline or diesel would be dangerous for crews. Multiple manufacturers now include propane as an option for both tracked and wheeled buggies, allowing work to be completed in all types of terrain.  
Power concrete trowels
Commercial concrete projects, and even large residential projects, can often benefit from the speed and efficiency of a power trowel, which helps finish and polish poured concrete. It's increasingly common to see ride-on power trowels equipped with propane cylinders rather than fuel tanks for gasoline or diesel due to propane's versatility. Like with power buggies, propane's low emissions profile allows the equipment to be used on indoor projects. Some manufacturers have even added duel-fuel options with both propane and gasoline to allow for longer usage time between refueling in addition to flexible usage on projects with both indoor and outdoor concrete work.
Concrete grinders and polishers
Of the equipment mentioned in this article, concrete grinders and polishers are likely the most widely used. In addition to finishing concrete as part of commercial or residential construction, these machines are frequently used in renovation work and regular floor maintenance. New propane-powered grinders and polishers are safe for use indoors, and the machines often feature carbon monoxide sensors for even greater peace of mind during use.
Propane-powered concrete grinders and polishers also allow cord-free operation, which can be an advantage on larger projects where there may be hundreds of feet between a machine and an electrical outlet, or in high-traffic areas where a cord can easily become a trip hazard. Propane can also power industrial vacuums used to collect concrete dust during grinder use.   
With propane equipment, rental businesses can also see a number of advantages for both behind-the-counter operations and for customers, including versatile uses, portable fuel, long storage life, and closed fuel systems.  
The major benefits of propane
Compared to gasoline and diesel equipment, propane produces fewer emissions. This includes emissions of carbon monoxide, as well as greenhouse gas emissions. Propane equipment also emits less nitrous oxide (NOx) than equipment fueled by electricity, gasoline, and diesel. This emission can contribute to acid rain and respiratory ailments. For contractors working on sites requiring reduced emissions or near sensitive populations, such as nursing homes, hospitals or schools, the availability of propane equipment can provide reassurance.
For sites that aren't yet connected to utilities or are located beyond the electrical grid, propane also allows work to be completed without the downfalls of electric equipment. Crews working indoors don't have to worry about trip hazards from electrical cords, and propane generators can provide power to mobile offices or charge batteries. For other equipment, propane also enables greater confidence for performance in rainy or damp conditions, as well. One example of this is propane-powered forklifts, which can be used in environments that are too humid for battery-powered forklifts. Propane-powered jobsite heaters can also keep construction moving in unfinished indoor spaces during colder weather.    
Propane cylinders used for construction equipment are able to be transported to jobsites on trucks or trailers. Rental managers can establish a relationship with a local propane supplier to provide fuel solutions for short- or long-term rentals. Propane cylinder refueling or rentals could be offered on site with equipment rentals, or contractors could be referred directly to the propane supplier when more fuel is needed on a jobsite.
Unlike gasoline and diesel equipment, propane doesn't deteriorate in storage. Propane cylinders also aren't stored on machines, whereas gasoline and diesel equipment require additional maintenance to empty fuel tanks during periods of decreased usage. This leads to faster uptime when equipment is restarted, as well.  
Another advantage with propane is that customers can't inadvertently add ethanol fuel blends to fuel tanks, potentially damaging small engine equipment. Propane cylinders hook directly into fuel systems versus requiring fuel to be poured from jerrycans or other containers, reducing spills on jobsites or trailers.
For more information on propane, visit propane.com.
Jeremy Wishart is the director of off-road business development at the Propane Education & Research Council. He can be reached at jeremy.wishart@propane.com.