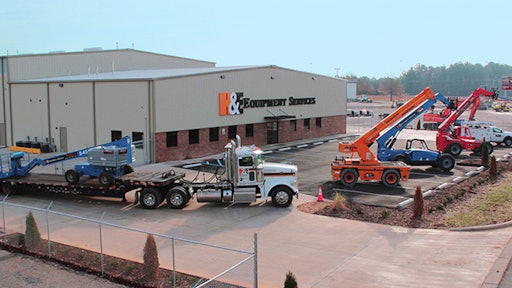 H&E Equiopment Services
Since the theme of this issue of Rental is the annual "Business Survival Guide," it was suggested that I provide my thoughts and opinions on survival in the rental industry today.
This is only my opinion (and I hope I'm wrong) but I see some ominous signs of change that cause me concern. I feel that politics (and especially the upcoming elections) could have a negative impact on small business owners. Perhaps even more damaging than changes that might result from new government mandates is the uncertainty surrounding government policy. Regardless of one's political views, it's tough to argue with the fact that foreign and domestic policy and the resulting uncertainty can cause U.S. business growth to grind to a halt. Somehow, even with plenty of current turmoil and seemingly daily news reports that could rock the U.S. economy, many experts are forecasting continued growth.
It's wise to remember that what goes up, must come down. Even though the current U.S. economic expansion has lasted over 120 months (which is the longest in history), interest rates are very low, the stock market has hit new record highs and there are many other very promising signs. I just don't feel that it is healthy for U.S. businesses to continue to expect the decisions some of our leaders are or will be making won't harm us all.
I believe it's prudent to prepare for the worst and hope for the best in the months and years following not only the presidential election and U.S. House and Senate races, but also the state and local contests. I don't often discuss politics but it is my opinion that politics can sometimes have a negative impact on small businesses. I feel, for example, that a heavy burden might be placed on rental companies if some of the ideas being promoted by some presidential candidates are enacted. I believe business owners often pay the bulk of hefty new initiatives and small businesses often lack the reserves to take the prolonged hit of huge new government spending programs. Even if the significant increase in over spending doesn't materialize after the upcoming election cycle, in time it is likely to happen. So, regardless of your political leaning, get involved by at least letting your representatives or potential representatives know where you stand on issues. Consider doing so as an important survival strategy.
More headwinds and survival pointers
Another potential economic headwind facing independent rental companies is that of increasing competition. Some strong equipment distributors, manufacturers and others related to these are growing their own rental businesses and independents are definitely feeling the squeeze in some markets. As I've mentioned in the past, for the sake of business survival, it's important to take the large rental company chains seriously. Don't underestimate their ability to take more of the rental market share. In my opinion, it's wise to prepare now for increasingly aggressive competitors wanting business from your customers. Independent rental companies should become even hungrier for more business. They should also intensify their search for new products and services that make them different from all competitors.
Remember to explore and seize opportunities that often arise out of dramatic change in your market area. Often, for example, when some companies are contracting and/or closing a rental business, it might be wise to consider expanding your company. As long as independents can continue to adapt to change and are committed to excellence, there will continue to be a strong need for independently owned and operated rental companies. 
Another of my concerns is that there are so many young rental business operators who haven't experienced serious economic downturns and some might be unprepared for the shock of transitioning from unbridled company growth to serious constraints. One can hear tales from those who have survived tough economic climates but it can be a major jolt when you are actually at the helm of the ship and the wicked storm suddenly strikes. One might think they are prepared but some storms are more violent than anticipated.
Be prepared and avoid complacency
Try not to take the just "stand by and wait to see what happens" approach. Once you see what happens, it's often too late to do anything about it. It's wise to be proactive by strengthening your business now. 
In my opinion, during any period of considerable economic and/or geopolitical trouble, business survival and expansion will depend on solid preparation in a wide variety of areas. Just a few of these include having well-established, adhered-to, and wise company processes and procedures; adequate capital reserves to withstand a possibly prolonged period of adjustment; and a laser-like focus on equipment, facility, personnel, financial and marketing efficiency.
Even though I believe we are likely to experience some fairly serious turmoil that a significant change in our country's direction can trigger, I remain convinced the equipment rental business is one of the most resilient businesses on earth and that the men and women who work in this industry are among the most dedicated and hard-working. So, I have full faith that the well-prepared independently owned and operated rental companies will survive and thrive.