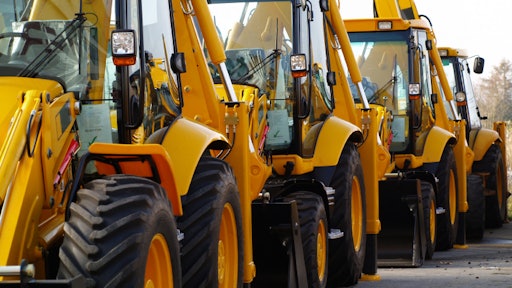 iStock/Getty Images
In 2018, auction equipment values were very strong, but the first nine months of 2019 shifted to a downward movement, according to Rouse's The Equipment Report - October 2019. The trend of softening equipment values started early in the year with the heavy earthmoving category. Excavators, dozers and wheel loaders all experienced downward pressure. As the year progressed general construction products also experienced a similar trend.
Despite the drop in auction equipment values, the retail channel remains a bright spot as retail equipment values have been flat or slightly improved. Retail values for heavy earthmoving equipment were flat, but retail recoveries for general construction equipment showed some strength.

The price weakness in used equipment markets isn't helped by a spike in volumen of equipment that has been coming for sale in the auction market.
Heavy earthmoving equipment
The heavy earthmoving equipment category includes excavators, dozers, wheel loaders, motor graders and articulated trucks. The October 2019 Rouse report shows fairly similar results for the various equipment.
Excavators retail and auction values were mostly flat
Dozers retail values are flat while auction values declined
Wheel loaders retail and auction values declined
Articulated trucks retail values are flat while auction values are declining
General construction equipment
The general construction equipment category includes aerial booms and lifts, telehandlers, light and medium earthmoving equipment (backhoe loaders, compact track loaders, compact dozers, mini excavators, skid-steer loaders and compact wheel loaders) and support equipment (air compressors, generators, lighting equipment and HVAC).
The October 2019 report was a mixed bag for this category.
Aerial retail values improved but auction values continue to drop
Telehandlers saw flat retail values and a decline in auction values
Light and medium earthmoving equipment also saw flat retail values and declining auction values
Support equipment saw positive retail values with flat auction values
Retail values may be up but benchmarks are down
Despite positive signs in retail equipment values, both the general construction equipment and heavy earthmoving categories had retail achievements below the previous month's market benchmark. Additionally, volume is down year over year and month over month for both categories.

A decline in values may not be all bad news. It could just be a "cooling" in the market that might bounce back in 2020.