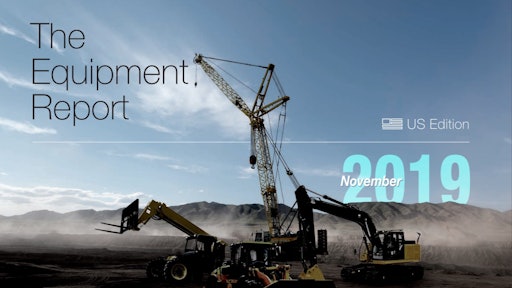 Rouse's The Equipment Report - November 2019 reports that values of general construction and heavy earthmoving equipment through late 2019 have continued their softening trend in the auction channel. After reaching market peaks for used equipment recoveries across many of the product categories last year, 2019 has been characterized by ongoing downward movement.
The trend first surfaced in February's major auction events, the report indicates. Heavy earthmoving products were the first to be impacted, with notable downward pressure on excavator values and, to a lesser extent, dozers and wheel loaders. As the year progressed, similar patterns appeared across general construction products, including aerial equipment, telehandlers and light and medium earthmoving equipment. Conversely, there have been some bright signs in the retail channel, where values have been generally flat.
The downward trend in equipment values comes on the back of very strong results in 2018, which represented a market peak for many products. In addition to the price weakness in the used equipment markets, Rouse has observed a notable spike in volumes (units) of equipment that has been coming for sale into the auction channel.
Given that the softness in equipment values comes on the back of the very strong results in 2018, this softness may just signify a "cooling down" of the market.
Learn more in the November 2019 issue of The Equipment Report.