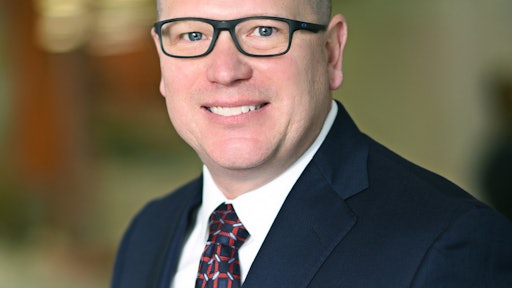 BigRentz CEO Scott Cannon
Construction equipment rentals have been trending upward over the past few years. A study by the American Rental Association (ARA) revealed renting equipment in the construction industry is at an all-time high. In fact, 93% of respondents reported having rented equipment in 2019. Of those who rented, 92% said they expect to rent at least as much in 2020, while 52% plan to rent even more.  
"The definite long-term trend is contractors are renting more and more of the equipment they need as opposed to purchasing the equipment directly. And that's been really consistent from the early 2000s and [was] exacerbated and enhanced after the financial crisis in 2008," says Scott Cannon, BigRentz CEO.
According to Cannon, equipment rentals are steadily growing in the construction industry due to the cost savings and reduced liability benefits of renting as opposed to buying.
Looking back at rental trends for 2019, Cannon explains how weather affected monthly rental trends, what were the most commonly rented equipment types and how technology is constantly evolving the industry.
Choppy Rental Trends in 2019 Due to Weather
It stands to reason that construction equipment rental companies see increases in business during certain months of the year. When the weather is nicer during the spring and summer, more building occurs – resulting in more equipment being rented.
But Cannon says trends were a bit different during 2019. He explains that August, a month during which BigRentz typically experiences significant year-on-year growth, remained relatively flat – while business in October rose by 30% from the previous year.
Cannon attributes this anomaly to weather. "Over the last 12 months to year-and-a-half, there's been more wet weather in the United States than really any period in United States history. And that means that [during] certain months where we thought we'd be more robust, we weren't, and in other months [we were busier]," he says.
Most Frequently Rented Construction Equipment
Which types of equipment were rented most often? Cannon says scissor lifts ruled the roost. He also shares that generators are growing in popularity, and heavy equipment still makes up a large portion of rental company revenue.
"Scissor lifts [are] generally the most rented item anywhere – but in terms of revenue, large booms and cranes make up the majority of our business. Even though we rent less of them, they make up a higher percentage of our revenue because they're generally bigger items, they're on rent for a longer duration of time and so forth," Cannon says.
BigRentz has also seen a bigger demand for power items thanks to sweltering summer weather and power outages from the California wildfires. "We've seen a lot of our customers push us to rent items in the power sector, like generators and [other] items that traditionally weren't rented. Temporary air conditioning has been a big boom for us as well," Cannon says.
Technology and Advancements Improve Construction Equipment Rental Industry
Telematics technology has transformed the construction industry. This GPS and analytics technology enables contractors to monitor equipment usage, track stolen or lost machinery and benefit from a range of data insights.
"I think telematics is a real game changer for the industry," Cannon says. "In addition to knowing where the equipment is to help prevent loss or damages, it feeds back information on utilization of the equipment."
He goes on to say that telematics can also remind contractors when a machine hasn't been used in a while. This helps them determine whether it might be more cost-effective to turn in an unneeded piece of equipment rather than continuing to pay the rental fee.
"Equipment is generally getting safer and [is] better made than [it was] in the past," Cannon adds. "[Machines are] more fuel efficient, which helps the environment. In terms of technology, we've seen a shift to more demand for online equipment procurement. So, for roughly 90% of the items we rent today, customers can self-serve themselves online."
Cannon adds that only around 10% of customers booked equipment online two or three years ago, while 40% to 50% book entirely online today.
Looking Ahead to 2020 Trends
Cannon says he anticipates sustained growth and a continued emphasis on technology in 2020. A heavy focus for BigRentz is integrating with any software customers already use on their jobsites.
"We're putting a big emphasis on integration with our customers' software. A lot of contractors work in multiple locations and use various software tools," says Cannon. He explains that it's important for rental equipment to work seamlessly with tools already being used by contractors, to avoid duplication of efforts or snags in communication.
Cannon expects construction equipment rental growth to continue throughout 2020. "In terms of the overall industry itself, we think it's going to be continued growth for 2020. I think overall economic trends are solid, [though we may see] slower growth than we've experienced in 2018 or 2019."