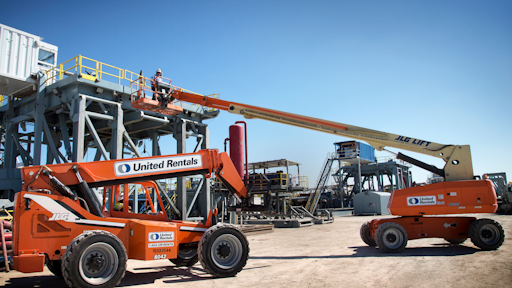 United Rentals
Contractors are always on the hunt for ways to improve their work processes and save money. This is especially true when it comes to managing the cost of equipment needed for completing projects. It turns out there's a simple solution to this puzzle – and more construction professionals than ever are taking advantage of it. The trend of renting equipment as opposed to buying it is on the rise, and it's saving contractors thousands of dollars.
Construction Equipment Rentals Continue to Grow
A recent study by the American Rental Association (ARA) concluded that the practice of renting equipment in the construction industry is at an all-time high – and is expected to continue increasing over the next year. The study found that "93% of professional contractors surveyed rented equipment in the last year." Of those who rented, 92% reported that they expect to rent at least as much next year, and 52% plan to rent even more.
The most common rental items include:
Portable toilets
Lifts and scaffolding
Backhoes
Dump trucks
Mini-excavators
Let's take a look at this growing trend and the various ways it can save you money.
Renting Equipment Is Cheaper than Buying It
The most obvious cost-saving advantage is the fact that renting equipment is exponentially cheaper than purchasing it. A simple search for heavy machinery such as backhoe-loaders reveals prices from $30,000 to $100,000 and more. The same equipment can be rented for just a few hundred dollars per day, or a prorated monthly fee. If you only need certain equipment on a per-project basis, you could save an exorbitant amount of money.
Renting Leads to Decreased Liability
Ginger Butz, Morey Corporation's director of product lifecycle management, notes that renting equipment leads to lowered liability. When construction companies spend tens of thousands of dollars on purchasing equipment, malfunctions, theft and repair costs, it can be devastating to their bottom line. However, she says, "If you're renting equipment, the onus [responsibility] is not on you."
Optimized Usage Results in Maximized Profit
Construction firms often use specialized equipment for certain projects. If you are only going to use a piece of equipment once, why buy it? This is especially true for higher-cost equipment. Optimizing budget allocations for each project can help you save significant money that can then be reinvested elsewhere in your business.
Reduced Upkeep and Downtime
Morey Corporation specializes in telematics and internet of things (IoT) technology. Telematics devices attached to equipment report on factors such as location, performance, fuel usage, etc.
Butz notes that the upkeep of heavy machinery can be extremely costly. Not only do equipment owners have to spend money to keep machines running properly, they also experience stalls in projects while maintenance is being performed. When they rent the equipment, this issue is avoided entirely. Rental companies are responsible for upkeep, while renters enjoy always-functional equipment with minimal downtime.
No Storage Fees or Transportation Costs
Contractors in certain areas cannot perform specific types of work year-round. Additionally, many frequently accept projects in areas outside of their local community and, for some, in areas around the country. Renting equipment can save money in these scenarios.
"If you're in an area that has cold weather that [prevents you from digging], you don't have to store that equipment during the winter months," Butz points out. And when a contractor from the East Coast accepts a project on the West Coast, it can simply rent equipment in the area where its crews are working instead of transporting machinery.
How Equipment Rental Companies Are Ensuring Customer Satisfaction

United Rentals
Rental companies are also working to better serve construction customers. Gregg Christenson, vice president of national accounts, United Rentals, says, "We are always looking for ways to make the customer's experience with us even better. Information from tools like studies or even our own digital platforms enable us to identify opportunities to provide the right information, equipment, safety or expertise when the customer needs it. Input and feedback directly from the customer are so valuable as we continue to build our digital portfolio and fleet, [as well as] expand our training options."
As rental trends continue to rise, there will be more opportunities for you to provide feedback directly to rental companies – and more opportunities for companies to offer money-saving rewards to customers.saving rewards to customers.