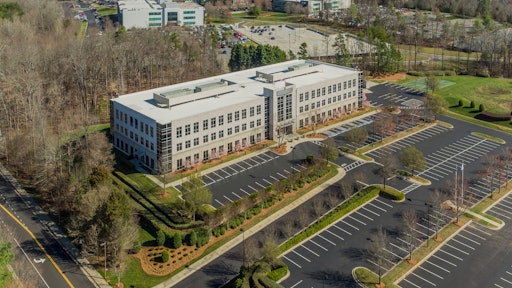 United Rentals
United Rentals has announced a major expansion of its operations in Charlotte, N.C., aiming to bring 150 new jobs to the city.
The company has completed a long-term lease for a new corporate campus in University Research Park northeast of downtown, occupying the 100,000 square foot building mid-2020. The company will also build a command center for the United Rentals Emergency Response Team in the new building.
"Charlotte has a terrific talent base that can help us support our growing business and serve our customers," says Craig Pintoff, EVP, Chief Administrative and Legal Officer, United Rentals. "The new Charlotte campus demonstrates our commitment to providing a world-class, collaborative work environment for our employees and reflects the optimism we all share for a bright future for United Rentals."
The campus features a three-story office building with just under 100,000 square feet of flexible office space and pad space for an additional building for future growth. 
The facility will offer United Rentals employees modern work and collaboration areas, such as collaboration areas, training rooms and spacious break rooms. 
United Rental will begin recruitment for new roles in Charlotte on Oct. 23. Positions create will include roles in accounting services, credit and billing, customer care, inside sales, payroll and tax teams.
The company is holding a hiring event on Oct. 23 from 3:00 p.m. - 7:00 p.m.  at 10330 David Taylor Drive. The event will feature "interviews on-the-spot" for a variety of roles. United Rentals will also be recruiting for roles continuously into 2020.