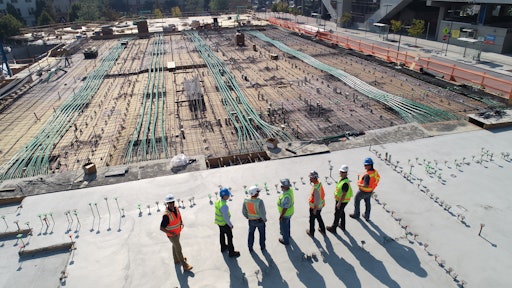 Contractors are always searching for the best ways to improve productivity on construction sites. From a business operations standpoint, this is especially true when it comes to fleet and equipment management.  
During the 2019 United Rentals Total Control and Innovation Conference, the company is sharing its four pillars of construction site productivity. According to United Rentals, these keys include:
Equipment
Data
Safety
Expertise
Equipment
United Rentals Executive Vice President and Chief Commercial Officer Paul McDonnell says one of the most frequent issues reported by construction industry customers is difficulty managing multiple vendors. He explains that multiple vendors for different equipment needs "can make projects more complex than they need to be."
This, McDonnell says, supports the idea that a single source for construction and industrial equipment rentals enables contractors to achieve better productivity on construction sites. He goes on to say, "[Customers need] somebody who gets [their] business and can respond quickly. That's why we're continuing to invest in our products and services, whether it be trench safety, industrial tools or site services, and we're expanding our portfolio of equipment."
Data
From safety protocols to task and project completion practices, every facet of today's construction business relies on data for improvement. "The second thing we hear from our customers is that we're living in a digital first world and we need to invest heavily in our digital ecosystem, which is critical for transforming how work is done," McDonnell says. "For example, our investments in our digital platform include [factors such as] Total Control telematics and online self-service tools that help you operate your equipment. Our benchmarking equipment, which is an amazing tool, gives you insight into utilization of your fleet across your peers within your industries."
Construction site productivity depends heavily on contractors' ability to manage fleets, complete projects efficiently, enhance jobsite safety and maintain every other facet of operations effectively. Data collection, analytics and utilization are all paramount to continually improving in these categories.
Safety
Safety is a primary component of productivity on construction sites. Accidents and mistakes can lead to workforce injuries, equipment damage and costly liabilities. While speaking about United Rentals' relationship with customers, McDonnell said, "Safety is in our shared DNA on every project, and that comes from your ability to leverage our resources as the largest safety training provider in the industry."
At this year's Total Control and Innovation Conference, United Rentals unveiled the next generation of its United Academy safety training and operator certificate program. United Academy enables managers and students to enjoy an easy to use experience through the self-service platform.
Expertise
Construction site productivity depends heavily on industry expertise. If you run a construction business and partner with vendors to rent equipment, collect and utilize data, and improve jobsite safety, you need to be able to depend on knowledgeable support. Vendors should possess expert-level know-how and offer the best services, tools and products possible.
McDonnell says providing support to customers "is a big blueprint with a central team that goes beyond just the equipment. We're taking all that we've learned over the last 20 years and we're translating that to directly provide what [contractors] need to manage [their] business more productively. We're also helping [contractors] drive utilization not just on the fleets [they] rent, but also on [their] owned fleets – meeting [them] where [they] are and how [they] want to work. It's our playbook that's called 'customer advocacy in action.'"
McDonnell finished by saying that building a competitive advantage toward construction site productivity is "best accomplished by a holistic approach to [running construction businesses] that brings together the equipment, data, safety and expertise. We're laser focused on helping [contractors] manage all of [their] fleets, rent and owned – even if it means that [they] rent less in the short term. We're much more interested in being a long-term partner, working with [contractors] to solve more of the challenges they face across the worksite."