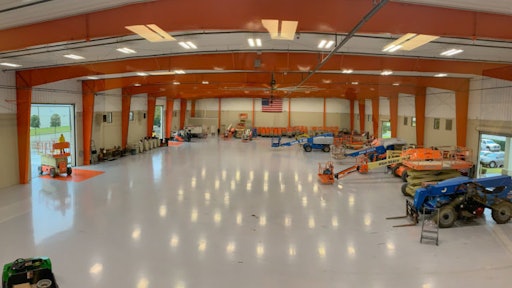 Gearflow
Original article from Gearflow was repurposed for the Rental audience.


When Tony Lake took over the parts department in late 2007, High Reach 2 (HR2), a multi-location, Florida equipment rental and sales company specializing in aerial lifts and aerial lift parts, had three locations, eight service trucks, and over $1,000,000 in heavy equipment parts.
HR2 was established in 2003, and Lake joined the team in 2004. The systems Lake and his team developed are scalable, efficient, and currently in place at all the HR2 warehouses.
"We've grown to five physical locations and seven warehouses within those five locations. We now have 22 service trucks, and among the seven warehouses, we still have about $140,000 less total inventory than we did the day I took over," he says.
Gearflow sat down with Lake to learn more about their parts inventory management systems. Based on the conversation, here's a list of eight steps to increase profits and efficiency on part sales.
Step 1: Take the Time to Observe
In order to improve upon how things are done, you first must find the part of the operation that is either causing the problem or slowing down the process, also known as the bottleneck.
Lake recalls, "When I started at HR2, I began helping out in the parts room. I worked there for a while and noticed a lot of negative tendencies that had an effect on our daily routine. When I took over the parts department, I really paid attention to what inefficiencies we could improve upon."
Once you find the root of the inefficiencies, the next step is to look at the process details and begin to make the appropriate changes.
Step 2: Pay Attention to Detail
For Lake and the team, they began making notes on HR2's item ordering. They noticed a lot of overspending and began to record every item that was ordered and every time an item was asked to be ordered. Lake says, "I was really honing in on everything, trying to get an idea of what we needed and what we didn't need." 
Lake looked for any major problem areas – either inventory that was frequently ordered in small quantities and frequently used, or inventory that was frequently ordered in large quantities but rarely used. With this information, he could bump up inventory in certain areas, but drastically reduce inventory in others.
 "I really paid attention to make sure that we weren't just ordering things because someone said to order them. And when we did order something that was outside of our normal stock, I wanted to come up with a system to make sure those machines [were] actually receiving their specially ordered parts."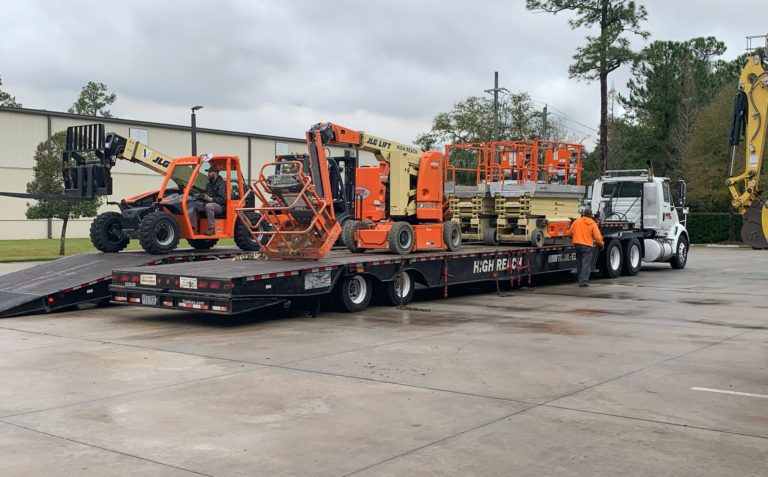 HR2 unloading equipmentGearflow
Step 3: Start Small
Approaching inefficiencies in a parts department is almost never simple. Lake explains how he mentally prepared to begin making changes:
"I started with the philosophy that pennies make dollars. I wanted to save every penny I could and turn it into something bigger. I knew that if I tried to go in there and save large chunks of money right off the bat, it would be a battle I wasn't prepared for. But if I could go to every one and analyze each step, one at a time, over and over, for every penny I could save was a penny we earned." 
Step 4: Cut the Excess, Minimize Inventory
The cost of inventory is never just defined by the part's price tag. When storing inventory, there are a few things you need to consider. Although you may receive discounts for buying in bulk, or you may improve turnaround times by having a variety of parts in stock, the benefits rarely outweigh the costs. 
When measuring the costs of holding inventory, some important questions to ask are: 
·      What else could you do with the money tied up in your inventory?
·       What is the cost for the space in which you are holding inventory? Do you need to pay for heating? Could you save money by downsizing and holding less? 
·       How much does it cost the business if these parts become damaged or obsolete? 
This goes hand-in-hand with step two; if you pay attention to detail and can estimate the quantity and how often you need certain parts, minimizing your inventory should follow. Although many of these questions seem simple, a lot of people still don't realize the steep costs of sitting on inventory. 
Step 5: Create a Transparent System 
If you can create a system that allows all involved parties to see what happens at every step, the chances that people follow the system become much higher.
"We began to take more control, not micromanaging by any means, but we put a system in place," Lake says. "When a mechanic comes up to the parts counter in need of a part, the counter person will help them locate the part, pull that part, apply that to a handwritten work order as well as a work order in our computer system.
"This work order stays open until that machine has completed the full inspection. If there are any questions between the handwritten work order and the work order in the computer, we get it figured out before it is finalized."
He continues, "The work order then goes into our internal department, which is separated from our parts room, and that gives us another set of eyes before we finalize the work order. This system has helped to keep our inventory very true."
The idea of checks and balances to make sure something is done correctly is not new. For Lake, with multiple locations, this is a necessary step to ensure work orders are all completed the right way.
"We have three top qualities instilled in our employees to ensure organized success," Lake says. "The three C's are: 1. Communicate —– 'Cool,' 2. Clarify —– 'Calm,' and 3. Complete —– 'Collected.'"
Additionally, as briefly mentioned in step two, Lake also implemented a system for placing orders. Now, when they place an atypical order, they make sure that the machines receive the parts that were ordered for them. They're no longer sitting on the shelves for a long period of time and getting forgotten about.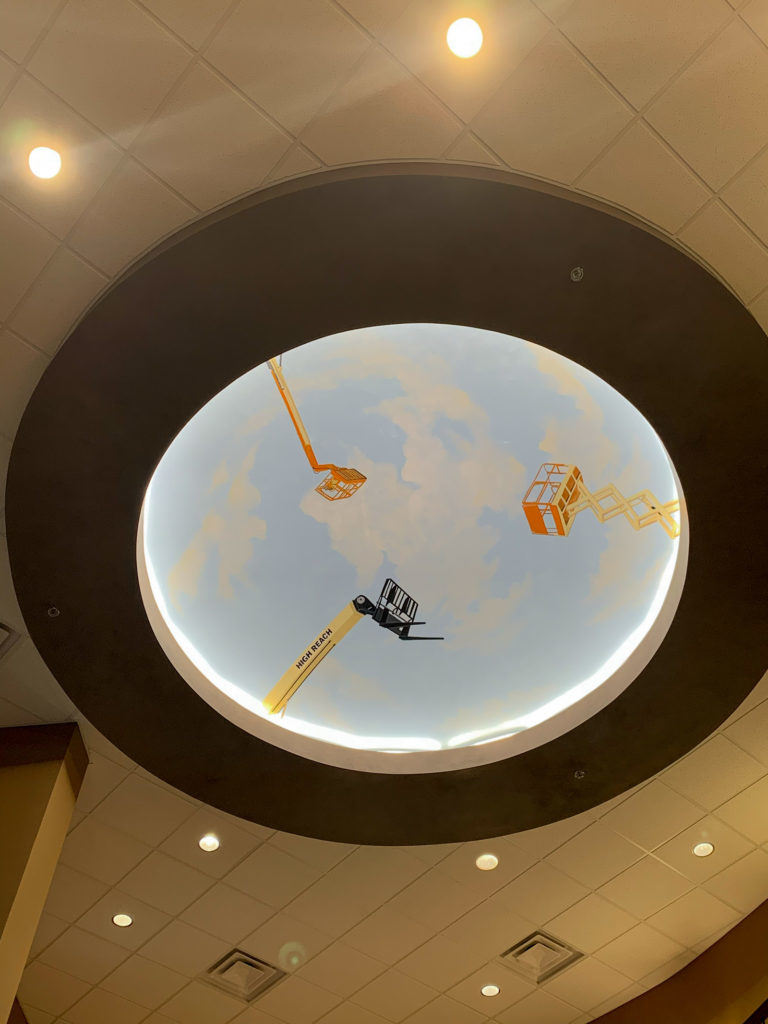 Aerial Lift Themed Mural Inside an HR2 FacilityGearflow
Step 6: Is Your Game Plan Scalable?
When Lake took over in late 2007, HR2 had three locations, eight service trucks, and over $1,000,000 in parts. Today, there's five locations, seven warehouses, 22 service trucks, and less inventory.
The system needs to have a proper flow, with having multiple locations and multiple warehouses. "We have a main part room in every location, and Sanford is our hub. Therefore, we have a little bit more than our other locations because our other locations call us [for parts]."
From there, Lake says they have an organized Napa warehouse where they stock all the filters they need for their fleet. Whenever a filter is needed, they're able to quickly it to their other locations.
"In a similar fashion, we also have a decal department, where we disperse the decals to all of our locations. We do ship things between locations, for example, if Tampa has something that another location needs, we get it from Tampa rather than paying those steep overnight charges from an OEM."
Step 7: Make Use of OKRs
OKR stands for objectives and key results. These are used to first define, and then to help measure the outcomes of the defined objectives. For many companies across various industries, the use of OKRs is present. HR2 is no different, Lake says, "Our success is measured through our quarterly inventory checks. We go through and make sure that everything is where it should be four times a year. "On our last inventory check, just here in Sanford, we were off only $231 on 23 out of 7,768 items, and we have about $350,000 worth of parts. Overall, we had only 97 differences out of 23,159 parts, and once inventory was finalized, we were off $18 out of $945,000."
HR2 also measures the percentage of parts that their mechanics have access to. HR2 has never been able to fill less than 90% of the parts their mechanics require. If they dip below 90%, they have their team investigate. 
Ensuring that their mechanics have access to the necessary parts is essential. It not only helps them to properly maintain the equipment, but it also keeps the equipment out of the shop and available for rent.
Step 8: Incentivize Employees 
In many sales jobs, an incentive for making a certain amount of sales or discovering a certain number of new clients is usually offered. It helps to increase employee productivity in most cases.
"We have a bonus program that goes along with inventory. We determine numbers and we have each part room try to meet the criteria. This makes them eligible for said bonus of each quarter," Lake says.
When it came down to it, Lake's motivation for redoing HR2's part's room processes might have been in his blood his whole life. "I would definitely say my whole life, I've been a very organized person. Again, noticing all these negative things when I was working in the parts room, when I took over, I was really able to key in on things that I didn't think we were approaching in the correct manner. Now, 16 years later, it seems like we tackled good areas that needed attention."