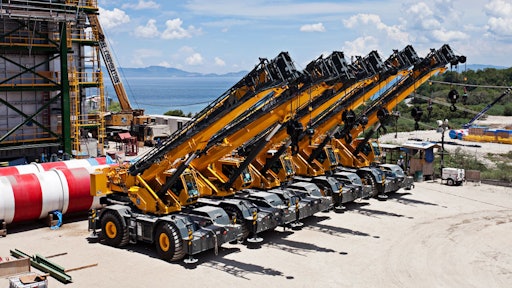 Fleet Cost & Care website
This blog post was adapted from its original version on the Fleet Cost & Care website and used by Rental with permission from the company and author. 
In this post, I'll address two questions that will help you improve the way your fleet operates:
1. What is preventative maintenance?
2. Why is it so important to your fleet and your company's bottom line?

If your business is within the equipment rental industry, it probably has a lot of moving parts – literally. Equipment companies often have anywhere from 5 to 500, to 10,000 units, with fleets consisting of small equipment, cranes, specialized transportation vehicles, front loaders, tractor trailers, aerial lifts, and more. Units in any fleet have to travel from point A to point B, and sometimes to point C. They have to perform tasks along the way and make it back to point A. Hopefully, they return fully functional and in one piece, but that isn't always the case. With help from mechanics, service managers, and a fully implemented preventative maintenance program, you can keep your fleet (and in turn, your business) running in top shape.
What is Preventative Maintenance?
Annual vehicle inspections
Oil changes
Oil testing
Adjustments
Cleaning
Repairs
Worn parts replacement
Why is Preventative Maintenance Important?
Preventative maintenance can be the lifeblood of your business. If your fleet is not safe and rent ready at all times, you are missing out on potential revenue and assuming unnecessary risks. If your business philosophy is, "Our units need to be out in the field 24/7!" or "We need jobs and more jobs," that is certainly a conventional way to keep revenue flowing. However, this is only true if your equipment is properly maintained. If not, this model will have a short shelf life. A preventative maintenance program that is comprehensive and consistently practiced must be the other bookend to your business philosophy.
The market essentially dictates what you pay for your equipment, but it also dictates what you can charge for hourly rentals and the labor associated with that. More or less, those are fixed costs that fleet owners are faced with no matter what industry they are in.
However, the market does not dictate how you take care of your equipment – your business philosophy does. So does your service manager, your mechanics, and your operators. Preventative maintenance is something that you can control and, if done properly with consistency, will keep your costs down and revenue flowing.
Fleet Management Software for Preventative Maintenance
To have a successful preventative maintenance program, you must have a process and a software tool to execute. Having a centralized tracking system to verify service records and create a digital trail of a unit's repairs will provide the needed transparency in communication between all parties involved – meaning accountability will be unavoidable. Once service intervals for coming-due PM activities are established, sustaining a rent-ready fleet and a happy customer base will be much easier to do. As a result, you'll lower overall costs of maintaining your fleet, whether you have five units or 5,000 units.
All fleet owners want an operation that runs smoothly and efficiently in every department. Preventative maintenance is a proactive approach. Using a centralized fleet management system with maintenance tracking capabilities will help you see trends and patterns on the cost-end of your business. Having mobile fleet management tools in the field to assist your personnel keeps the information flowing back to your corporate office, service center, or yard.

Do not throw your money away by being a reactive fleet owner. If your fleet is your business, treat it with care, prevent problems before they happen, and keep all those parts moving.
Companies in this article