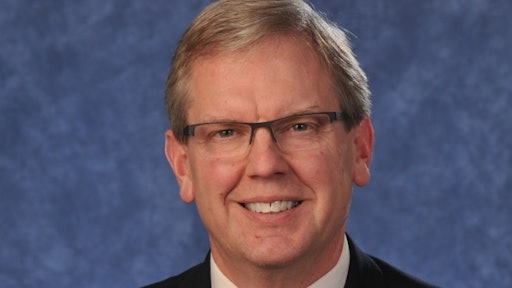 JLG
Questions answered by Frank Nerenhausen, president, JLG Industries
What was the biggest lesson your company learned in 2020?  
That's a bit of a loaded question. The COVID-19 pandemic we faced in 2020 threw us so many unanticipated curveballs as a company and as an industry. I'd say the most important lesson was to take decisive, people-first actions when a situation required it — actions that protect the health and safety of our employees, our customers, our business, and the industry as a whole.   
What do you think is the future of the rental industry?  
The future of the rental industry often follows the same path as general construction. Right now, there is a large focus on adopting and utilizing connected and sustainable technologies, as well as an increasing demand for compact equipment — and on the other end of the spectrum, higher-capacity equipment. These trends are driven by things like electrification, urbanization, and the productivity imperative. People are being asked to do more with less, in tighter spaces, under stringent time and budget demands in a manner that is minimally disruptive to the environment. Equipment manufacturers, and in turn rental companies, will need to continually evolve and offer technologies and features that allow equipment users to be successful in these areas.  
For example, at JLG, we believe that one of the biggest responsibilities we have today is to continually evolve and introduce connected solutions that allow customers to be more successful, safer, and increasingly efficient on the job. Technology and the speed at which its advancing plays a huge role in this. 
What is next in terms of innovation?  
At JLG, we are looking at innovation beyond what is incorporated into the product. From a technology standpoint, JLG is working to develop digital solutions and tools that are useful on the jobsite to improve safety and productivity.    
One example is our Augmented Reality (AR) App, which delivers data through five modules to help customers plan projects more accurately. The five modules include machine visualization, kit visualization, operational guidance, a decal viewer, and inspection assistance. The visualization tools allow the user to choose the right equipment and/or accessory for the job by placing and moving a virtual machine or accessory onto a machine in an actual work environment. The operational guidance and decal viewer help users understand the machine controls and decals in their local language, while the inspection assistant provides historical inspection data specific to the machine.  
Training with the use of technology is also a focal point. We recently expanded our virtual reality training with AccessReady Fusion XR, which provides an immersive, virtual reality-based training for users of all skill levels. Instructors can create their own scenarios designed to test various skills and select the criteria for evaluation of user performance. Our commitment to advancing training, either in-person, online, or virtually, remains as strong as ever. 
But rest assured, we aren't ignoring the products themselves. With the recent launch of our DaVinci scissor lift and investment in Microvast, you see our commitment to electrification. And while we are always aiming high, we are also really focused on improving ground-level technologies that make equipment safer and more productive when working at height.    
What are some trends you are seeing throughout the industry today?  
Some of the trends we are watching in the industry include electrification, urbanization, ladder replacements initiatives, and the growth of mega warehousing/distribution centers and data centers.  
On electrification… 
We anticipate an increase in demand for electrified access equipment around the world. We are seeing this across the auto industry and believe the construction industry will follow.  
Impending Stage V engine regulations in Europe will contribute to increased demand. The maintenance costs for diesel engines increase with the introduction of Stage V as they will require diesel particulate filters (DPF). And while engine costs are escalating, lithium-ion battery costs are becoming more affordable. Because lithium powered products are more eco-friendly, with little to no compromise to performance, they will continue to gain in popularity.  
On urbanization… 
Urbanization is a driver of a number of trends we are seeing. With less and less open space, buildings are becoming taller and space between them narrower. With that, the demand for smaller machines with compact footprints and higher reaching equipment is growing.  
The introduction of the newest JLG ES Series electric drive scissors, the ES 1330 and the ES 1530, as well as our new SkyTrak 3013 telehandler and low-level access 1030P push-around lift, are just a few products we have recently introduced for use in tight spaces.  
On warehousing/distribution… 
Going back even a few years, online shopping was not what it is today. With a larger percentage of purchases being completed online, warehouse space is in high demand and warehouse construction is on the rise. This type of construction oftentimes requires continuous placement of utilities at a fixed height along the length of a building. To match the application, JLG has designed the RT/ERT line of scissor lifts with this capability at the forefront.  
On ladder replacement initiatives… 
And last but not at all least, I'd be remiss if I didn't mention the increasing demand for low-level access products, which are gaining in popularity as companies seek to mitigate worksite injuries associated with slips, trips, and falls from ladders. This is just another area in which JLG continues to work to advance jobsite safety. 
Is there anything new and exciting on the horizon for your company that you can share with us? 
In 2021, we continue to focus on elevating the access industry in three key areas: productivity, safety, and technology. While we consistently watch trends, we also actively watch how customers are using JLG products. The pain points we observe directly drive our innovation process, something we call "customer-inspired innovation."
This innovation process is evolving and has moved from a focus on incremental product changes to transformational innovation designed to provide substantially safer machines for end-users and new revenue streams for our rental channel partners.