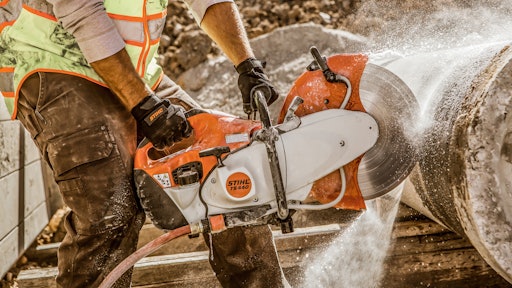 Stihl's TS 440 Cutquik cut-off machine is suited for challenging cuts such as bottom portions of walls, cutting in corners, cutting the underside of in-ground pipes made of concrete, ductile iron, vitrified clay and steel, and similar situations where traditional cut-off machine guard positions limit cutting access. The expanded guard adjustability is made possible by the exclusive sensor-activated Quickstop wheel brake technology, which is capable of stopping the rotation of the cutting wheel in fractions of a second if kickback occurs. 
The Quickstop wheel brake is designed to allow for extended guard adjustability by reducing the risk of injury from kickback when the guard on the TS 440 has been adjusted to expose the top portion of the wheel. 
"The toughest of cutting operations will be performed more easily than ever before," said Thomas Techow, Stihl Inc. product manager.
A two-belt drive delivers high torque to the wheel, reducing the chance of bogging when applying higher feed force. The top handle design makes for a well-balanced and compact product, increasing maneuverability for superior handling during the toughest jobs.
66.7cc displacement
4.4-bhp engine with an engine speed of 9,000 rpm
4.9-in. maximum cutting depth
Weighs 24.7 lbs.
Features shared with the family of Cutquik cut-off machines include:
Electronic water control allows for easy and efficient water flow adjustment while cutting. The water control feature remembers the last setting used and water flow automatically stops at idle speed and starts again when the throttle is engaged.
The X2 air filtration system is virtually maintenance-free and maintains an incredible 99.96% cleaning efficiency.
The ElastoStart starter handle is a starting grip with a built-in shock absorber that helps reduce the effort when pulling on the starter cord.
The anti-vibration system helps reduce operator fatigue and provides a more comfortable working experience.
Request More Information
Fill out the form below to request more information about
New Stihl TS440 Cut-off Machine with Auto Blade Brake Squeezes into Limited Access Cutting