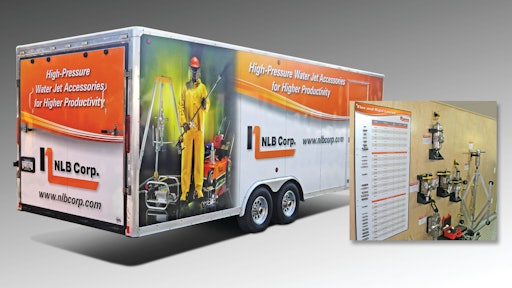 WIXOM, MI -- Many industries rely on trucks for shipping, but what about shopping?  NLB Corp. has turned a 24-foot trailer into a touring showroom that will travel to customers' facilities and trade shows, letting water jet users see and compare nearly 200 high-pressure accessories.
The NLB mobile showroom debuted this week at the WJTA-ICMA Conference in Houston, showcasing everything from nozzles and fittings to tube bundle cleaning systems.  It also features specifications, applications advice and video demonstrations of various accessories in action.
NLB will schedule appearances of the mobile exhibit at customer locations, NLB regional branches and industry events.  For details, call the NLB marketing department at 248-624-5555 or send an email message to nlbmktg@nlbusa.com.