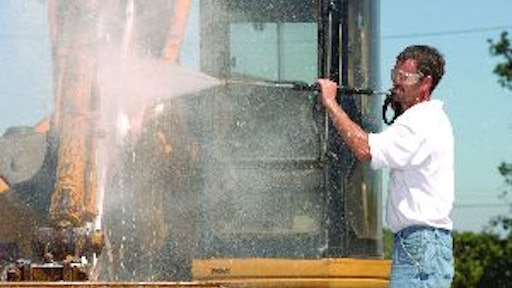 Kay Falk
The pressure washer industry has grown phenomenally since "big box" retailers started selling them to homeowners. "These retailers' advertising has created a new awareness of our product," explains Bill Fischer, vice president of sales for the FNA Group (makers of Simpson and Delco brands). "The first-time user is generally astounded by the results. It's like a magic moment, and this has created a whole new market for rental centers."
But there are differences between consumer- and industrial-grade pressure washers. The key variants come from how they're built and the components selected, according to three leading manufacturers.
"There are harsh demands on pressure washers used in the rental market," Fischer says. "You need a robust machine that starts with a strong steel frame, handles that won't break and few, but quality, welds. Then you move to the heart of the pressure washer, the pump and engine. You need a commercial/industrial size engine for sure. And a high-quality pump, for instance, might cost more than the entire consumer machine."
Eric Loucks, national sales manager for Shark-Karcher Pressure Washers, agrees. "Rental centers can expect that their pressure washers are going to get banged up when they're loaded and unloaded, yanked around by the high-pressure hose and even dropped on occasion," he says. "You want everything from the frame, wheels, pump, and engine to the hose, wand and gun to be of industrial quality."
Kevin Anstoetter, rental division manager at Mi-T-M Corp., advises, "If you are looking to add a unit into your rental fleet, you want to make sure that you are getting an industrial-grade engine with a minimum of a two-year warranty, plus:
Industrial-grade crankshaft pump
50-foot, wire-braided high-pressure hose with bend restrictors and quick connects
Heavy-duty cart with pneumatic or flat-free tires
Industrial-grade gun and wand
Individual spray tips (not adjustable spray tips)
Minimum of 2 gallons per minute (gpm) spray power
"Cost pressures have forced some manufacturers to choose low-grade components to keep both their costs and prices down," Loucks continues. "The long-held advice that you get what you pay for is still true. You can pay for a good machine once or you can pay for the costly repairs and downtime over and over."
Fischer adds, "Rental centers understand this well. If they buy any product that doesn't stand up to their needs, that product's failure hurts them. There's the actual repair cost and loss in revenue. Plus, you suffer when an unhappy customer tells others, and you lose your good reputation."
He points out, "You can keep a well-made pressure washer performing in your fleet for 10 to 15 years, even when it's run every day. That's where you get your return — from a unit that's built to run for thousands of hours."
Know your market
In addition to looking for a well-built pressure washer, you want one that is easy to use, even for quickly trained users, and one that is easy to maintain. Those with many years in the market suggest you ask yourself a few questions before you select a particular model, especially if you're just beginning to offer pressure washers.
Is your customer base primarily homeowners or contractors? Homeowners do not require as rugged or powerful a pressure washer as contractors need.
What kind of pump does it have? "The direct-drive models will be more compact and ideal for the homeowner," Anstoetter explains, "while the belt drive is a little larger but will withstand contractors' constant use."
Fischer agrees, "A belt-drive system reduces the revolutions the pump turns (rpms) about in half, so a good belt-driven pump can last up to 20 years."
Loucks adds, "The high-pressure pump is the workhorse of every pressure washer regardless of brand. You can tell the quality of the pump by its lifetime rating. Consumer-grade pumps are rated to operate for as little as 100 hours. Industrial-grade pumps, on the other hand, are rated to run for years, if properly maintained. The best pumps come with a five- to seven-year warranty."
What pressure and volume ranges do you want to provide? "Most rental yards stay between 2,400 psi and 4,000 psi for a pressure range," Anstoetter says. "You may see a few rental yards go as high as 5,000 and 6,000 psi."
Look at the balance of volume (gpm) and pressure (psi) in a pressure washer before buying. "Some customers get excited when they see spray pressure numbers such as 3,000 or 4,000 psi, but volume has as much, if not more, influence on cleaning effectiveness as the spray pressure," Loucks explains. "For instance, a pressure washer with 4 gpm at 2,000 psi will clean better than a unit with 2 gpm and 3,000 psi."
What's the water source? If most renters will use the washers in a rural area, stay with models between 2 and 4 gpm. If most have access to a city water source, you could go as high as 6-gpm models.
Hot or cold water
Another important decision you must make is whether to buy a hot- or cold-water pressure washer, or have both in your fleet.
For general cleaning around homes and office buildings, cold water pressure washers are fine. "For cleaning cars, pools, decks, driveways or anything that would be sensitive to hot water, cold-water washers are best," Anstoetter says.
That's why a good portion of units sold into the rental industry is cold-water pressure washers, according to Anstoetter.
"All residential- or consumer-grade pressure washers are cold water only. And they are useful for cleaning walkways, gutters, roofs, signs, containers, etc. But hot-water pressure washers are the most effective cleaning machines around," Loucks points out. "To see how much difference heat makes in cleaning you don't need to go any farther than the kitchen sink. Wash your dishes in a sink of soapy cold water and then in a sink of soapy hot water. The hot water difference is dramatic, especially after a meal of greasy foods."
He adds, "Hot water simply cleans faster and deeper, especially where oil and grease is involved. Cold-water pressure washers are good, but hot water pressure washers are better."
Fischer agrees that hot-water pressure washers have a wider range of applications. "They're best for cleaning anything that has grease and grime, like construction, oil-field or agricultural equipment, drive-through lanes at banks or fast food restaurants, car dealership service departments and the like," he says. "In addition, hot water can sanitize as well, so you can rent them to farmers for cleaning up after cows, hogs or chickens. Restaurants may need them. You can broaden your customer base if you rent out both hot and cold pressure washers."
A few more considerations
Never forget safety when you're selecting equipment, and this includes pressure washers.
"Safety is a huge issue and looming larger each year with the growing risk of costly litigation associated with high-pressure cleaning accidents," Loucks points out. "Pressure washers should be certified to the rigid UL-1776 safety standards by a nationally recognized product-testing laboratory, such as Intertek/ETL. Gasoline-powered models should have EPA approval for emissions. The Cleaning Equipment Trade Association (CETA) provides a set of standards to which equipment should be certified. Be sure to ask your supplier about these safety ratings and look for the information in the product literature."
None of these three manufacturers had something big, new and exciting to announce about their current pressure washer lines, which are available in gas, diesel and electric models. FNA's Fischer did mention some new features were in the works. Meanwhile, he notes, "Up to 20 years ago, pressure washers were very expensive. They provide a much better price/value ratio today because of the economy of product design. The technology has not changed much, but the products are better and far more affordable than ever before."
And Shark-Karcher's Loucks adds a reminder: "There is a flood of low-cost, residential-grade pressure washers, both domestic and foreign, starting to edge their way into the market," he says. "There is a dramatic difference in performance and durability that rental center managers should be aware of. The low-ball price is tempting, but the long-term return on investment is poor, especially in light of the rugged demands of the rental market. As stated before, "you only pay once for quality."