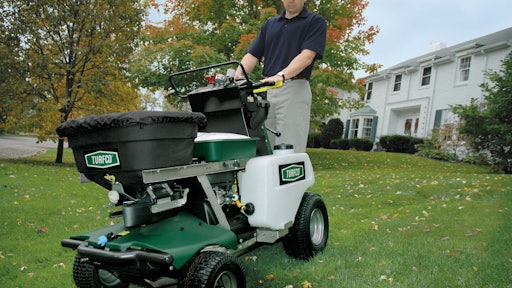 Turfco has designed a new sprayer spreader, the patent-pending T3000 Applicator. Engineered with operators in mind, the stand-on riding applicator operates with ease, minimizes operator strain and increases productivity. The T3000 Applicator features a revolutionary steering wheel design, pivoting front axle and floating operator platform to minimize strain and shock on the operator. Cruise control frees up hands for easy operation of spreading and spraying while driving. Additionally, the positioning of saddle tanks, the low center of gravity and hydrostatic transaxle braking system deliver dynamic braking and easy control and stability on uneven ground and hills. The T3000's ability to fit through a 36-inch gate while also being able to complete 64,000 square feet per fill enables operators to do both residential and commercial properties with the same machine. Unique adjustable high-pressure/high-velocity spray system creates larger droplets, better coverage, less drift and fewer callbacks
Separate spray/spread systems but matching application widths at six-foot and nine-foot
Easily adjustable pressure dial allows professionals to quickly change spray widths from six-foot to nine-foot width. Exclusive rate control quickly adjusts rate for trimming width, eliminating over-application and fertilizer waste while a wrap-around deflector virtually eliminates prills, minimizing clean-up.
Request More Information
Fill out the form below to request more information about
T3000 Applicator Riding Sprayer and Spreader