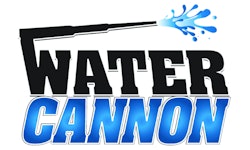 Water Cannon is a supplier of non-marking pressure washer hose available in blue, gray and translucent polyurethane highly resistant covers. With a vast stocking capability the company provides same day shipping of 25 foot assemblies and custom-made up to 300 foot assemblies. You can have your choice of quick connects available in traditional brass and plated steel or upgrade to stainless steel.

The standard single wire stainless steel wrapped hose is rated up to 4,000 psi.
The company's most durable offering is a double wire stainless steel wrapped hose that boasts a 4-to-1 safety factor and has a working pressure of 6,000 psi with burst strength of 24,000 psi.
Non-marking hoses are a favorite among contractors and rental stores because they do not leave behind marks on the surface. These hoses actually save time and allow you to get off the job site quicker.
Request More Information
Fill out the form below to request more information about
Water Cannon Non-marking Pressure Washer Hose