General Pipe Cleaners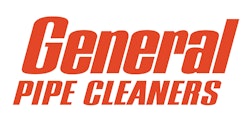 General Pipe Cleaners' award-winning Model 88 sectional drain cleaner, with new design improvements, offers rental customers enhancements power, ease, and safety. 
Its new low-profile gear reducer with standard 3/4-hp motor offers more power to clear stubborn stoppages in lines up to 200 ft. long. Model 88 weighs just 80 lbs. – a fraction of what cage-type drain cleaners weigh.
Using General's sectional machine is almost like running a lawn mower. Operators stand safely behind the Model 88 while it spins 8- or 10-ft. quick-coupling cable sections. Simply push a section into the line until you reach resistance. Then attach the other end of the cable to the Model 88, stand behind it, and turn it on. Cables automatically spin into the line. When a section has run into the drain, attach another – and keep going until the clog clears. General's self-feeding feature also works in reverse to pull sections from lines. 
No need to give rental customers 200 ft. of cable to clear 50-ft. lines. Just provide the number of cable sections they actually require – minimizing equipment weight, wear, and tear. For versatility, General offers either chain- or spring-center cables. Chain styles combine strength and flexibility, and inner spring designs offer greater torque on long, difficult jobs. General's patented no-wrench cable drive coupler also lets operators attach cables faster. 
Other standard Model 88 features include safety clutch, air-actuated power switch, ground fault circuit interrupter, folding handle, 10-in. wheels, cable feeding tool, leather gloves, and more.
General also provides a detailed safety video on operating the Model 88. on their website. 
Request More Information
Fill out the form below to request more information about
General Pipe Cleaners Model 88 Sectional Drain Cleaner