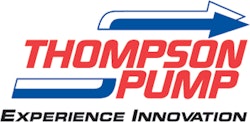 Thompson Pump and Manufacturing Co.Inc. has appointed of KM Specialty Pumps & Systems as regional sales, rental, and service representatives for the Thompson Pump product portfolio in parts of Indiana, Illinois and Kentucky.
Headquartered in Chandler, IN, KM Specialty is currently situated to provide comprehensive portable pump and system rentals and sales solutions to a wide variety of industries including mining, municipal, industrial, aluminum, steel, cement, food and beverage and general manufacturing.
Founded in 1982 by Russ Welder as a company primarily focused on selling and servicing mining, industrial and municipal pumps, KM Specialty is currently a leading supplier of all types of pumping equipment and accessories as well an industry leader in lubricants, lubrication equipment, automated lubrication systems and custom-engineered bulk lubricant transfer systems.