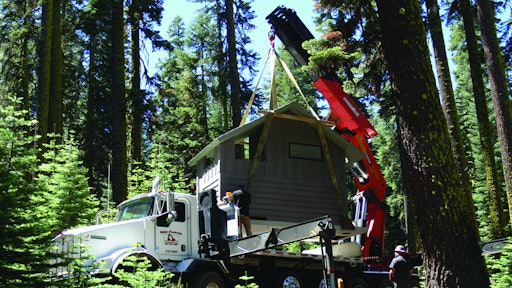 Don Bailey and his wife, Kathy, along with their sons and best friends, started Bailey Construction in Spokane, WA, doing predominantly precast and excavation work. As the business grew over the past 18 years, it came to be associated with CXT Concrete Buildings, which manufactures precast concrete restrooms and other products. There was an increasing need for individuals to install the self-contained toilet shelters along with the underlying vaults, particularly in the western United States.
Although his home and business are in the state of Washington, Bailey and crew find themselves on the road for several weeks at a time. Their jobs take them to many of the surrounding states, but the core of the current business is in the states of California and Nevada setting shelters in the national parks. Don and his crew live out of a camper traveling from campground to campground so that they can stay close to the work.
Until recently, Don had to subcontract the crane work or rent a crane to set the concrete pieces. Typically, this meant using a stiff boom crane, which came with a set of challenges. The first was the need for a second truck to carry the precast pieces, which have an average weight of about 42,000 lbs. The second was the additional setup time required for the stiff booms, which need to have counter weights and sheaves put into place.
Yet another hindrance varied based on the jobsite. A vast majority of the sites are located in wooded areas such as the 800,000 acres of Tahoe National Forest. With a multitude of trees, many of these locations lack space to adequately move equipment. The trees reach well over 200 feet tall in many cases. Don would have to determine if foliage needed to be cleared to allow room to set up the stiff boom, not to mention to ensure plenty of room for a second truck with the shelter and vault in tow.
Then, four years ago, a stiff boom crane Don had rented blew an outrigger. By this point, he was tired of relying on subcontractors or incurring the expense of renting cranes, so he began researching to find the right crane to suit his needs. He looked at all of the major manufacturers, but was most impressed by what PALFINGER had to offer. He contacted the company and a short time later a PK 85002 was brought to him for a demonstration. Impressed with the demonstration, Don ordered a PK 150002H knuckleboom crane.
Today, Don can't get over how fortunate he is to have the Large Crane Package. "There's no other crane out there that can do what this crane does," he asserts. "This truck can carry the load on its bed and the crane easily gets around all the trees. We don't have to wait for trees to be cleared or for a stiff boom to be set up."
He doesn't use a winch anymore either. "A lot of people are surprised that we don't need it, but once they watch the lift, they're impressed," he says.
Since purchasing the crane package, Don and his boys have set over 50 of the precast vaults and shelters, with a contract that will keep him busy for a long time.The PK 1500002H allows them to get into tight areas with the load, and then place 49,000 lbs. of concrete at a distance of about 20 to 40 feet.
Companies in this article