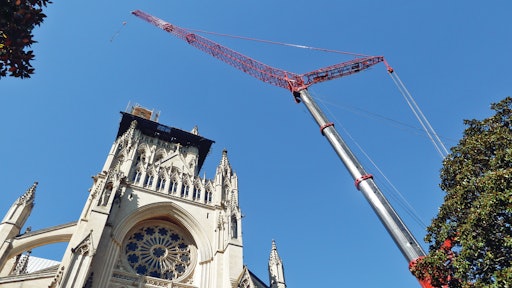 The Challenge:
Reach up to 320 feet while positioned 230 feet from the Washington National Cathedral to repair extensive damaged caused by an August 2011 earthquake.
The Players:
W.O. Grubb Crane Rental
The Process:
A Grove GMK7450 all-terrain crane with a MegaWingLift attachment helped with restoration work on the Washington National Cathedral in Washington, D.C. The cathedral sustained extensive damage in the magnitude-5.8 earthquake that shook the East Coast of the United States in August 2011.
W. O. Grubb Crane Rental, the lifting company contracted to help with the repair process, used the GMK7450 primarily for its high reach. Operator Jim Tracey said that despite the relatively light lifts, the company needed a high-capacity crane to avoid damaging the cathedral stairs and landscaping. The crane was positioned 230 feet from the structure and had to reach up to 320 feet to perform all the required lifts.
"The biggest challenges on this job were how far away we positioned the crane and also the height of the picks," Tracey said. "There was no way to get in close to the building, so we needed a high-capacity crane that could reach across the grounds of the cathedral."
The crane was configured with 163 feet of main boom and 260 feet of luffing jib. It was fitted with full counterweight of 176 USt and configured with the MegaWingLift attachment. The boom assembly, supported by the Nelson boom launch trailer, took only 20 minutes to erect and the entire crane was set up in four hours. Roading of the GMK7450 was relatively easy. By removing the boom and the rear outrigger box, the crane was below 120,000 GVW and allows for easier permitting.
The MegaWingLift enhances the capacity of the GMK7450 by 60 percent, giving greater strength to the boom by avoiding side deflection.
For the restoration, the GMK7450 first helped assemble support beams for scaffolding around the upper portion of the cathedral. The scaffolding will provide access for stonemasons to repair the hand-carved limestone exterior.
Next, the crane removed four pinnacles from the top of the cathedral so they could undergo renovation on the ground. The pinnacles each weigh approximately 5,000 pounds and were picked from a height of 320 feet. Restoration will take about one year after which W. O. Grubb will return to lift the pinnacles back into place.
Companies in this article