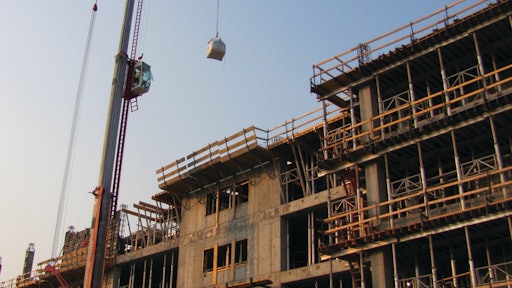 The Challenge:
Construct cast-in-place concrete on a four-story addition while keeping pace with a tight schedule
The Players:
Waggoner Construction
The Process:
The small footprint and superior reach of the Potain HDT 80 self-erecting crane helped Waggoner Construction keep pace with a tight schedule on a hospital extension project in Chambersburg, Pa. The four-story addition to the Chambersburg Hospital provided limited space on the jobsite so Waggoner Construction managed the cast-in-place concrete work with the Potain HDT 80, which has a 15-feet by 15-feet footprint.
"We use the crane to lift materials for our concrete work," said Byron Waggoner, owner of Waggoner Construction. "We lift items including gang forms, lumber, rebar and even some structural steel. The crane works six days a week from the time we get to the job at 6 a.m. until we go home at 5 p.m. The crane has performed well the entire time."
Besides being a good solution for the space constraints on the job, Waggoner said the Potain HDT 80 has also reduced labor costs.
"The operator can see the load the entire time while he's in the cab. We do not need to rely on a dedicated signal man to direct lifting operations," he said.
Waggoner rented the crane from local Manitowoc dealer Stephenson Equipment. However, since Stephenson had already leased its rental unit, it in turn went to Tipton Crane of Atlanta, Ga., to re-rent the HDT 80 for this job.
The Potain HDT 80 is a 6.6 USt capacity self-erecting crane. Its maximum working radius is 147.6 feet and maximum hook height is 112.2 feet. The crane's telescoping mast and 10 different jib configurations help maximize jobsite flexibility. It runs off electrical power, which is especially important on jobs like the hospital addition, where noise from equipment can be an issue.
Also on the job is a Grove RT650E rough-terrain crane that Waggoner Construction is renting from Stephenson Equipment. The 50 USt crane is primarily unloading rebar from trucks that arrive at the jobsite.