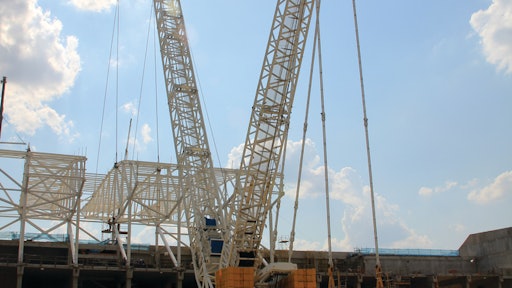 Twelve stadium construction projects are currently in progress in Brazil in anticipation of the 2014 FIFA Soccer World Cup, which takes place from June 12 to July 13, 2014. All host cities are engaged to update or establish appropriate stadium infrastructure. The technical guidelines and the required timelines for all of these projects have been issued by the Fédération Internationale de Football Association (FIFA).
Six new stadiums are being constructed in the cities of São Paulo (Arena Corinthians), Cuiabá (Arena Pantanal), Manaus (Arena Amazônia), Natal (Arena das Dunas), Recife (Arena Pernambuco) and Salvador (Arena Fonte Nova). The other six host cities are modernizing existing stadiums. The estimated total investment for the construction and modernization projects is more than BRL 1.9 billion (US$ 900 million).
New Arena for São Paulo
Odebrecht Infraestrutura, the contractor responsible for Arena Corinthians in São Paulo, completes major projects in the transport, sanitation, sports arena and irrigation sectors throughout Brazil. It is employing more than 2,000 workers on the fixed-price, turnkey stadium project.
The Arena Corinthians is being built over a 31-month period on a total area of 239,198 sq. yds. (200,000 m²). It is located on the east side of Sao Paulo on the site of a former training center for the Corinthians, one of Brazil's most popular soccer teams, and will become the team's new home at the conclusion of the World Cup games. Its construction represents a total investment of more than BRL 820 million (US$ 396 million).
Official kick-off for this project was in May 2011. As of September 2012, 49% of construction was completed. More than 1.96 million cu. yds. (1.5 million cu. meters) of land was moved prior to the start of construction of the stadium.
Video: 2014 World Cup Brazil Soccer Stadium Construction
Heavy Lifting Required
To manage lifts, Odebrecht brought in its Liebherr HC Series heavy-load cranes including two 195.3 HC models, two 98.3 HC models and a 450 C top-slewing crane. The cranes provide hook heights up to 183.7 ft. (56.0 m), maximum lifting capacities from 17,637 to 44,092 lbs. (8,000 to 20,000 kg) and maximum radii of 164 and 187 ft. (50 m and 57 m). Lifting capacities at maximum radius are 6,393 lbs./2,900 kg (195.3 HC), 3,307 lbs./1,500 kg (98.3 HC) and 16,976 lbs./7,700 kg (450 HC). These cranes – along with two 200-tonne LTM 1220-5.2 telescopic cranes and a 100-tonne LTM 1100-4.2 brought in temporarily for the project – were used to lift more than 16,000 pieces of precast concrete into place.
An LR 11350 crawler crane, currently the largest Liebherr crawler crane operating in Latin America, was originally brought in to put up part of the bleachers. It remains on the job for other heavy lifting duties, including placing the trusses for the stadium cover. The cover includes a 525-ft. (160 m) span without columns that represents the hardest part of the construction process. It necessitated the crane's 1,350-tonne maximum load capacity.
The LR 11350 achieves maximum capacity on its 197-ft.-long (60 m) main boom with derricking and ballast trailer at a radius of 39 ft. (12 m). A maximum boom length of 748 ft. (228 m) is achieved using a combination of main boom and luffing fly jib, each 374 ft. (114 m) in length. This provides a maximum height under hook of 732 ft. (223 m).
Because of the conventional A-frame design principle, the LR 11350 can erect main booms up to 335 ft. (102 m) in length, when mechanical outriggers are used, without the need for a derrick. With derrick system, main boom lengths of up to 492 ft. (150 m) are possible.
Oldebrecht's crews are working three shifts, six days a week to ensure the stadium is completed by the December 2013 deadline. As of October, primary construction was approaching completion, leaving the remaining time in the schedule for finish work. Once completed, the stadium will offer permanent seating for 48,000, with additional temporary seating to accommodate the up to 65,800 spectators expected for the opening match of the World Cup on June 12, 2014. It will host five more matches including one semi-final.