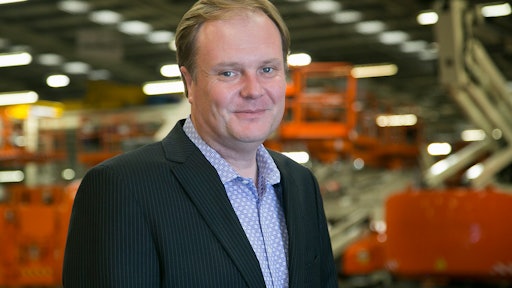 Snorkel
Rental: What's the outlook for 2019 in the aerial industry?
Matthew Elvin, CEO, Snorkel: We think that generally the market conditions for 2019 should be a continuance of what we saw in the previous 12 months. The outlook remains positive, but we do expect to see a reduction in the rate of growth of the market.
Genie President Matt Fearon: The Time is Right for Technology to Take Hold
JLG President Frank Nerenhausen: JLG Doubling Down on Core Values of Innovation, Voice of Customer
Skyjack President Brad Boehler: Skyjack Embraces Technology to Meet Expectations of Future Customers, Techs      
Rental: What are the primary factors affecting this outlook?
Elvin: The market is sensitive to global socio-economic and political drivers, such as the US-China tariffs and Brexit. While these remain unresolved, businesses are perhaps being a little more cautious and are requiring greater justification for investment decisions.
Rental: Any surprises or is this in line with former forecasts?
Elvin: So far, 2019 has started in line with our expectations. However, to maintain the momentum, the aerial industry needs positive and timely resolutions to both Brexit and the US-China trade talks.
Rental: How does the aerial industry look in comparison to the larger rental market and the U.S. and global economies in general?
Elvin: In mature aerial markets, such as the US and Western Europe, the aerial industry outlook is generally in sync with the wider general rental market and the economies they operate within. However, in certain developing markets, for example, China, the growth of the aerial market is outpacing the general construction equipment market, presenting increasing opportunities for aerial lift manufacturers.
Rental: Which geographic markets are particularly strong, which are weaker? Why?
Elvin: Right now, the US market remains strong, along with other mature markets in Europe and beyond. China continues to present a growing opportunity for aerial lifts. The Middle East market has been softening for a few years, and this appears to be continuing.
Rental: How is the current political climate affecting business?
Elvin: As business generally does, it has continued to make decisions and invest, despite the political climate – which it must. However, it is worth noting that businesses can only maintain momentum for a certain period without a positive resolution to the political fluctuations.
Rental: How are the aerial market and rental market changing?
Elvin: The aerial industry is primarily driven by safety and productivity. There is an increasing environmental influence on both the aerial industry, and rental companies more generally, as contractors are required to comply with increasing regulations on jobsite noise and emissions. This is driving demand for alternative solutions to diesel, which is changing the focus of aerial lift manufacturers toward new technology, design and equipment operation. 
Rental: What is the long-term outlook?
Elvin: Multiple forecasts for the rental industry predict good market conditions for the next 18-24 months. Following this period, we do anticipate seeing a natural reduction in growth.
Rental: What equipment trends are you seeing?
Elvin: One of the major industry trends currently is for lithium-ion battery technology for electric-powered machines. Capable of delivering longer duty cycles than lead acid batteries, lithium-ion presents a wealth of product development opportunities for aerial lifts, and I believe we are only at the beginning of how this technology will be embraced by our sector.
Rental: What's coming for Snorkel?
Elvin: This year marks our 60th anniversary since Snorkel was founded by Art Moore, with roots in the firefighting industry. As such, we have had a strong start to the year with the launch of our new global website, online spare parts ordering system, and the expansion of our telehandler family with two new models launched at World of Concrete and The ARA Show.
As we approach Bauma, the largest show in the world for our industry, we will have a number of exciting new product launches, including the official launch of our innovative S3019E electric drive slab scissor lift, which was previewed at ConExpo 2017. In addition to new products, we remain heavily focused on continuously improving the customer experience and will be making further investments to support this.