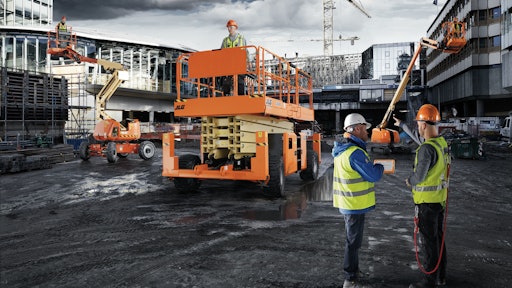 JLG Industries
In spite of labor constraints, rising costs and supply chain issues, aerial lift experts across the board agree that the industry is still in good shape and poised to reach new heights.
"Following two years of pandemic-related business disruptions, there is a significant demand for access equipment right now," says Tim Morris, senior vice president of sales and market development at JLG. "Although the industry continues to work through headwinds caused by rising inflation, logistics challenges and high fuel costs, and nothing is ever guaranteed, we believe that the numerous megaconstruction projects going on in the U.S. coupled with the momentum we expect from the infrastructure bill make for a very promising future in the aerial industry."
Brian Rabe, product marketing manager, Manitou, agrees.
"We continue to draw upon a very, very strong order book and expect to continue our growth plan in the North American market using a concentrated growth approach with available products and customers," Rabe says.
Aerial experts weigh in on the current trends shaping the industry and provide insight into where the industry is headed in the near future.
State of the Industry
To gain insight into the current state of the aerial industry, all one needs to do is look at the current state of the construction industry, according to Rebecca Yates, senior product manager at JCB.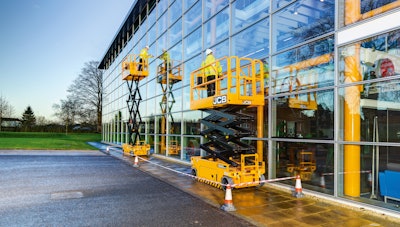 "With a lot of what goes on with construction, aerial continues to follow," Yates says. "We've gone through COVID, come out of that and everything's still really strong. There's still a lot of demand."
Tony Groat, North America regional manager for the International Powered Access Federation (IPAF), agrees.
"The sentiment that the industry is very strong was reinforced at the most recent American Rental Association (ARA) meeting," Groat says. "If there was a complaint among manufacturers, it was the availability of equipment to fill orders versus no orders coming in. Despite people saying there's a recession coming on, that's very inconsistent with what I see in the environment that construction is very strong, and industrial accounts are relatively strong."
Groat adds that additional manufacturers entering the marketplace also signifies growth in the industry.
"Profit is significant enough that new players are being able to penetrate the marketplace because of demand exceeding what is available in the normal chain of resources," Groat says.
Top trends
1. Urbanization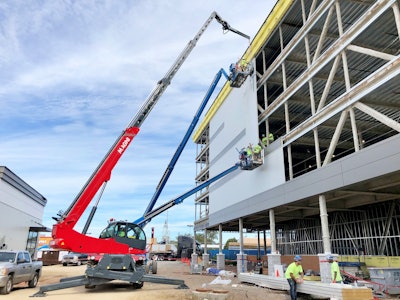 As more of the population moves to urban centers, demand for clean energy and compact equipment has skyrocketed.
"Customers may have resisted these technologies in the past due to concerns about added cost and complexity, but users and regulations are driving more immediate change," Morris says. "Advances in technology have made these solutions more affordable, and as a result, adoption has accelerated."
As part of the urbanization trend, compact lifts have also gained traction in the industry.
Groat points to the compact footprint, decreased ground pressure and ability to go as high as 100 feet as part of those machines' appeal.
"That type of equipment has greater ability to get into tighter areas," Groat says. "That makes it easier to get into places that were more challenging with conventional equipment."
2. Green initiatives
With the shifts to urbanization and changes in customer attitudes, green initiatives have also taken hold in the aerial industry.
"One of the biggest trends right now is electrification, which is the result of many factors, including regulations and location requirements, and a growing awareness and increased importance on sustainability in general," says Simon Meester, president of Genie, a Terex brand. "In addition, the capabilities of the technology have evolved rapidly, while costs to implement have come down, and, because electrified equipment can offer a lower total cost of ownership (when implemented correctly), electrified equipment is becoming more cost effective to own and operate."
Groat says that the road to electrification can lead to other positive outcomes.
"Fully electric machines mean the elimination of oils and hydraulics and contaminants, meaning safety and environmental issues could be eradicated," Groat says. "We're making machines much more efficient because we have a more limited power source. I think there are good consequences that are coming from the pressure to go that direction."
Yates notes that some of the shift in attitude comes from companies implementing requirements on the number of "green" pieces of equipment for a jobsite.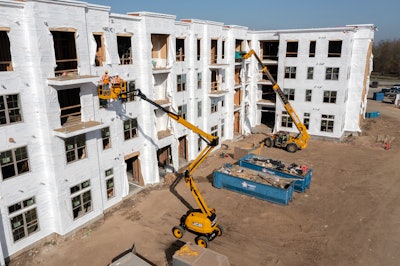 "Some of it comes with things like a mission statement, where the green initiatives go all the way back to when they're building a building. It's not just when they put a blue bin in the office to recycle paper," Yates says. "So, I think the rental houses and manufacturers are trying to make sure we're supporting their customers' direct needs. That's another consideration for the rental houses: How do you start molding your fleets and mixing in hybrid and electric equipment to meet those customers' needs?"
Meester adds that a challenge will come with bringing the right technology to the right customers at the right time.
"Because not all jobsites and all applications will be able to go full electric at the same time, we need to offer flexible solutions," Meester says.
3. Products to ease labor constraints
The adage of doing more with less is not limited to the aerial industry, but it rings true just the same.
"Look at the wide range of products that has grown, such as low-level access, where you have this whole new segment," Groat says. "It's all because we need to be more efficient. Labor is a huge challenge in every industry. Those products like atrium lifts and low-level access and electrification increase productivity in areas these products couldn't access before."
Rabe adds that customers are requesting equipment with versatility and "value add" features.
"Past platform needs were more targeted toward lift height, site obstacles, lift application and capacity, but we're seeing more needs for improved machine mobility and additional, unrestricted capacity," Rabe says. "We're adapting our products to better align with the changing jobsites they see every day."
Joe Leinwol, chief sales officer of Magni America, adds that customers are also requesting equipment that will lift higher and heavier.
"Everybody always thought they had to use cranes and there was no other option, but people are now seeing you can use telehandler forklifts," Leinwol says.
4. Safety
Not a new trend, safety continues to be top of mind for aerial equipment operators, according to Gary Weisman, COO of Magni America.
"We incorporate safety in many areas, and we hear from our dealers that this will continue to evolve over a period of years," Weisman says.
To keep everyone up to date on best safety practices, organizations such as IPAF continue to update guidelines regarding operators working at height and provide dashboards to enhance accident reporting.
5. Increased pricing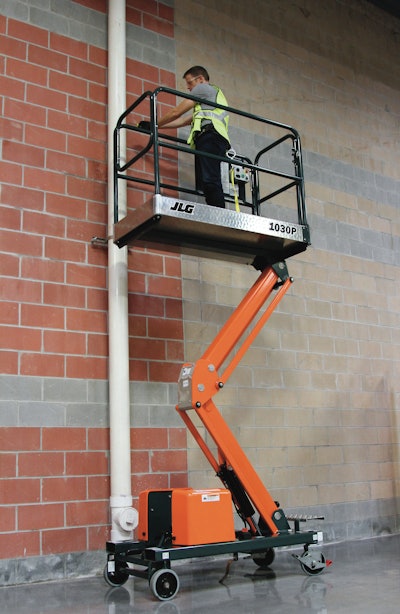 Costs have increased in various sectors of the market, including used equipment.
He says that some rental companies are holding on to their aerial equipment longer than others, in part because of supply chain constraints.
"People are saying, 'I can't get new equipment, so I don't want to get rid of my old equipment and people need it,'" Groat says. "I think the value of used equipment is another indicator of the strength of the marketplace."
6. Digitization
Technology acceleration, creation and utilization have all been at the forefront of the digital boom, according to Morris.
"These days, everything is connected to the internet, including equipment and other construction-related devices. Because of this, all the associated data is moving to the cloud, making real-time data and information accessible anytime and anywhere," Morris says. "Many consider the jobsite of the future to be about two-way, interactive communication. Two-way communication links equipment to operators, remote third parties and other machines on the construction site to automate certain functionalities, speed [up] documentation, deliver information for crews to make faster, more accurate decisions and enable technicians to access information that increases machine uptime."
One example of that two-way communication comes in the uptick of telematics, Yates says.
"It's having more information not only for the user or operator but also for the owner or fleet manager," Yates says. "They can diagnose the issue and provide the support. That's allowing people to be more productive in the use of their equipment."
Another digital trend coming to the scene is augmented reality (AR), a technology that superimposes a computer-generated image on a user's view of the real world, thus providing a composite view, Morris says. While AR can be used with tablets, helmets or glasses, construction professionals can utilize this technology right from their phones.
Autonomous and semiautonomous equipment round out the digital trends impacting the industry.
"The hunt for autonomous machines and technologies is not new," Morris says. "In the construction industry, autonomy can aid in repetitive construction tasks that may result in an overuse injury. Now more than ever, manufacturers are searching for ways to boost safety and efficiency using automated solutions. Today, there is substantial observation happening at the job site level to identify the 'jobs to be done' that semiautonomous and eventually fully autonomous equipment will be the solution for. There's still a lot of work to be done in this area before we see the mainstream use of fully autonomous solutions."
Challenges
1. Serviceability
Because more uptime means rental companies' profits trend upward, Yates says manufacturers look to build machines that are easy to service.
"If you have 100 machines, and 50 of them are down, that's a challenge, so we're trying to find changes to reduce that and support them properly," Yates says.
She adds that especially on equipment such as scissor lifts, some manufacturers are moving to AC drive to promote easy maintenance.
"At ARA, we showed a preview of our new AC drive scissor," Yates says. "That's part of the simplification of machines from a service standpoint. There are fewer hoses and hydraulics in the AC drive machines. We eliminate a number of parts and reduce the potential for leaks. We're always thinking of how we can make it easier for the customer to use while still giving them the powerful drive motors to ramp up and get into their places."
2. Infrastructure
While green initiatives have gained traction in the industry—especially after the 2023 ARA Show and 2023 CONEXPO-CON/AGG—building out the infrastructure to support those initiatives and charge that equipment remains a challenge, according to Groat.
"Which comes first, the chicken or the egg? At this point in time, we know the pressure to go to electrification is coming first," Groat says. "However, it's frightening how disjointed our distribution network is within the states. We don't have a national network—we have all these independent power companies that form the grid."
To sustain the increase in electrification, Groat says he's seen projections that the power grid will need to double in size.
"I don't think we have a solution right now," Groat says. "We're running down a corridor (of electrification) that everyone's directing us to, but we don't know what's at the end of that corridor at this point."
3. Supply chain issues
While pressure has eased on supply chain challenges, the issue remains at the back of everyone's minds.
"Our customers are seeing strong demand and, as a result, need us to supply product. Being constrained isn't unique to the aerial industry, but it's a challenge we're having to address," Meester says. "Demand and supply will always swing and trade places in free markets, and this industry certainly has proven it knows how to deal with volatility, but in the meantime, demand has continued to outpace supply, which, I know, is something top of mind for almost everyone in the industry."
Weisman notes that with some major manufacturers, the companies are unable to deliver machines.
"There's an appetite for the machines, but not the ability to procure them as needed, which created an opportunity for us because we took an aggressive stance in the beginning of COVID to grow," Weisman says. "We certainly suffered some pain in terms of minor components here or there that might hold up something, but for the most part, we took an aggressive posture, we ordered a lot of stuff in advance, and it allowed us to continue to show significant growth because of it."
Skyjack Vice President of Marketing Malcolm Early adds that manufacturers are keen to alleviate the aging fleet situation that has increased since COVID.
"While the market grew in 2022, there were some supply constraints that held back that fleet age improvement objective," Early says. "Supply constraints faced by original equipment manufacturers held back that fleet age improvement objective as of late, and in the coming year, we expect those constraints to lessen. Supply chain challenges also highlighted the need to revisit supply chain and logistics structures with a view to more localization."
Morris agrees that the industry may trend more toward localization.
"Before the pandemic, the construction industry had become largely dependent on suppliers from a few key countries, which ultimately exposed several long-term risks," Morris says. "Postpandemic, it has begun moving toward region-for-region supply chains to create a more diversified supply base, including suppliers from mature, developing and emerging countries, a step toward the industry's long-term evolution."
4. Manufacturer support
Because growth in the industry has opened the door to new manufacturers, Groat says he worries about them being able to provide adequate support to rental companies.
"The challenge with new manufacturers is whether there's adequate support in (rental companies') area after they buy the equipment," Groat says. "It's challenging to be dependent on equipment that has to be shipped from far away and be depending on transportation systems that have either been doubling in price or not dependable."
He adds that for some manufacturers, domestic and otherwise, lead times can soar to more than a year.
"This is an industry that has historically not been really great at planning and that is more reactive than anything else, where companies buy when they need equipment as opposed to getting it with the hope that they'll need it (in the future)," Groat says.
Looking ahead
All in all, tailwinds such as increased demand for construction, increased infrastructure and manufacturer investments in technology fuel growth for the aerial equipment industry.
"We expect the supply chain challenges to continue for a little longer, but I'm optimistic that, even if it's not right away, at some point in the future, we won't be talking about a constrained supply chain anymore," Meester says.
Early agrees.
"In 2023 and 2024 we expect those constraints to lessen and for the fleet age renewal progress grow the market. Despite inflation, the rental industry forecasts are bullish and, in our opinion, will significantly mitigate issues such as inflation and recession," Early says.