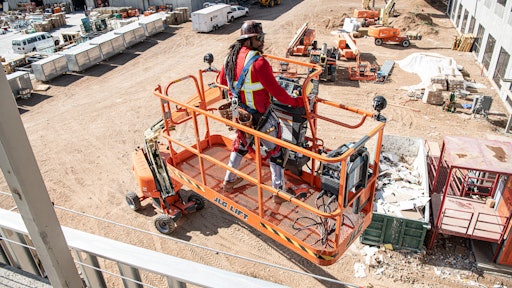 JLG
While aerial lift equipment such as scissor lifts and boom lifts provide workers a safe way to reach an elevated work position and stability in completing work, new technology and ANSI A92.20 design standards amplify that safety.
"Platform sizes vary to accommodate narrow spaces or allow for more tools and equipment," said Bob Begley, JLG director of product management. "Both boom lifts and scissor lifts provide access to otherwise inaccessible aerial jobsites. The key to selecting the right lift—boom or scissor—for the job is understanding what you need to accomplish on jobsites."
ANSI Standards Provide Design Updates
Brian Rabe, Manitou product marketing manager, noted the new ANSI A92.20 design standard implements design-related updates for original equipment manufacturers (OEMs), amplifying the safety features of aerial lifts.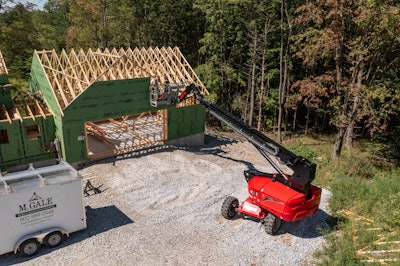 Mobile elevating work platforms (MEWPs) now measure how level the machine is by using an inertial measurement unit. The machine will shut down lift, telescope and drive capabilities if the equipment is out of level when elevated. The out-of-level setting varies by model and machine type, Rabe noted.
Addressing load-sensing hydraulics, MEWPs now measure weight in the platform and stop elevating if overloaded. Indicator lights show and warn operators when the platform is overloaded. MEWP platforms will stay within the safe operating load envelope and range of motion based on the weight in the platform, preventing potential incidents.
New MEWPs require wind stability testing and identification. Operators must select "wind" or "no wind" depending on their exposure. An ID plate includes a wind rating. Exposure to wind may limit occupants and the height of the equipment. Maximum wind speed if the MEWP is rated for wind is still 28 miles per hour, Rabe noted.
The new standard requires a guardrail height of 43.5 inches compared to the previous 39.5 inches. Gates with toe boards and hinged doors have been added to improve ease of access and operator safety.
For stability testing, foam or solid tires are required. Manufacturers test and verify them during assembly and pre-delivery inspection, noted Rabe.
The safe use standard (ANSI A92.22) and the training standard (ANSI A92.24) were updated to assist users, operators and owners in understanding operational differences and applying the new safe use features of new machine designs, said Rabe.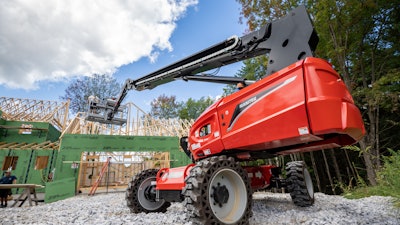 The standards cover most aspects of MEWP design and use, including an update to the terminology used for aerial work platforms, referred to in ANSI A92 standards as MEWPs, Rabe noted, adding that the terminology helps make ANSI A92 standards more consistent with other standards.
The updated standards are intended to reduce accidents and further educate operators, supervisors and occupants on the new MEWPs features and how to apply them to the jobsite, Rabe noted.
They apply to every operator and business using MEWPs, said Rabe, adding the Manitou MEWPs train the trainer program or another manufacturer accredited program can assist in educational efforts.
Rabe said new safe use and training standards require training for supervisors who are responsible for proper selection of the MEWP for the work to be performed and must understand the rules, regulations and standards applied to MEWPs and potential hazards associated with their use.
MEWP occupants must use personal fall protection and be trained in safe use of MEWP accessories, site-specific work procedures and task-related hazards.
Operators must be properly trained, authorized and familiarized with the MEWP before use, Rabe said.
In addition to proper training, the standards require that annual inspections be identified on the MEWP and be part of the prestart inspection, with the annual inspection needing to occur within 13 months of the current date.
The standards include a risk assessment to identify potential hazards associated with a task and specific work environment, said Rabe, adding operator responsibilities include assessing risk for overhead hazards, ground support, platform capacities, material handling, and a rescue plan.
MEWPs Incorporate Safe Features
Rabe noted that Manitou MEWPs meet all aspects of the revised ANSI 2021 design standards.
Manitou's new MEWPS range is designed with end cushioning in both directions on almost all hydraulic cylinders and to smoothly perform up to four simultaneous functions, said Rabe.
Manitou offers flotation tires for greater stability and traction while operating MEWPs on soft ground.
The company has implemented a machine-specific QR code decal on the machines, offering anyone with a smartphone instant access to safe operation videos, operators' manuals and other materials.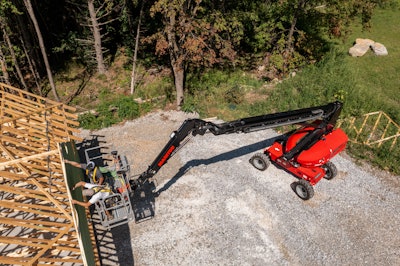 "Updates to the ANSI 92 standards in effect in the U.S. have resulted in increased demand for the newest safety technologies in aerial equipment," said Nate Hoover, JLG director of product management, boom lift.
Hoover noted that the revised standards require new MEWPs to be equipped with load sensing and tilt sensing technology to ensure that operators remain within the capacity limits of the machine. The sensors actively monitor the machine's platform load and sound an alarm as well as interrupt normal operations if overloaded, Hoover said, and jobs can no longer be completed if overloaded.
Because the machine's lift and drive functionality will shut down if the machine's total platform load weight exceeds the machine's rated platform load capacity, it means operators need to pay close attention to what is contributing to the MEWP's load, Hoover added.
"It's important to know that the machine's load capacity is not just calculated by the number and weight of people on the platform," Hoover said. "It also includes tools and materials as well as the personal gear of operators and occupants such as hard hats, tool belts, jackets, boots and so on."
The machine's load sensors will capture any weight added by what the machine may contact in the work area, such as a ceiling joist, a rafter, an overhead beam or a window ledge.
"It will cut out at once should the weight exceed its maximum platform capacity," said Hoover.
Advanced Sensor Technology
Some manufacturers such as JLG have built-in sensor technology that is advanced enough to allow operators to respond to an overload situation quickly and easily, Hoover added.
"By simply removing or unloading items from a JLG machine's platform, for example, the MEWP will recognize when it is back within its rated load capacity, enabling operations to resume without the need to recalibrate the machine," Hoover noted.
The machine tilt sensing requirements in the current standards are very similar, said Begley. "Machines that could previously only be operated on level surfaces can now be used on slight slopes; however, a tilt sensor is required," he added. "The tilt sensor sounds an alarm and disables boom and drive functions if the incline surpasses the machine's rated slope tolerance."
As with load sensing technology, each MEWP OEM has its own unique tilt sensing solution. For example, the JLG ANSI 92.20-compliant tilt sensor technology allows operators to use restricted functionality to return the machine to a work area within its allowable operating range, said Begley.
"Once the machine recognizes that it's back within its rated zone, operators are able to reposition the machine or grade the worksite to complete work within the rate load and slope tolerance of the machine," he added.
Hoover noted that recent safety technologies for MEWPs also have focused on developments that contribute to operators' productivity in space-restricted areas.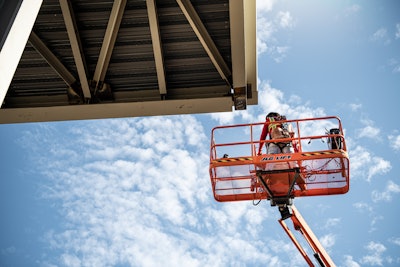 New technology is now available to help make MEWP operators more aware on the jobsite by giving them a better sense of their immediate surroundings.
"For example, MEWPs equipped JLG SkySense, an electronic detection system, have strategically placed sensors providing visual and audio alerts to inform the machine's operator they are approaching a structure," Hoover added.
"These sensors initiate the slowing down of the machine as it nears the structure, sounding an audible beep that increases in pace the closer it gets before stopping the unit completely. In situations where the MEWP must get closer to the structure once it is stopped, the operator can override the sensor technology to inch slowly towards the structure to place the machine nearer to the desired work area."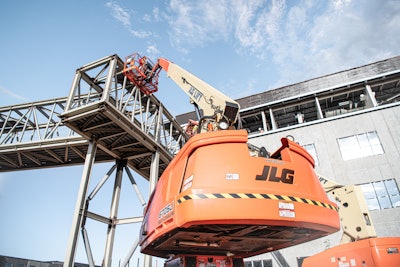 Begley pointed out that mobile apps are becoming more prevalent on jobsites with many designed to improve the operator's experience with the machine before work begins.
Augmented reality apps allow users to scan the MEWP's safety decals to get the current information on ANSI standards' requirements and to see an overlay of a specific machine's control panel with explanations of its functions prior to machine operation.
He added that these same mobile apps can offer remote control of a scissor lift without tethering to the machine, allowing users to:
Maneuver around obstacles while maintaining a safe distance from the machine
Position it into areas with low clearance
Load or unload it from a truck without the need for an operator on the platform or walking next to the machine
Hoover said one of the best ways to continue advancing safety is for original equipment manufacturers to develop practical technology solutions solving real-world jobsite challenges, like working on uneven terrain.
"Recent advancements in machine suspension technology have been developed to address this scenario," he added. "Self-leveling for boom lift and variable-tilt for scissor lift technologies are designed to adjust the machine's chassis to the ground conditions rather than trying to adjust the ground conditions for the machine."
With self-leveling technology, the machine automatically levels all the time, even when driving the unit elevated.
Hoover noted one major benefit of this technology is that operators and occupants will feel more stable during travel as a result of less bouncing of the unit when it is traversing rough or uneven terrain, improving operation and reducing fatigue.
It also minimizes the need to crib and/or grade the work area. In addition, it mitigates the trial and effort of repositioning to find a level work area, translating to improved operator productivity, he added.
Begley noted that variable-tilt technology for scissor lifts is designed to adjust the machine's chassis to ground conditions rather than trying to adjust the ground conditions for the machine. That is important because most slab scissor lifts cannot elevate when working on a side slope greater than 1.5 degrees, he added.
"But with variable tilt technology, which is designed to maximize a scissors lift's height based on the slope on which the machine is positioned, scissor lifts can now elevate on side slopes up to 3 degrees," he added. "This gives the operator a greater degree of flexibility and most importantly keeps machines operating within the approved work envelope."
Operators will now know how much material they can take up with them more or less than what they already have loaded, said Begley.
"They also will know if they need to reposition the machine in a spot that's a little bit more level so that they can get the full height," he added. "This technology removes the guesswork that often results in operators having to descend and try again."
Load & Motion Sensing
Jeffrey Eckhardt, PE, vice president and chief engineer at Ahern Engineering, the engineering side of Snorkel International and Xtreme Manufacturing, noted that, with the adoption of the new ANSI standards, platform load sensing and motion sensing is mandatory on most machines that his company offers and that every manufacturer is implementing some form of solution.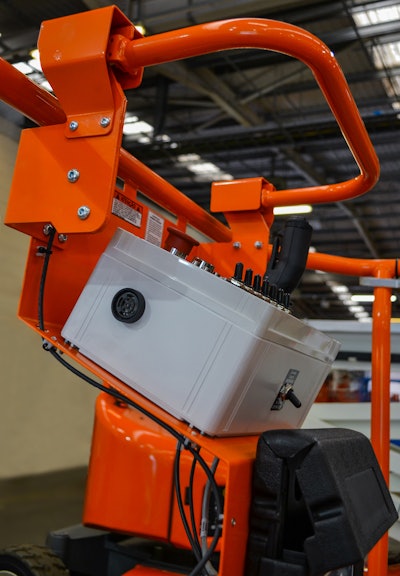 "Some industry solutions are not part of the standard's mandated safety equipment but are gaining in popularity, such as secondary guarding," he added.
Eckhardt said that secondary guarding entails a method to either actively or passively restrict or stop a machine's movement should the platform or operator contact overhead obstacles.
"There are many solutions for this, with some also restricting movement if an obstacle enters a region around the platform through the use of ultrasonics, radar, LiDAR or other noncontact sensing methods," he said.
"Our system, Snorkel Guard—standard on all new boom lifts since 2015­—works by stopping all machine movement if the guard is activated by the operator or any solid object," Eckhardt said. "The machine immediately ceases movement and requires the operator to remove the contact or via an override switch move the machine to clear the engagement with the obstacle, using their decisions and thought processes.
"If the operator is fully aware and conscious, we want them evaluating and analyzing the situation," he added. "If the operator is incapacitated, an operator on the ground can gain full operation of the machine and retrieve the elevated worker by lowering the machine."
On scissor lifts, Snorkel International offers an ultrasonic sensing system that senses overhead obstructions.
"As you are elevating or driving, it will stop the machine from moving as an overhead object approaches the platform," said Eckhardt. "At that time, the operator can readjust and make the decision on what they need to do. The idea is that the operator is not caught by surprise from an overhead obstacle."
Snorkel International offers an optional Personal Fall Arrest System (PFAS) for many boom models that permits personnel to safely exit the platform while continuing to be anchored to the machine, allowing them to reach areas not accessible to workers inside the platform.
"Somebody working on an elevated floor or an airplane wing can use the boom to transport and reach the area where they need to work and exit the platform to reach the work site, but still be attached fully to the boom structure," says Eckhardt of the technology that provides compliant fall arrest protection.
The company's high-capacity scissor line offers a 27-foot deck when both power decks are extended.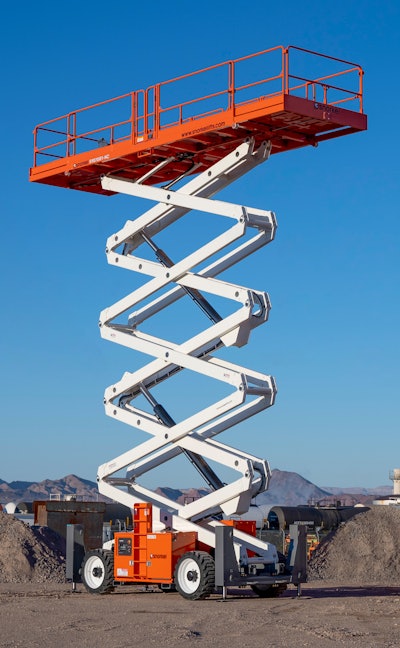 "This permits loading 24-foot-long pieces of conduit or piping and keeps the materials completely inside the perimeter of the platform, so they don't have that obstruction hanging outside or up over the platform guardrails," says Eckhardt. "It is also not an impedance to operators being able to freely move around inside the platform.
"With some platforms, you almost have to duck underneath a 24-foot-long piece of conduit as they are hanging out over one or both ends of the platform," he added. "Further, you have to worry about these items catching on existing structure when elevating or lowering the platform."
LiDAR & AI Sensors in Equipment
To protect the operator from potential risk of crushing, EQSS supplies OverWatch for all makes of scissor lifts. With a LiDAR sensor at its core, OverWatch detects the operator's position and movements and intervenes only when their safety is compromised, said Andrew Delahunt, EQSS global business development manager.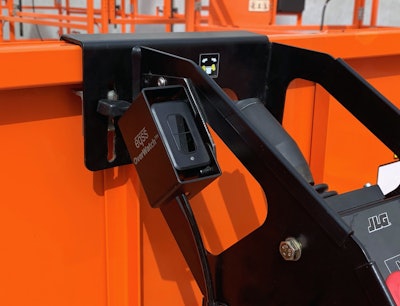 "It does not interfere with normal operation of the scissor lift," he added. "Instead, it continuously monitors the operator's position using an infrared light beam. The system can determine when an operator has moved abruptly or is in a dangerous position, either of which will immediately stop the lift. The system is human-centric. It's designed simply to protect the operator and prevent serious or fatal incidents."
OverWatch features a small sensor that attaches to the scissor lift control box and is paired with a powerful processor running advanced sensor AI fusion algorithms to track operator and machine movement to identify when a shutdown is required, working in all weather conditions, said Delahunt.
Delahunt said Haulotte recently integrated OverWatch as a factory-install option on its latest generation of electric scissor lifts.
Companies in this article