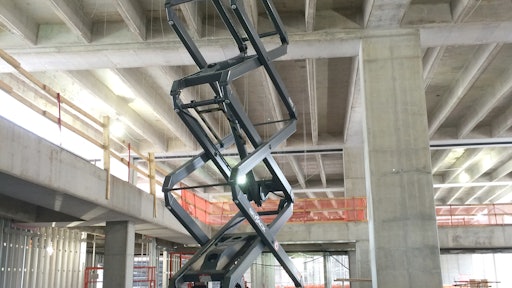 More than 200 Skyjack aerial work platforms are helping to complete the new stadium for the National Football League's Minnesota Vikings in time for the 2016 football season. "Construction on the stadium is just starting so we do not have all units on site yet, but we anticipate having well over 200 by Fall 2015," says Don Beaupre, owner of Beaupre Aerial, the rental company working with subcontractors on the new stadium project.
Located in the heart of Minneapolis, the new glass-centric covered stadium will replace the Hubert H. Humphrey Metrodome, which was torn down in early 2014. The nearly $1 billion new stadium will be home to the 52nd Super Bowl in 2018, one of the most watched football events in the world. It will be Minneapolis' second time hosting the Super Bowl; the last time was in 1992 at the now demolished Metrodome.
The 1.75-million-sq.-ft. stadium will feature moveable front windows, 65,400 seats, 800 high-definition televisions, WiFi and a translucent roof to let in natural light that also makes snow removal easier.
Subcontractors Harris Mechanical, Parsons Electric and Gephart Electric are using more than a dozen Skyjack vertical mast lifts, 38 DC electric scissor lifts and two rough-terrain scissor lifts to help install the plumbing, HVAC and electric components at Vikings Stadium.
Electric scissor lifts on site include the SJIII 3219, SJIII 3226 and SJIII 4632, featuring raised platform heights of 19, 26 and 32 ft., working heights of 25, 32 and 38 ft. and weight capacities of 550, 500 and 700 lbs., respectively. The SJIII 3219 and SJIII 3226 offer a 3-ft. rollout extension deck and 30% gradeability, while the SJIII 4632 has a 4-ft. rollout extension desk and 25% gradeability.
The SJ12 and SJ16 vertical mast lifts, with a zero inside turning radius, were selected to help install HVAC systems. The self-propelled vertical mast lifts feature 30% gradeability and a 20-in. traversing platform that provides increased access and ability to reach over potential obstacles. They feature raised platform heights of 12 ft. and 15 ft. 7 in., working heights of 18 ft. and 21 ft. 7 in. and weight capacities of 500 lbs.
The subcontractors also chose the SJ9250 RT rough-terrain scissor lifts for their 24-ft. platform, which can be extended with the optional 5-ft. powered extension deck, as well as their raised platform height of 50 ft., working height of 56 ft. and weight capacity of 1,500 lbs.
One of the advantages of the lifts that led to their use at Vikings Stadium is ease of service.
"Commonality of Skyjack parts allows us to carry a somewhat smaller inventory of parts both in our parts room at the shop, as well as in our five mobile service vehicles," Beaupre comments. "Also, the commonality of electrical components allows an easier time of troubleshooting problems both in the shop and on a jobsite, and means shorter downtime for our customers."
Troubleshooting and maintenance are made easy through the use of the company's SKYCODED color-coded and numbered wiring system. Repairs are also cost effective due to the use of "off the shelf" components. Plus, a relay based control system allows the aerial work platforms to operate using a simplified system with fewer and less expensive components.
The lift equipment now on site currently works eight-hour shifts, five days a week. Beaupre anticipates extending the shift as the final deadline approaches.
Watch a livestream of the construction project via the stadium's web cam at http://bit.ly/1lMF6xm.