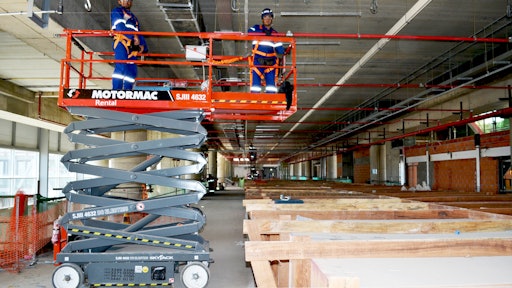 Linamar Corporation's Skyjack division has more than 60 electric scissor lifts, owned by Motormac Rentals, working at one of Brazil's largest aviation hubs—Viracopos International Airport in Campinas, São Paulo state's third largest city. The machines are helping to expand and upgrade the airport terminals to keep up with a growing number of passengers.
Viracopos International is currently the sixth largest airport in Brazil, and like many other Brazilian airports, has been boosted by the 2014 World Cup and the 2016 Olympic Games. The airport is undergoing expansion and renovation to meet expected growth in international visitors.
In 2013, Viracopos International Airport received 9.3 million passengers and 260,000 tons of cargo. By 2042, the site is projected to receive 80 million passengers annually and transport many times more cargo than it does today, becoming one of the busiest airport hubs in Latin America.
The first phase of the ambitious US$3.5 billion expansion project at Viracopos International involves a mix of 63 SJIII 4626 and SJIII 4632 electric scissor lifts helping to construct a new 1.2 million sq. ft. terminal. The scissor lifts are being used to install electrical components, hydraulic pipes, air conditioning parts, and safety equipment—including fire extinguishers and speakers for radio and audio announcements at the airport. Towards the end of the project, the scissor lifts will also help with waterproofing and painting jobs.
"After consulting with the contractor at Viracopos, we chose Skyjack equipment due to its ease of use and maintenance," said Fernando Jaeger, corporate business manager at Motormac Rental, the supplier company that used the Skyjacks for the project. "The incidence of calls from end customers regarding issues with the machines is extremely low, and this reliability is necessary for project as important as Viracopos."
Skyjack's scissor lifts are also helping to make Viracopos International Airport one of the most technologically advanced airports in Brazil. Operators have been using the electric scissor lifts to install state-of-the-art data transmission cables and internet connection devices, a task that often requires lifts that can maneuver in tight spaces.
Easy to service features
The SJIII 4626 and SJIII 4632 electric scissors lifts combine a series of features that set them apart from competition and come in handy at the airport project. With an emphasis on smart design, Skyjack machines are easy to service, require little maintenance and have high capacity and large platform areas. Both models are drivable at full height and feature a 4 ft (1.22 m) roll out extension deck that can be secured in multiple positions.
SJIII 4626 has a raised platform height of 26 ft (7.92 m), a working height of 32 ft (9.75 m), 30% gradeability and a weight capacity of 1,000 lbs (454 kg).
SJIII 4632 has a raised platform height of 32 ft (9.75 m), a working height of 38 ft (11.58 m), 25% grade-ability and a weight capacity of 700 lbs (318 kg).
"After the foundation and the main concrete and steel skeletal structure are completed, all work, inside and out, can be optimized with the help of Skyjack scissor lifts," Jaeger said. "Every single aspect you can think of in terms of indoor aerial platform work has a Skyjack machine working on it—that's almost every element that exists in a modern building of this kind. The gains in speed and safety are enormous when using Skyjack scissor lifts."
New customer, promising future
Motormac Rental is a company that specializes in equipment rental for a diverse range of industries. It offers generators, aerial lift platforms, light towers, and telehandlers. The company is part of Motormac Group, which has 40 years of history in energy and productivity solutions.Motormac Group has the credibility of a brand that is growing fast, has remarkable safety records and a high level of professionalism.
Motormac leased the Skyjacks to Constran, the main contractor of Aeroportos Brasil Viracopos—a consortium that won the bid for the airport's 30-year expansion project. It's the first time Motormac has owned Skyjack machines and so far they are impressed with the SJIII 4626 and SJIII 4632 lifts.
"Purchasing good equipment is vital in the rental business, since investing in high-quality, long-enduring equipment ensures a healthier return on investment," Jaeger said. "For us, Skyjack's strongest feature is definitely its ease of use and, of course, its low-cost maintenance."
Motormac's Skyjack scissors have been working around the clock to deliver the airport project on schedule. In fact, Motormac has a scissor lift specialist on-site to guarantee safety and soundness of the equipment, and to ensure the contractor is using all machines to their full potential.
Training and safety
Additionally, Skyjack has worked with local governments and regulatory agencies to ensure aerial work platform operators on the Viracopos project and in the country in general are properly trained to do so safely and effectively.
"We've been collaborating with governing agencies and with customers to establish a culture of training and safety for the local aerial work platform industry," Jaeger explained. "Besides having the ISO 9001 quality certification, Motormac is also licensed as an IPAF Learning Center. We offer the internationally recognized IPAF training to our customers on aerial work platforms."
Motormac opened in 1974 as an electric generator rental company, and later expanded into light towers, aerial work platforms and other equipment. The company operates in four Brazilian states—Rio Grande do Sul, Santa Catarina, and Paraná, in addition to São Paulo. It recently celebrated its 40th anniversary, and was named one of the fastest growing companies in Brazil.
"We're market leaders in southern Brazil, and recently we've expanded to São Paulo state with a branch in the city of Americana (near Campinas)," Jaeger added. "The partnership with a leading global manufacturer such as Skyjack has been very important to win over big clients such as Viracopos, as well as the dissemination of the Motormac culture of quality, safety, professionalism, and ethical work."