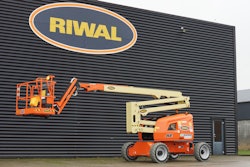 Riwal Holding Group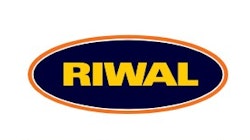 Riwal Holding Group
Riwal, the aerial work platform and telehandler rental and sales specialist, has taken its first delivery of the new 100 percent electric JLG EC boom lifts.
The new articulating boom lifts are the JLG EC450AJ, with a working height of 15.77 meters, and the JLG EC520AJ with a working height of 18 meters. 
Both machine models come with lithium ion phosphate batteries and electric motors, are emissions free and suitable for both indoor and outdoor use, including rough terrain conditions.
The new JLG machine types will initially be added to Riwal's rental fleet in Denmark and the Netherlands, with other European countries to follow later in the year. In the past, Riwal has also converted diesel machines to electric machines, enabling the company to offer 100 percent electric machines up to 43 meter working height.
The new JLG machine types are offered to rental companies and end users in the Netherlands, Poland, Slovenia, Croatia and Kazakhstan.
Pedro Torres, Riwal CEO, commented, "Our customers are increasingly demanding 100 percent electric machines to work at height, in order to execute their projects in the most sustainable way. We are proud to be among the first companies to purchase the new JLG machine types. As part of our Lifting Sustainability program, an increasing share of our fleet investment is in electric machines. In Europe, 65 percent of Riwal's rental fleet is electric. By 2025 our aim is to have 75 percent electric machines in our European rental fleet."
Karel Huijser, general manager and vice president for JLG in EMEAIR, commented, "We are pleased to see Riwal taking delivery of its first EC electric construction boom lifts. As a company we encourage our partners to embark on the road to electrification, including setting goals to further electrify fleets and emit less emissions and noise. These EC booms are among the first for JLG to be delivered into the EMEAIR region, and we are very excited about their field operation and performance."
Companies in this article