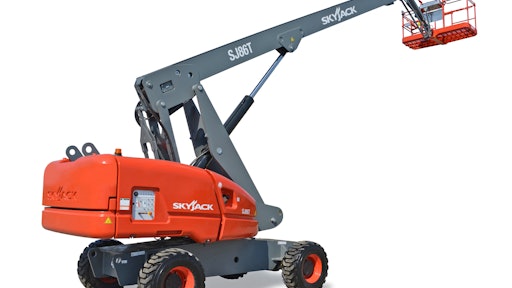 Skyjack added the largest telescopic booms – the SJ86 T and SJ82 T aerial work platforms – to its product range at The Rental Show in New Orleans, LA. The SJ82 T telescopic boom without jib reaches a working height of 88 ft. and horizontal reach of 72 ft. 6 in. The jibbed version, the SJ86 T, reaches working height of 92 ft. and horizontal reach of 76 ft. 10 in. The new models bring dual capacity ratings to the Skyjack line.
36-in. by 96-in. platform with 500 lb. unrestricted capacity
Restricted platform capacity on the SJ82 T is 1,000 lb.; 750 lb. on the SJ86 T
Easydrive controls always oriented in the direction the operator is facing, regardless of basket position relative to the chassis – the machine moves in the direction the operator pushes the joystick
SJ86 T jib has a range of motion from +65 deg. to -60 deg.
Simple, analog control system operates with less-expensive components and less maintenance
Axles, relay-based control system, fiberglass cowlings and modular platform railings are the same as those on other Skyjack machines
Video: Skyjack Extends Boom Line above 80 ft.
Video: Skyjack Rocks The Rental Show With 80s-Themed Performers
Video: Skyjack Celebrates 30 Years With Big Easy Flash Mob at The Rental Show
Video: Skyjack Seeks to Support 30 Charities in its 30th Year
Request More Information
Fill out the form below to request more information about
Skyjack SJ86 T and SJ82 T Telescopic Boom Lifts